Partnership
Samsung SDS Joins Hands with Oracle to Cooperate on Global Solution Business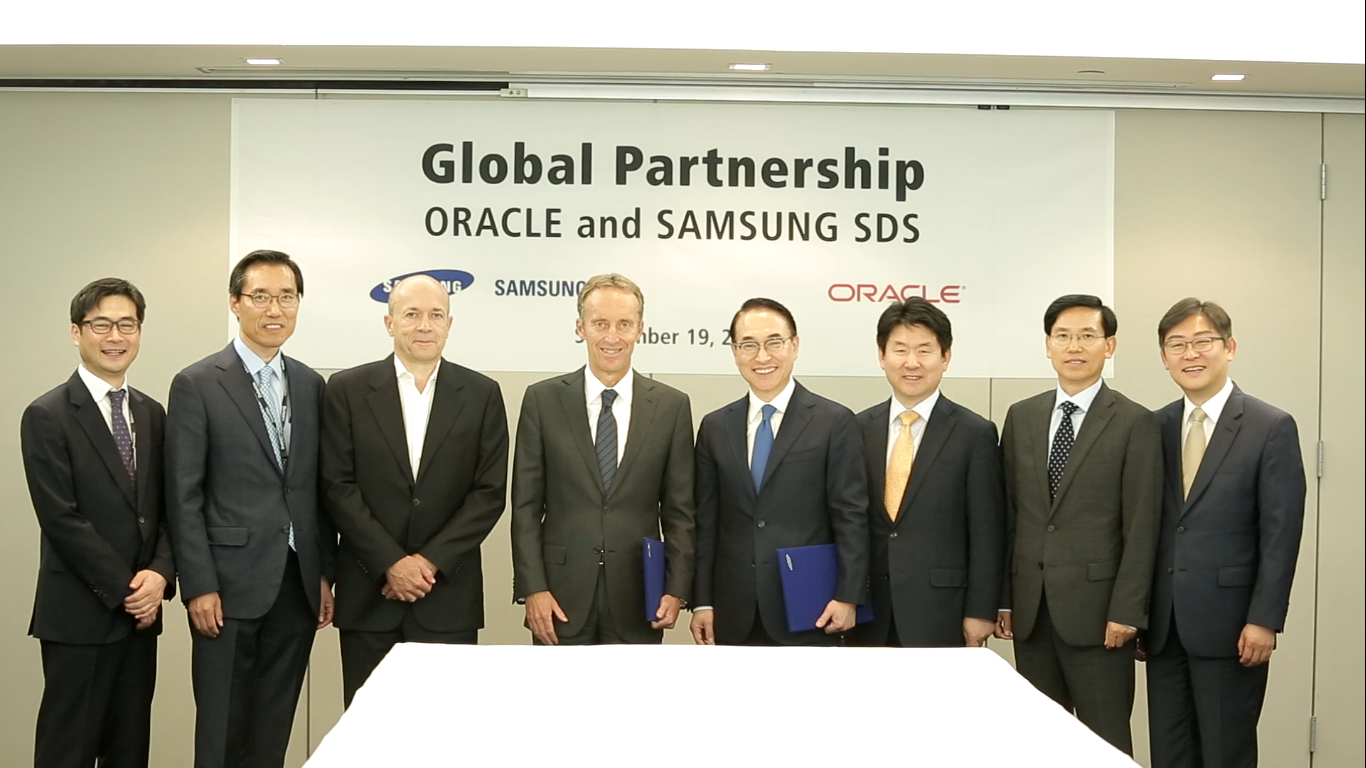 The scene of going into global partnership with Oracle
- Connect Samsung SDS's mobile biometric authentication and retail innovative solution to Oracle's integrated account management and marketing automation solution
- Signed an agreement with Oracle on business collaboration during the Oracle OpenWorld 2016
- Present solution strategies and impact on enterprises in the joint session

Samsung SDS, the information technology solutions arm of Samsung Group, has joined hands with global leading information technology giant Oracle to push into the global biometric and retail solution markets.

Samsung SDS will connect its biometric authentication solution, Fast Identity Online (FIDO) to Oracle's integrated account management solution, Identity and Access Management (IAM), Chung Yoo-sung, Samsung SDS CEO said.

Oracle IDentity Cloud Service (IDCS) and IAM are fully integrated hybrid account and access management solutions that protect applications in on-premise and cloud environments, secure compliance, and manage account lifecycle.

Companies without an IAM face reducing business efficiency and weakening security since they need to manage their accounts and change the system access authorities manually whenever they update the status of their executives and employees, such as joining and resignation, promotion and personnel transfer.

The need for IAM and FIDO is rising across a wide range of the enterprises. Oracle's IAM users will be able to increase their mobile security through fingerprint, voice, face, and iris recognition technology provided by Samsung SDS's FIDO, a Samsung SDS spokesman added.

Oracle is also expected to secure its position as a leading integrated account management system provider by connecting with Samsung SDS's biometric solution.
The companies will first cooperate to expand the business in financial and public markets.

The two will also combine Samsung SDS's retail store innovative solution Nexshop™ and Oracle Marketing Cloud to empower clients to collect and analyze real-time shopper data, send direct mail, and increase their marketing capacity.

来源

Samsung SDS