IoT
Samsung SDS takes part in KEA's IoT programs for SMEs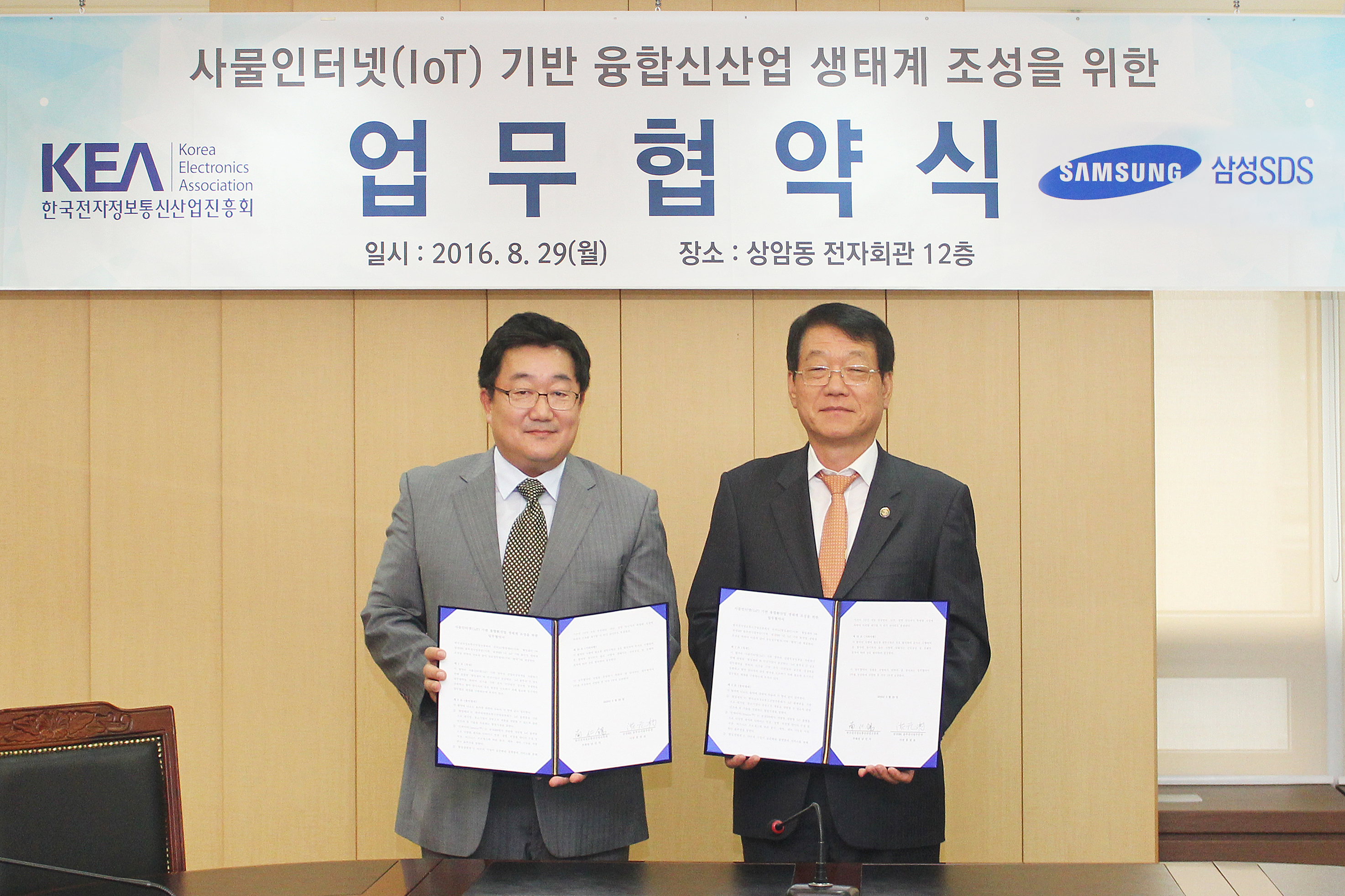 The scene of joining into KEA
- Samsung SDS agrees to provide its IoT platform (Insator™) service to Samsung SDS building
- Build IoT infrastructure for manufacturing to facilitate cooperation among KEA members and development of new IoT products and services
- Help KEA members to enter the global market by providing IoT technological support

Samsung SDS (President and CEO Chung Yoosung) announced on Aug. 30 that it has signed a memorandum of understanding with the Korea Electronics Association (Chairman Kwon Oh-Hyn) to provide support for local small and mid-sized enterprises in the field of IoT.

KEA established the Electronics IoT Partnership Center last year and has been providing support for local SMEs to develop new IoT products and services.

This MoU is a major step in facilitating the development of new IoT products by creating manufacturing IoT collaboration infrastructure between large corporations and SMEs using Samsung SDS's IoT platform Insator.

With this MoU, Samsung SDS delivers Insator to KEA members in the form of platform as a service (PaaS), opens technologies to develop new products, and enables the development of new data-driven services.

Through Insator, KEA members can use device interlocking modules, Application Program Interface (API), and portal web site for admins as well as receive technical support from Samsung SDS.

Additionally, Samsung SDS and KEA will jointly seek to coordinate various information sharing activities by operating a standards community and holding forums to support cooperation between companies and new IoT-based product development.

KEA will provide support to strengthen the global competitiveness of its members by encouraging them to use IoT platform and develop and operate educational programs.

Samsung SDS and KEA agreed to establish an ecosystem for IoT-based collaboration, to support KEA members to enter the global market and to develop more sustainable collaborative models.
来源

Samsung SDS