Security
Samsung SDS, expands global security solution in finance sector
– Samsung SDS completes mobile security solution portfolio by introducing Mobile Voice Recording Solution (MVRS)
– Samsung SDS prepares to expand its business in UK financial market after entering global public sector
– Expectations that business will grow due to expansion of business and areas that require mobile security
Seoul, Korea – October 19, 2016 – Samsung SDS, a global IT service company and affiliate of the Samsung Group, introduced its Mobile Voice Recording Solution(MVRS), an essential solution in the mobile finance sector. Also, MVRS will be linked with existing enterprise mobile security and authentication solutions and strengthen its stance in the global financial market.
Currently customers have to call twice to finalize a financial transaction since the phone call between the customer and the employee at a finance company is not recorded and only the call between the customer and the call center staff is.
MVRS automatically saves and manages all voice, message and other transactions between the customers and call center and finance company employees through mobile device. Thus, clients can make a transaction through a call center or finance company with only one call.
All financial data is monitored whether if it satisfies related process and rules and will be utilized as critical information.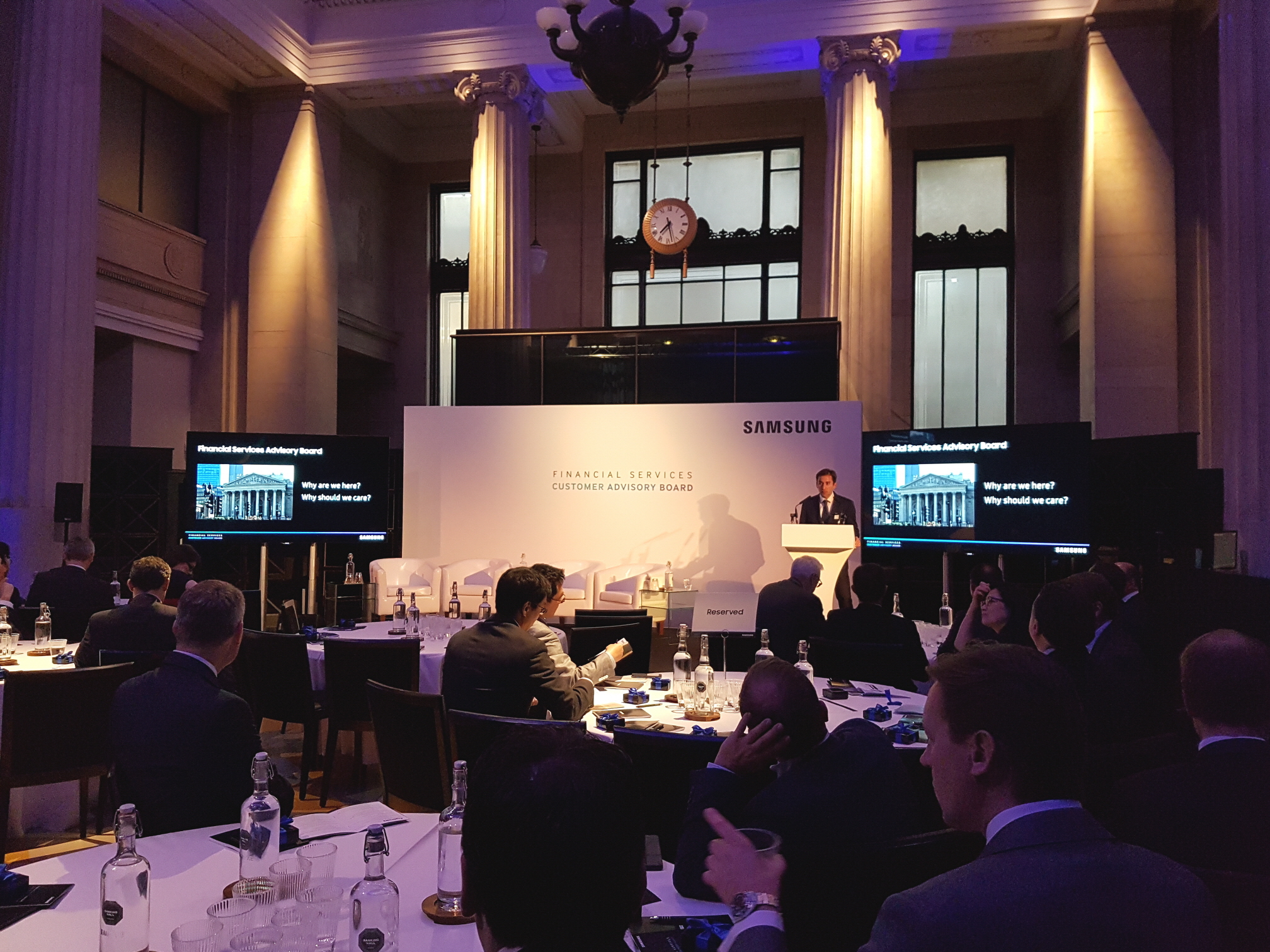 ▲ Presentation of solution that will be presented on the 18th at UK
MVRS will be linked to EMM(Enterprise Mobility Management) a security solution that is recognized in global public sectors such as a public department in the US, the Singapore Agency for Defense Development etc. along with FIDO(Fast Identity Online) a mobile biometric authentication solution and Knox, Samsung Electronics mobile solution platform. By adding MVRS, Samsung SDS completed its mobile security solution portfolio.
Samsung SDS commented "Now with MVRS Samsung SDS is fully equipped to expand its business in the global B2B financial market where security is the core competitiveness."
Samsung SDS targeted the UK since the UK implemented a bill that all voice and messages, related to mobile financial transaction shall be recorded and saved for five years from 2018. Moreover, this is expected to be applied in other sectors such as health, logistics etc. Thus, Samsung SDS decided that the UK market has very high value as a strategic market.
Last October 18th, Samsung SDS and Samsung Electronics held a solution presentation targeting top financial institutions and received high interest from clients.
Samsung SDS also emphasized that a similar bill is actively being discussed in the US thus the future of the MVRS and mobile security market at whole is very bright.
WonPyo Hong, President of Solution Business at Samsung SDS said "With MVRS Samsung SDS can offer all core solutions related to mobile security needed in the financial solution market. Samsung SDS will continuously strive to provide superior solutions to meet the needs and expectations of global financial firms related to mobile security."
.
.
.