Partnership
Samsung SDS to become Digital Partner of Vietnamese Sovico Group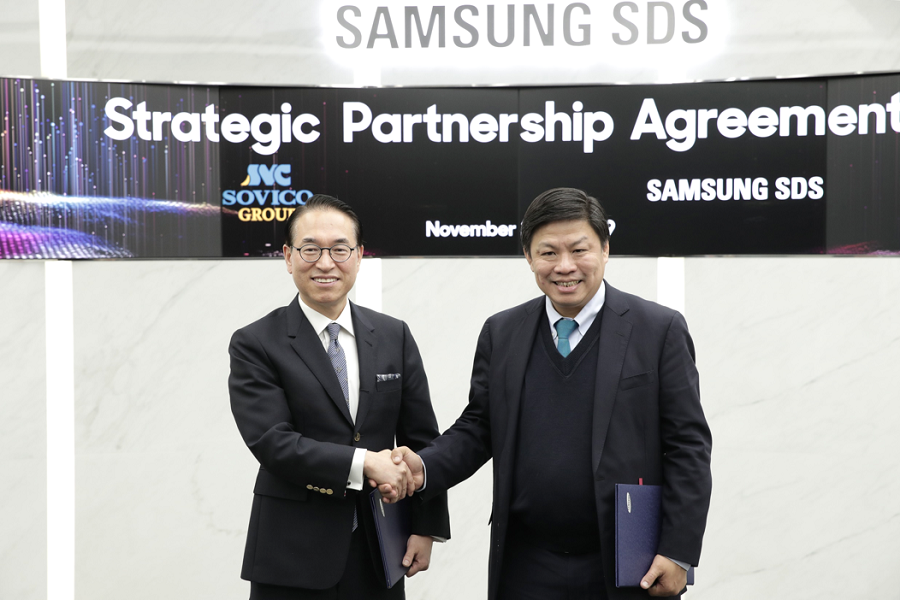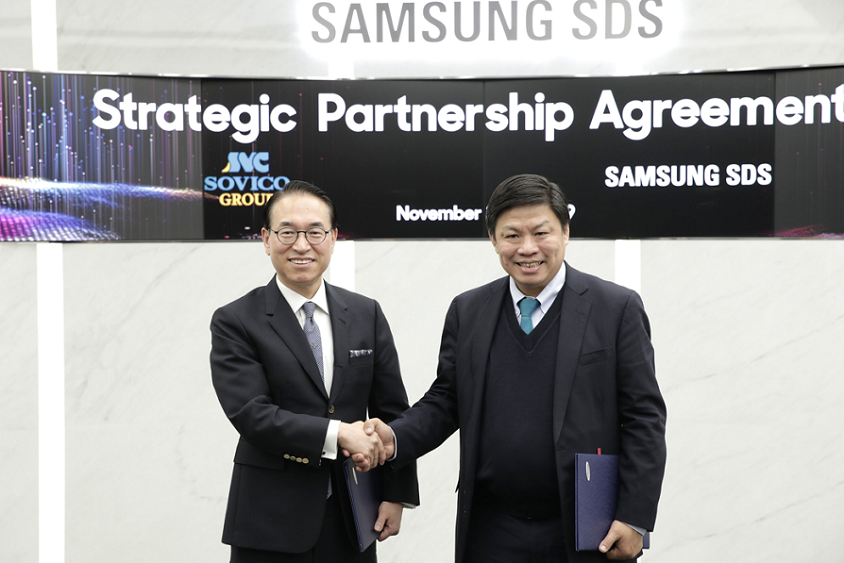 Samsung SDS to become Digital Partner of Vietnamese Sovico Group
+ Signed MoU with Sovico Group that owns Vietnam's biggest private airliner VietJet and HD Bank
+ To support Digital Transformation in logistics, digital finance, retail, and smart city

Samsung SDS signed a memorandum of understanding with Sovico Group, Vietnamese business group, to support digital transformation and logistics business innovation last week at its Seoul headquarters.

During the visit of Vietnam Prime Minister and a high-level Vietnamese delegation to Republic of Korea, Dr. Nguyen Thanh Hung, Chairman of Sovico Group, held workshop with Dr. WP Hong, CEO and President of Samsung SDS, and carried out intensive discussions to seek possibilities on areas to collaborate.

Sovico Group, established in 1992 at Hanoi, is a fast-growing business group in Vietnam that owns the biggest private airliner, VietJet, as well as subsidiaries in the finance, retail, real-estate, and energy industries.

Based on this MoU, both companies will seek cooperation around the fields of logistics, digital finance, retail, solutions for smart city, loyalty programs etc. Samsung SDS will collaborate with Sovico Group's subsidiaries in the logistics business to jointly seek new business opportunities.

Especially, Samsung SDS' know-hows and technological platforms will not only enhance significantly Sovico Group's existing digital services but also bring greater benefits for two companies' customers, and enable two sides to develop joint business opportunities.

Dr. Nguyen Thanh Hung, Chairman of Sovico Group, said, "We believe that the cooperation with Samsung SDS will contribute to a significant growth for the two companies and soon offer more products and services to the market community."

Dr. WP Hong, President and CEO of Samsung SDS, said, "Samsung SDS is dedicated to support Sovico Group's digital innovation and we believe this partnership will help us to further expand our presence in Vietnam."

Meanwhile, under the management policy of 'Innovative growth based on external business', Samsung SDS is consistently expanding its business in the Southeast Asian market, following its strategic investment in Vietnamese IT service company, CMC, in July this year.