Government
Securing Cloud Service System for Realization of Government Digital Platform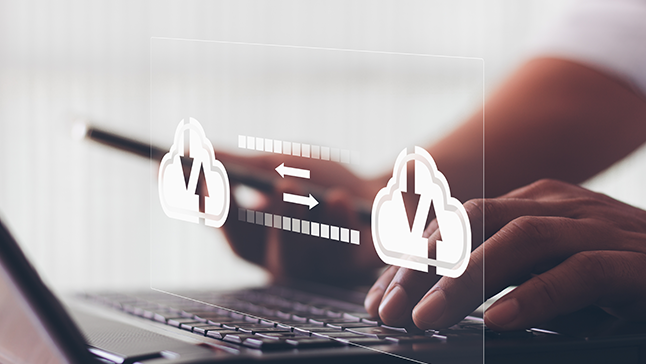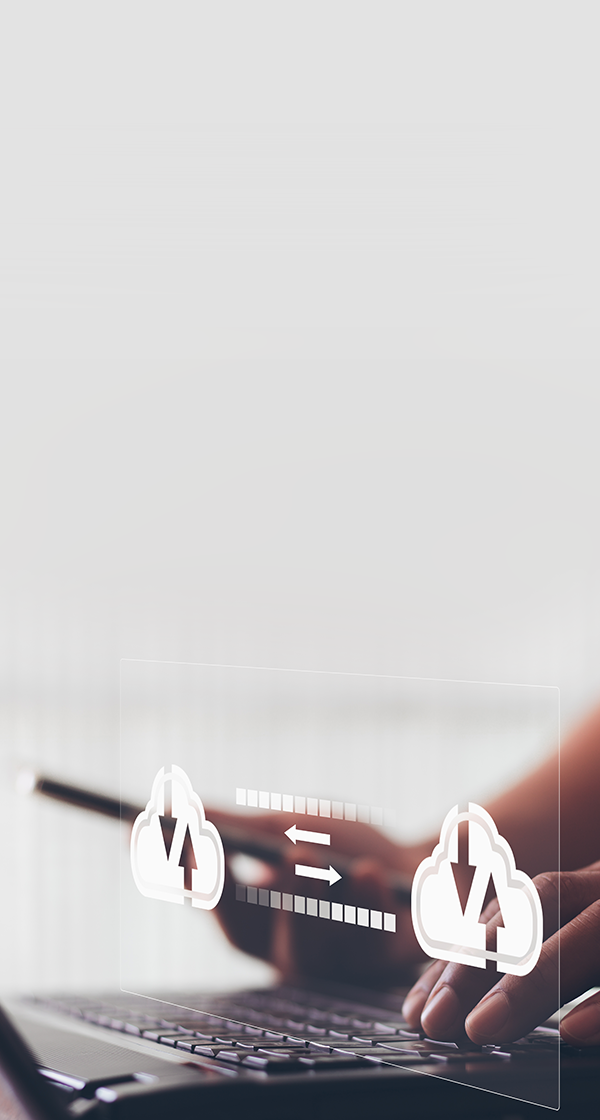 "The government is making cloud transformation its main policy direction to realize the government of artificial intelligence and data-based digital platforms, but it was difficult to develop the area of cloud technology utilization into a public initiative. In order to expand opportunities to revitalize the local economy and secure a digital service supply system led by private companies, local governments have established a cloud service system for the Government based on the Samsung Cloud Platform with Samsung SDS."
Government
Challenge
Recently, the digital service supply system to respond quickly and flexibly to urgent digital demands such as COVID-19 and quarantine passes has emerged as an important factor. In order to realize information on artificial intelligence and data-based digital platforms, policy directions using innovative cloud platforms have been set.

The government has promoted a pilot project for cloud computing service utilization models with six local governments as target organizations so that private clouds can be settled in various forms in the public sector. The client decided to push for a public cloud transition to revitalize the weak local economic base through digital services and establish a private company-led digital service supply system.

Customers had to carry out pilot projects without a hitch through "private company-led" cloud conversion, in which institutions provide space and cloud service providers provide cloud infrastructure among private cloud utilization models introduced in pilot projects.

Cloud Transition to Realize Digital Platform Government-Optimal cloud utilization model that meets the computer status and requirements of public institutions, Design to minimize trial and error that can be converted to cloud within planned budget and schedule, Cloud operators need to respond not only to cloud infrastructure but also to operating tasks
Solution
Cloud Utilization Model Optimized for Government

· Establish and apply security-enhanced private clouds within the region
· Recycle existing public system security environments to ensure cost efficiency

Customer-Optimized Cloud Structure Design

· Reduce costs by integrating security software, web firewalls, etc. required by each institution
· Minimize unnecessary costs by applying optimal cloud products suitable for each business system

Systematic cloud conversion methodology and CSP+MSP professional technical manpower utilization

· Develop and apply automation tools for cloud transformation of 300 Systems
· Provides integrated cloud services from cloud service products and cloud consulting to conversion/construction and operation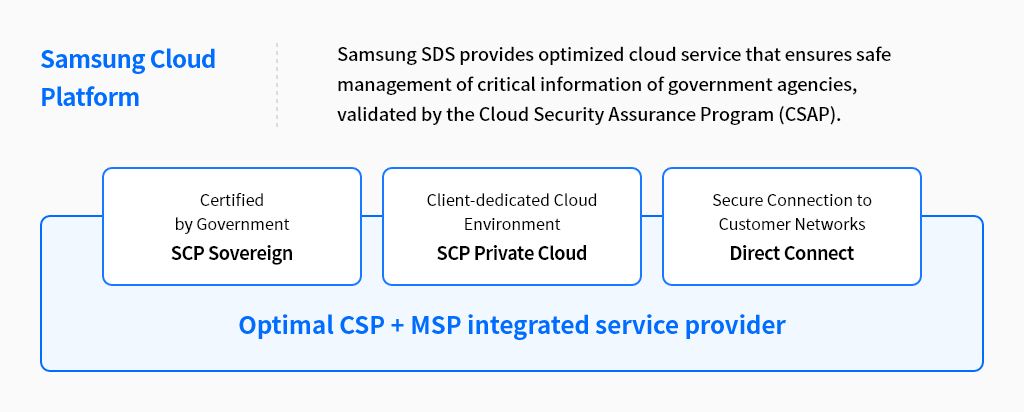 Samsung SDS provides optimized cloud service that ensures safe management of critical information of government agencies, validated by the Cloud Security Assurance Program (CSAP). Certified by Government SCP Sovereign,Client-dedicated Cloud Environment SCP Private Cloud, Secure Connection to Customer Networks Direct Connect Optimal CSP + MSP integrated service provider
Benefit
Securing system security/stability

· Improve data backup and security policy compliance
· Improve cloud software vulnerability structure


Improvement of public service

· Breakthrough improvements in system response time and throughput per hour
· Improve service satisfaction with the government


Eco-friendly Cloud Utilization

· Actively Apply domestic software to cloud
· Power usage drastically decreased due to cloud conversion