At the IBM InterConnect 2017 event held in Las Vegas, U.S.A. in last March, Samsung SDS introduced Insator common platform, which gathered great interests from global enterprise IT managers.

Insator introduced at the event is a 'common data-based service platform' developed by Samsung SDS.
Various solutions of Samsung SDS have been developed and under service based on the Insator platform.
Functions of Insator are composed of the IoT function, which connects and controls IoT devices, the DP (data preparation) function, which collects big data from various data sources, the APIM (API management) function, which manages integrated APIs, the IAM (identity and access management) function, which provides the core security functions when the Samsung SDS solution is serviced as cloud, and the KMS (key management system) function. (Details on Insator will be introduced through 7 articles published in this blog.)

Samsung SDS featured the IoT-related functions. Special attention was given to a model developed in collaboration with IBM Bluemix, 'Insator on Bluemix'. We also introduced RMS (remote management solution), a representative solution based on Insator, with a demo, as well as Nexsign, a biometric authentication system.

IBM InterConnect 2017

IBM InterConnect is one of the global technology events where more than 20,000 persons attend every year from all around the world and introduces various new technologies and solutions related to enterprise IT. Particularly, many companies that carry out B2B IT businesses participate in this event.

In this event, more than 2,000 presentation sessions were held. The topics covered were not only services from IBM, such as Bluemix and Watson, but also various technologies required for enterprise IT such as hybrid cloud, process transformation, integration, IoT (internet of things), mobility, DevOps, IT service management, and security.

Keynote Session at IBM InterConnect 2017 (Source: IBM)
In the keynote session, IBM's new services under preparation drew attention.
Introduced were Bluemix's support of Kubernetes-based container service, services provided under the partnership with RedHat and Veritas that help move and control data freely and efficiently between on-premise site and cloud under the hybrid cloud environment, and new IBM cloud object storage flex. Through the keynote session, it was possible to predict the future service direction of IBM.

Among those, a particularly eye-catching topic was the IBM's blockchain strategy.
Presenting the blockchain as an enterprise IT tool with growth potential, IBM introduced 'Blockchain as a Service' as IBM's new cloud service. With it, IBM supports enterprise customers such as healthcare, government, and banking customers to configure their own blockchain networks (digital identity networks) beyond providing the existing crypto-currency applications. IBM's blockchain service is based on the hyperledger fabric open source.

Insator IoT and RMS Introduced at the Event

Insator IoT provides the IoT engine function used for development of IoT-related solutions or services. Its major functions include connecting devices to the cloud using the lightweight IoT protocol, providing secure data transmission using security technologies such as device authentication and encryption of communication channels and data, controlling devices remotely, providing firmware updates, and executing remote security patches. It also provides the modeler and development tools for easy implementation of services provided by the server through scripts

Typical solutions utilizing Insator IoT include smart building management, smart home, and Nexshop retail shop management.
. At this event, RMS, which is recently making inroads into the North American market, was introduced along with a demo.
. RMS is a solution that provides key functions such as asset management of IoT devices or products, remote failure diagnosis and remote control from the central control center.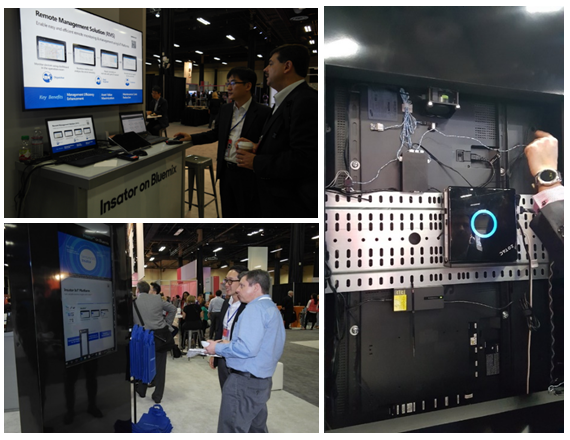 Introduction of Insator and Insator-based Solution RMS
The RMS utilization scenario introduced at the exhibition was the remote control service for digital signage, whose use is increasing recently.
. This function is also called PoP (proof of play). It literally checks remotely whether the video contents are played without problem in a large shopping mall or a public facility, such as a subway station, that manages multiple LFDs (large format displays).

Here, the remote check function of RMS can not only check a display failure such as a blue screen but also check whether the right contents are played at the right time without problem. It also monitors the internal state and resource usage status of a display based on the personalized criteria of each device.
You can control devices remotely including turning on/off the display power and adjusting display brightness and contrast according to the weather. At the facilities that manage digital signages, it is difficult to visit each display one by one to check and adjust its status. So centralized management and control is very important.

RMS continuously collects current signage status information via the Internet using various sensors mounted on LFDs, such as the RGB sensor, on/off sensor, and temperature sensor, and comprehensively analyzes this information using the machine learning technology from the cloud, determining whether a display has a failure or not.
Here, Insator IoT is responsible for device connection and information collection. Functions such as centralized control are additionally developed using Insator API and are mounted on the Insator platform.

Insator on Bluemix

The goal of collaboration was to help Bluemix users to utilize Insator IoT functions when connecting IoT devices and implementing the control functions for them. To achieve the goal, IBM and Samsung SDS already completed its technical verification last March.

When Insator on Bluemix is released, users will be able to use Insator IoT functions by selecting the Insator IoT icon from the Bluemix service catalogue and binding it to their own applications.
For this, Insator IoT is responsible for secure connection and control of devices and the Bluemix application is used to develop services specialized for the users' own business domains.

For example, imagine a ski resort as shown in the sample application below.
. Snow cannon within the resort as well as devices supplied to the rescue team or resort staffs such as the smartbands are connected to the cloud system through Insator IoT. Bluemix remotely monitors device statuses, such as the operation and energy consumption of snow guns, or tracks the positions of smartbands and sends signals to them. At this event, the scenario was developed based Bluemix and Insator as an example and was introduced to event participants. They also received the Insator user's guide for Bluemix developers.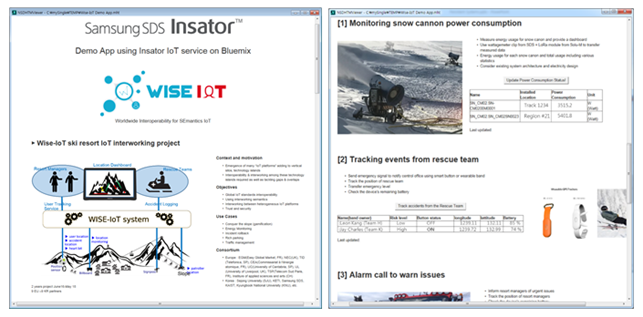 Application Utilizing Bluemix and Insator
In fact, the exemplary scenario above was based on the scenario of the Wise IoT project, which is an IoT international standard interoperability project where Samsung SDS is currently working together with Sejong University, KETI, with the goal to ensure interoperability among differing global IoT standards.

The Wise IoT project works on securing and verifying the technology with which various IoT standards such as oneM2M and OCF can understand each other's messages and communicate with each other.
In addition to universities and organizations in Korea, various European organizations including EGM (Easy Global Market, FR), NEC (UK), TID (Telefonica, SP), CEA (Commissariat à l'énergie atomique, FR) and UC (University of Cantabria, SP) participate in the Wise IoT project under collaboration. The project is also preparing for the pilot service in association with 2018 Pyeongchang Winter Olympics.

Marketing for Global B2B Solution Business

Up to now, I introduced the IBM InterConnect 2017 event held in Las Vegas and Insator IoT and related solutions exhibited at the event.
My plan is to introduce Insator in more detail in the next week and I expect more technical matters will be covered.

Participating at the event in person, I personally talked a lot with many companies that prepared booths and participated in the event and I was surprised at the fact that a lot of small-sized companies participated. Looking at them working hard to implement more advanced enterprise IT systems and deliver them to customers, I had to look back to see if our effort was not sufficient yet.

While B2B IT vendors in Korea have launched solutions to enter the global market, Samsung SDS also prepares various solutions to attract global B2B customers. We need to participate in global events like this one more actively in the future to see the total IT industry and IT companies grow together in the global enterprise IT market through competition in good faith.



▶ The contents are protected by copyrights laws and the copyrights are owned by the creator and Samsung SDS.
▶ Re-use or reproduction as well as commercial use of the contents without prior consent is strictly prohibited.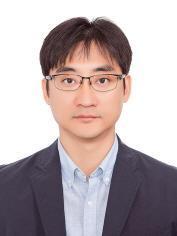 Pro, Seongmun Gang
IT Technology
Samsung SDS
Gang Seongmun is a product manager of Insator at Common Platform Lab of Samsung SDS Research Center. He has experienced IT systems in various fields such as finance, logistics, manufacturing, and health care. He is also involved in connecting technology and business as a professional Engineer Information Management and MBA.