With the news of Samsung SDS investing in Jitterbit, I would like to share our thesis and thinking behind this partnership. We first became interested in this integration space and technology trend in late 2016 when Google bought a company called Apigee and a company called Mulesoft was planning to file for an IPO. Over the past 2.5 years, we did our due diligence - meeting dozens of companies in this space and evaluating and comparing technologies through PoC's. At the same time, we looked at our own internal business and observed what was happening in Enterprise IT.

But first, what is API Integration and iPaaS?
In Silicon Valley, the hottest technology companies do not look like technology companies at all. Uber, Lyft, Airbnb all recently filed for IPO's. What few people realize was that these unicorns were tiny companies when they launched their software. A small group of engineers created massive amounts of value in software. For example, WhatsApp was only 55 people when they were worth $16B.


image from Jitterbit investor deck and used with their permission
These small teams recognized that everything they needed was already built. They just had to reassemble components into something new. For example, the founding Uber engineers already had pre-built components like mapping/GPU functions, a mechanism of sending messages, ability to charge credit cards, etc. They reassembled them into an app with a clever business model. They did not write millions of lines of code from scratch.

There are thousands of pieces of technology that can be combined, leveraged, and reassembled to quickly come up with new services. And an integration-platform-as-a-service (iPaaS) allows for API's from these disparate pieces of technology to be quickly integrated and reassembled.

The iPaas category has grown 65% year over year because of this technology trend.

Service Integration is the new System Integration
Before cloud computing and SaaS, an SI (Systems Integrator) had plenty of work to do. Integrating complex subsystems and databases, and ensuring they run well together in on-prem data centers kept SI's like SDS very busy. But in the past few years, thousands of SaaS apps aimed at the enterprise have cut into the share-of-wallet of IT.


source: https://www.blissfully.com/saas-trends/saas-trends-report-q1-2018/
This is both a threat and an opportunity for SDS.

SaaS apps usually require little help from a traditional SI or value-added reseller. They're either self-service, or support is provided directly by the vendor. They're designed to have fast time-to-value with the army of "customer success" managers provided by the SaaS vendor directly to support enterprise users. They're engineered to have pre-built API integrations with other SaaS apps. They run on the public cloud and not a data center. They're created to sell directly and not through a channel.

Similar to the old iphone slogan, "there's a SaaS app for that". It's easier for the CIO to pick point solutions from the SaaS marketplace than to develop full-stack custom on-prem applications. In the age of SaaS, the CIO has less of a reliance on SI's. System integrators need to retool themselves to be service integrators.

Why Jitterbit
With iPaaS growing so quickly and SaaS replacing on-prem system integration, lots of vendors are competing in this hot space: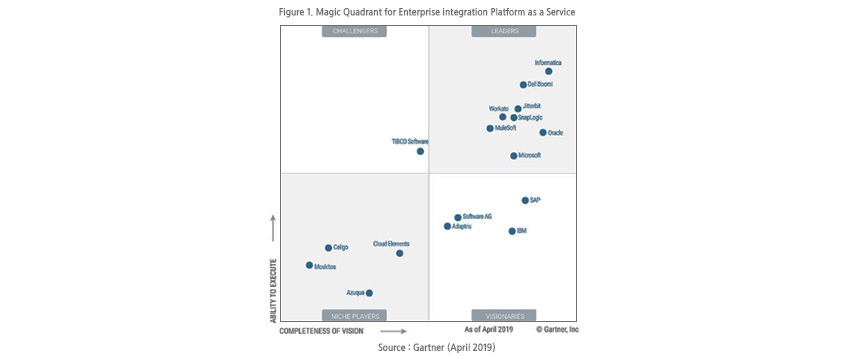 https://www.informatica.com/content/dam/informatica-com/en/image/misc/ipaas-magic-quadrant-2019.jpg
We took a close look at many of these companies. Some are young startups that only focus on connecting SaaS apps. Others are old incumbents that specialize in connecting on-prem legacy systems like enterprise resource management and supply chain management. Jitterbit struck the right balance for SDS's needs. They excel at connecting thousands of SaaS apps with each other AND with legacy SAP systems. While SaaS could eventually dominate the enterprise, mission-critical on-prem systems will not go away. And Jitterbit caters to large enterprises like Samsung that need to seamlessly connect both worlds.

As a strategic partner, they can help SDS in its transition from system integration to service integration. Jitterbit's integration platform serves the technical integration specialists – the engineers that have built our successful SI business. And it also empowers "citizen integrators" – business users who can quickly integrate services without coding.

2.5 years of work went into our selection of Jitterbit. And this is one of the most important investments and partnerships for Samsung SDS'future.



▶ The contents are protected by copyrights laws and the copyrights are owned by the creator.
▶ Re-use or reproduction as well as commercial use of the contents without prior consent is strictly prohibited.




Joe Suh, Sr. Manager
IT Technology
Sr. Manager, Open Innovation Team at Samsung SDS Research in America