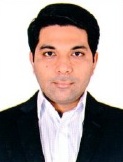 Senior Manager, Sumit Dhingra
Sumit Dhingra is a Senior Manager, Mobility Solutions at SDS India. He provides consulting to various vertical specific customers such as Government, IT/ITES, BFSI, MFI's, Startups etc. on Samsung SDS Mobility Solutions stack. Further, he drives the relationship with Samsung Electronics in India for various engagements such as devices opportunities, Executive Briefing Center (EBC) and joint GTM's including marketing events.

Sumit has been engaged with Samsung Research Institute (SRI) for any bespoke development for mission critical project with Government of India.