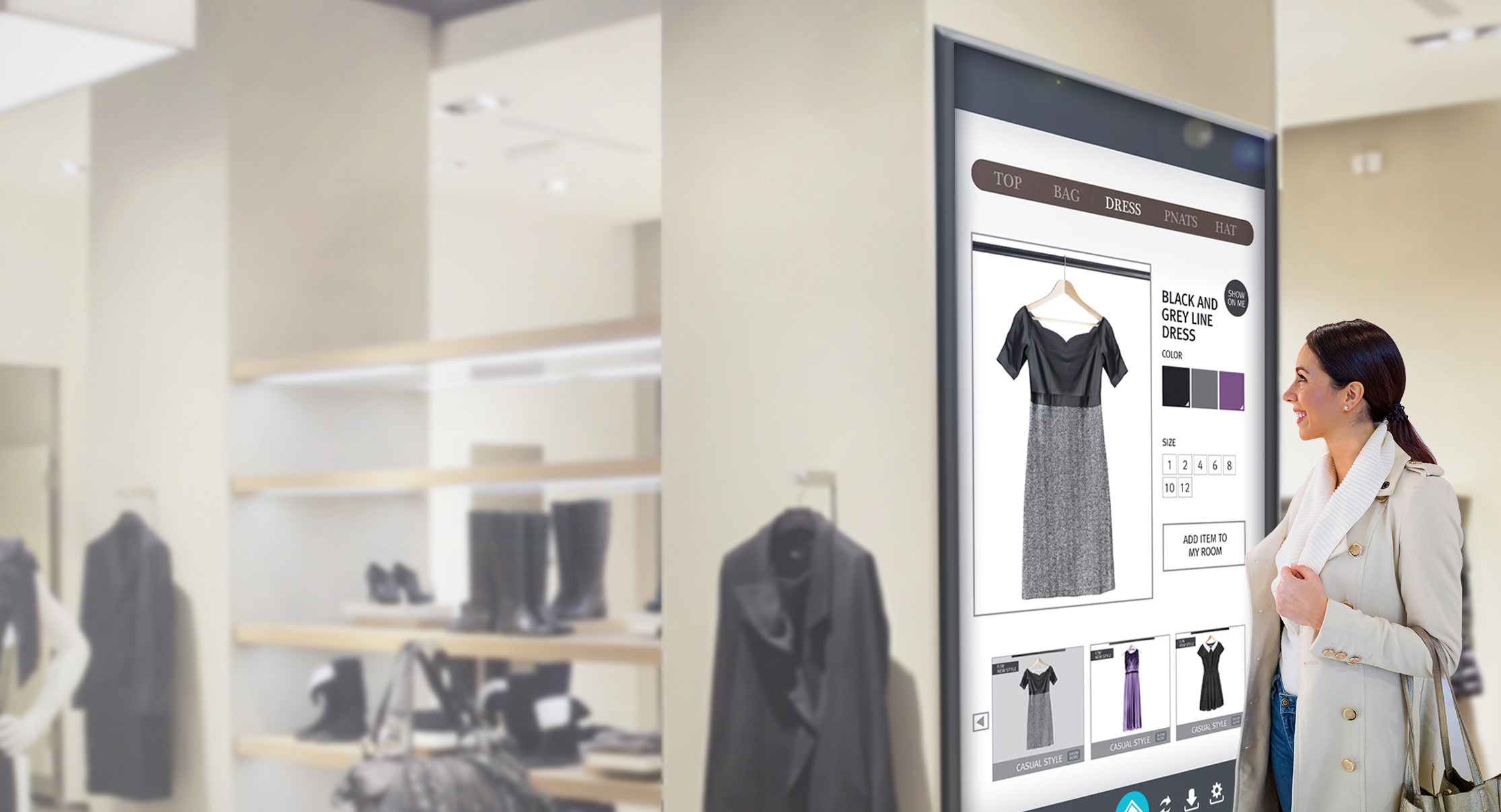 Traditionally, out-of-home advertising lacked the ability for marketers to understand the effect their campaigns had at a granular level or personalize campaigns to appeal to a specific consumer or group. By nature, billboards and signs have broad reach but also paint with broad strokes. There is no ability to adapt until the sign is replaced, and the only data available on effectiveness is the sales data for the given market. This is where the digital component adds value.
Some of the most important value-adds DOOH brings to OOH advertising are:
1. Nimble and highly contextualized content
By leveraging data from multiple sources, DOOH is able to deliver dynamic content that is simply not possible with traditional OOH. Additionally, Artificial Intelligence (A.I.) will lead to groundbreaking developments in the space related to contextualized and personalized content.
2. Mobile integration
Geo-fencing enables DOOH content to connect with mobile devices within a given range. The ability to "push" the campaign to mobile devices makes DOOH significantly more mobile friendly than traditional OOH ads.
3. Ability to interact and detect demographics
Not only can DOOH detect demographic information based on inputs from smart cameras, but it can also respond to consumers based on that data. This enables more effective targeting and consumers receiving information that is the most relevant to them.
4. Ability to create immersive experiences
The aforementioned geo-fencing techniques, as well as technologies like augmented reality, enable DOOH ads to be more than just content. Effective campaigns are immersive, mulita-sensory experiences that put consumers in the middle of the action.
5. More granular reporting
Understanding the effectiveness of a staticbillboard requires interpreting imprecise, general data sets that force even detail-conscious, analytical marketers to paint with broad strokes. DOOH enables inclusion of interactive add-ons, tools, and sensors that marketers and agencies with access to create real-time reports based on people counting, traffic flow heat maps, impressions, and more. This, in turn, leads to better decision making within the marketing group and the company's media partners.
6. Remote maintenance servicing
Damaged or vandalized displays result in wasted advertising spend. Network-enabled DOOH displays with smart remote sensors can send notifications when maintenance is needed, limiting costly downtime.
Understanding the importance of integrating data sources
Digital out of home ads make it possible for OOH campaigns to incorporate data from multiple discrete sources. This powerful feature of DOOH makes it highly extensible and enables many of the benefits we discussed earlier. Smart devices like cameras and beacons collect data in a way that makes integration possible. When data collected from various sources is processed analyzed, the result is often improved audience measurement, context analytics, and content optimization.
For example, by capturing and leveraging geo-location data, a DOOH campaign can be dynamically updated based on the weather or even pedestrian walking patterns.
The power of AI in DOOH
First, let's touch on what we mean by "AI". Artificial Intelligence has become a somewhat overused term, describing everything from self-driving cars and robots to virtual voice assistants and chatbots. For our purposes, let's consider AI to refer to a system or process that approximates human-decision-making by leveraging logic-based machine learning to execute a process or action and potentially provide predictive analytics. All the data captured by marketers using DOOH add-on technology coupled with the ability to deliver content to a target audience in real time make A.I. and DOOH a perfect match.
With add-ons such as a sophisticated rules-engine and CMS, DOOH advertisers can now deliver a more personalized experience. Consider, for example, a kiosk that is able to register anonymized demographic data and also record and learn from how users interacts with the kiosk. Over time, the kiosks may be able to iterate and improve the user experience through an increased understanding
of the user's preferences. Further, by incorporating data from other sources, such as weather or location services, content can be optimized according to user preferences as well as the context of the environment at the time of an interaction.
The growth of digital out-of-home advertising
Referring back to the Magna Global report, the projected increase for digital out-of-home net advertising sales (NAR) will increase was a whopping 16%. This goes to show that the idea of DOOH disrupting the OOH advertising space isn't just a prediction for the years to come; it is already happening today. DOOH is delivering results to businesses needing to connect with consumers in the most effective ways and the DOOH industry is investing heavily in new technology to meet market demands. Digital signage, Bluetooth technologies, beacons, and location services are helping to drive the impressive growth in the DOOH space.
Magna isn't the only one bullish on DOOH in the years to come. MarketWatch estimates a compound annual growth rate (CAGR) of 10% between 2018 and 2022, with the DOOH market exceeding $5 billion USD by 2022 (Source). Even more encouraging, PricewaterhouseCoopers projects that DOOH revenue will overtake traditional media in 2020, growing at a rate of 15% per year between 2017-2020 (Source: Adage).
Convergence of out-of-home with other media
One of the biggest benefits of out-of-home, particularly digital out-of-home advertising, is its ability to drive engagement through other mediums, thereby increasing overall conversions. OOH campaigns far outstrip other traditional OOH advertising when it comes to getting consumers to engage with a brand online. To begin to understand the power of OOH to drive consumer engagement, let's consider some data from a Nielsen study and associated Online Activation Survey (as reported by Billboard Insider):
• 46% of US adults have used a search engine to look up information after seeing or hearing an OOH advertisement
• OOH accounts for 26% of gross online search activations generated by television, radio, print, and OOH while only accounting for 7% of the combined advertising expenditures
Part of the reason OOH is such a powerful tool in in this regard is that consumers are naturally highly engaged with social media and mobile platforms when they are outside of the home. When they see an interesting and engaging ad campaign in the real world, they can quickly and easily share on a social network or learn more by following a hashtag or doing a quick Google search.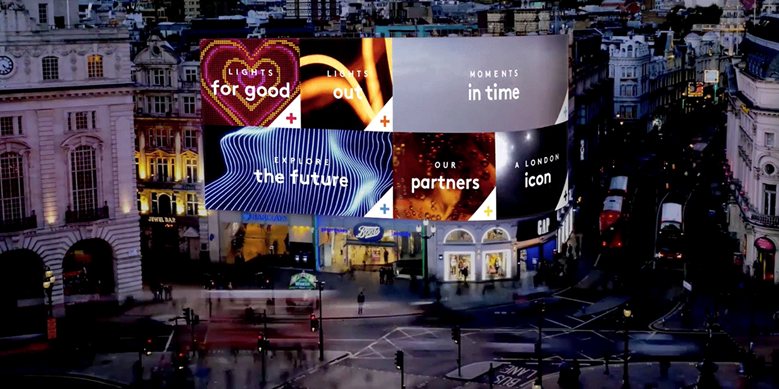 For example, consider this larger than life billboard in downtown London, launched in October 2017, designed to target both individual pedestrians and vehicles. Equipped with camera sensors, the 11 million pixel LED screen will pre-programmed ads according to the make, model and color of detected vehicles. The logic here is to use logic, i.e., "tell me what you drive and I will tell you who you are", to drive ad targeting.
Taking it one step further, ad content will also be targeted directly at passerby's; it will obtaining anonymously age, gender, and sentiment of individual pedestrians in the square and deliver personalized ads. The initial launch featured major brands that signed on to pilot the initiative, including Samsung, Coca-Cola, Hyundai, and L'Oréal. Since then, the installation has continued to evolve with the times, and brands are catching on to the advantages of being in the space.
The primary advantage, of course, is that participating advertisers have a leg up on traditional out-of-home advertising, and even less advanced digital out-of-home, in being able to engage with consumers in real time with relevant, impactful messaging. Ocean Outdoor CEO Tim Bleakley, notes, "Piccadilly Lights is one of the world's most responsive, feature-rich advertising displays. Today is a major milestone in the history of Piccadilly Lights and to mark it we have a superb line-up of iconic global brands across six categories ready to exercise its creativity" ("London's iconic Piccadilly Lights", 2017).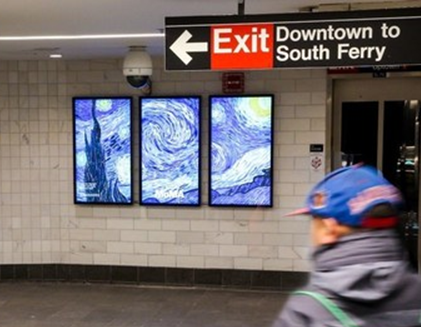 Returning to the ad capital of the world, New York City, we learn how digital is amplifying brand messaging for MTA advertisers. The MTA tapped Outfront Media to provide entertaining digital content to millions of NY subway riders. With Museum of Modern Art (MoMA) as the
launch partner, the agency plans to provide new digital content every month, from paintings and sculptures to animation and full motion video.
Further, advancements in virtual and augmented reality are enabling users of digital out-of-home advertising to take their OOH content to another level. Not only does this lead to more interesting and engaging content, it also inherently makes content more "shareable", increasing the number of eyeballs on a brand.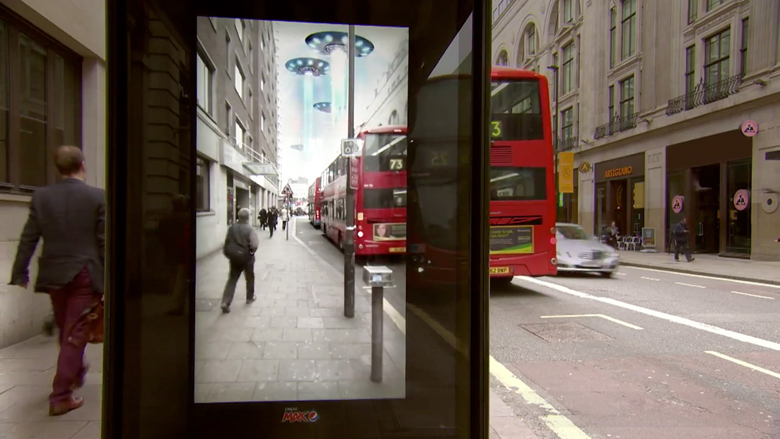 For a great example of how out-of-home can couple with augmented reality, check out this Pepsi Max ad placed at a bus shelter in London.
It is not easy to get the attention of consumers in today's ad-heavy world, but as demonstrated in the video, augmented reality can create an experience people will respond to and willingly share, evidenced by the individuals in the video who quickly pulled out their mobile devices to record or call someone about their experience in real time. The takeaway here isn't just that alien abductions, killer robots, and tigers on the street are more interesting than your average ad. Rather that, by creating an experience, DOOH can get users excited about engaging with our content in ways that other mediums simply can't.