Partnership
Samsung SDS and bemyfriends Strengthen the Global Logistics Business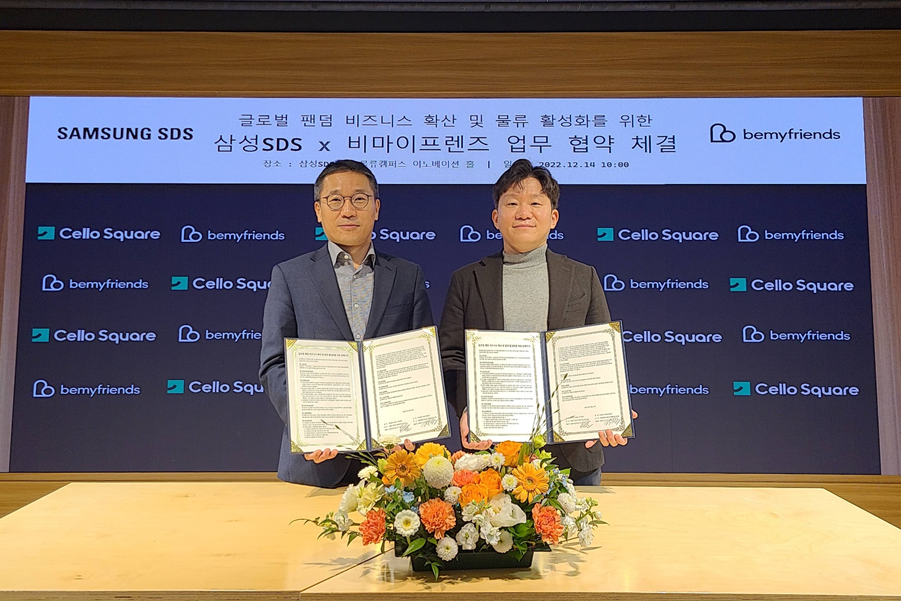 + Samsung SDS will partner with bemyfriends, the global fandom business startup, to expand Cello Square's overseas logistics business
+ This partnership will provide the logistics services for global K-pop artists and creators, including inventory management of overseas fulfillment centers and international transportation and tracking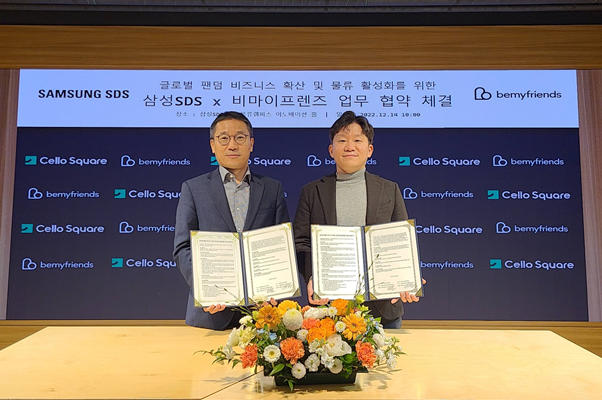 Kooil O (EVP of Samsung SDS) and Brice Lee (co-CEO of bemyfriends) at the MOU signing ceremony
On December 14, Samsung SDS and the global fandom business startup bemyfriends have announced the signing of a memorandum of understanding (MOU) in order to expand its global digital logistics services.

bemyfriends is the startup providing a hero solution, b.stage, which is an all-in-one, web-based SaaS solution that helps K-pop artists and creators launch global commerce and build communities for their fans.

The partnership will see Samsung SDS use b.stage to expand its logistics business by providing digital logistics services for artists and creators on a global scale.

Samsung SDS will build a connection with b.stage and its digital logistics platform, Cello Square, to make it easy for clients to use b.stage to streamline a wide range of services. These include inventory management at overseas fulfillment centers, as well as international transportation and tracking.

Cello Square is a total logistics services provider that simplifies the entire import and export logistics process. The company makes it easy for businesses to handle everything from import and export logistics estimates to booking, transportation, real-time freight tracking, and settlement.

"Through this business agreement with Samsung SDS, bemyfriends will offer creators and companies using b.stage a seamless and convenient global e-commerce experience with Cello Square," said Brice Lee, co-CEO of bemyfriends.

"We will expand digital logistics services to various industries by working in mutually beneficial partnership with startups planning to advance overseas," added Koo-il O, Executive Vice President and Leader of the Logistics Business Division at Samsung SDS.