Samsung SDS News
Samsung SDS Forms Business Partnership with o9 Solutions and emro to Gain Foothold in Global SaaS-based SCM Market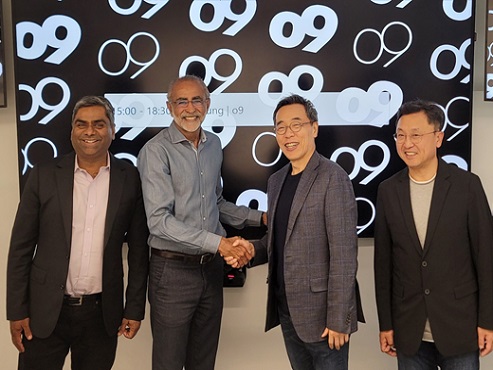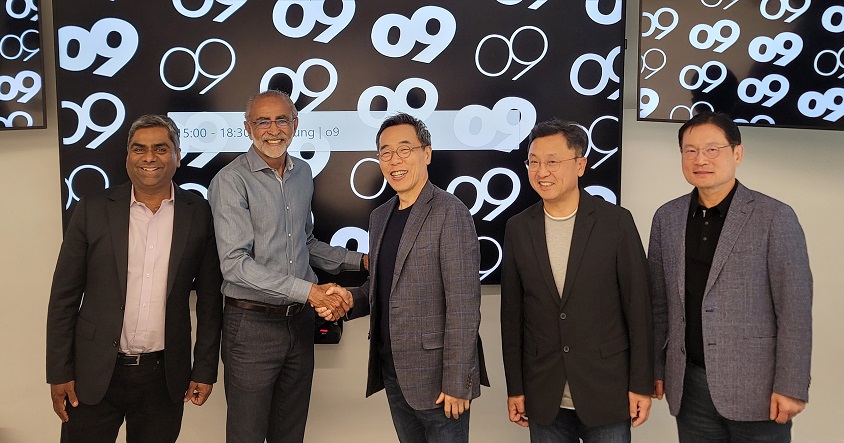 + To co-develop SaaS-based Supplier Relationship Management (SRM) solution by harnessing the strengths held by each company + SRM solution expected to grow into the world's leading SaaS
[from left] Chakri Gottemukkala (Co-founder and CEO of o9 Solutions), Sanjiv Sidhu (Chairman and Co-founder of o9 Solutions), Sungwoo Hwang (President & CEO of Samsung SDS), Haegoo Song (EVP and leader of Solution Business Division at Samsung SDS), Jung Tae Ahn (EVP and leader of Corporate Management Office at Samsung SDS)
Samsung SDS signed a strategic partnership with the leading U.S. supply chain platform provider, o9 Solutions, and Korea's number one supplier SRM solution company, emro, with the aim of jointly developing and selling a global SaaS-based SRM solution.

This is a "win-win-win" relationship formed by three companies that have different sets of strengths, through which the companies will collaborate on developing and providing a solution that enables innovative approaches to supply chain management.

Due to the COVID-19 pandemic and the rise of geopolitical risks, supply chain management has become increasingly important for the competitiveness of companies, and thus the demand for advanced solutions for supply chain management has grown significantly among companies in recent days.

Samsung SDS, together with the two partner companies, plan to complete the development of this innovative solution by the end of this year, and work on building it into a global leading solution by expanding its customer base from 2024.

Following its securing of SRM solutions through the acquisition of emro's shares in March this year, Samsung SDS has now gained access to the global SaaS-based platform and worldwide business network owned by o9 Solutions with the signing of this partnership.

As for o9 Solutions, the partnership will lead to broadening its business scope as SRM solution will additionally be available on its o9 Digital Platform. Also, it will be able to strengthen its competitiveness in the global market through close linkage between its existing supply chain planning (SCP) solution and the SRM solution.

In the case of emro, the partnership will allow the company to secure a global network for selling and implementing its solutions, which had been a major challenge for Korean solution providers in entering overseas markets. This is thus expected to set an example of Korean software successfully making headway into the global market.

"This strategic partnership formed between our three companies will serve as a trident that will pierce through the geopolitical risks faced by global companies," said Sungwoo Hwang, President & CEO of Samsung SDS. He added, "It is indeed a perfect strategic combination of key strengths held by each of our companies."

Meanwhile, Chakri Gottemukkala, Co-founder and CEO of o9 Solutions, stated, "Global supply chain management has become more important than ever, while the need for collaboration on shared growth and ESG activities is rising among companies. In response to such market trends, we decided to form this partnership to make joint efforts on supply chain platform business," as he explained about the reason behind the initiation of the partnership.

In addition, Jay Song, CEO of emro, noted, "We are greatly pleased to work together with Samsung SDS and o9 Solutions in our pursuit of advancing into the global market." He added, "We will aspire to become a leading company not only in the Korean market but also across the globe."

[ Terms ]
*o9 Solutions: a leading SaaS-based planning platform company headquartered in Texas, U.S., which offers a next-generation digital brain platform that enables effective planning and decision-making on supply chain, sales, finance, and overall business.
*emro: Korea's number one SRM solution company that mainly engages in consulting, solution implementation, and software development. In March this year, Samsung SDS acquired a stake in emro and accordingly became its largest shareholder.
*Supplier Relationship Management (SRM): A solution that supports partner discovery, collaboration, evaluation, and procurement planning and risk management in various stages of development, mass production to discontinuation.
*Supply Chain Planning (SCP): A solution that establishes and manages supply plans based on demand forecasting.
*Supply Chain Management (SCM): A system that integrates and offers planning, purchasing and execution services throughout the procurement cycle.