Cloud
Samsung SDS positioned in 2019 Gartner Magic Quadrant for Cloud Managed Service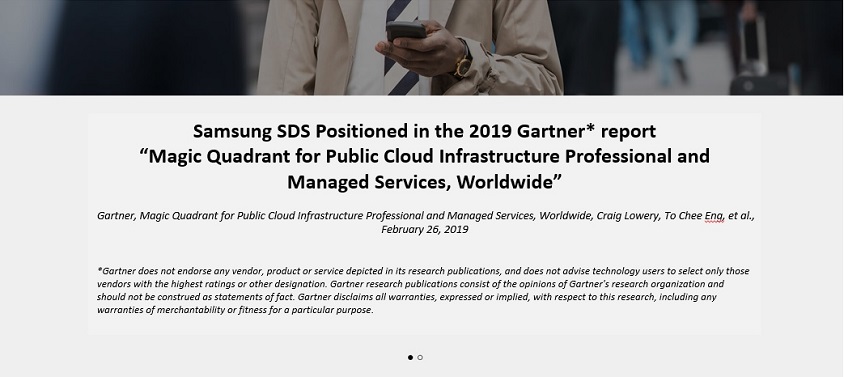 Samsung SDS positioned in 2019 Gartner Magic Quadrant for Cloud Managed Service
Samsung SDS's Cloud Managed Service (CMS) was listed in 'Magic Quadrant for Public Cloud Infrastructure Professional and Managed Services Providers, Worldwide 2019' from the Gartner Magic Quadrant.



Gartner Magic Quadrant
Gartner Magic Quadrant (MQ) is the most influential report published by Gartner, a global research and advisory firm, and is known as a guide for decision-making by the investors and CIOs around the world. Gartner carefully selects and lists 15 to 20 representative vendors among the top IT companies within a mature global market with the size of over $300M.
Cloud service of Samsung SDS has proved its capabilities by being recognized as one of the leading vendors together with global representative companies like Accenture and Rackspace.
Since the presence in the Gartner MQ itself verifies the technological capabilities and competitiveness of a company in the global market, many global vendors try hard just to make an entry. In MQ 2019, more than 200 global companies competed but only 19 companies that had strong global presence and market capabilities was listed.

Samsung SDS received great evaluation due to various aspects including experience of providing large scale CMS to more than 200 countries around the world, multi-cloud management platform, Global One View (GOV), strong cloud security service and high customer satisfaction level.

Please find more information about Samsung SDS CMS here.