Cloud FinOps, the solution to save your valuable resources
2022-12-27

작성자

Myeong-sik Kim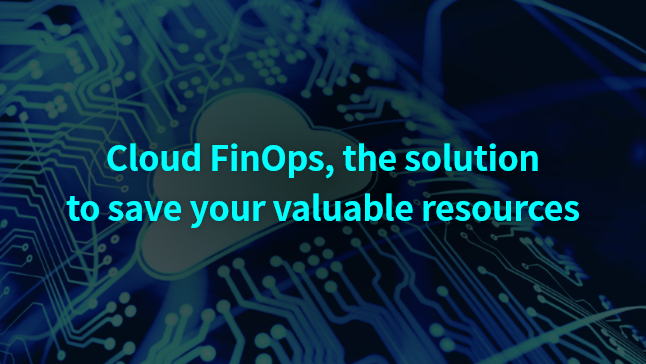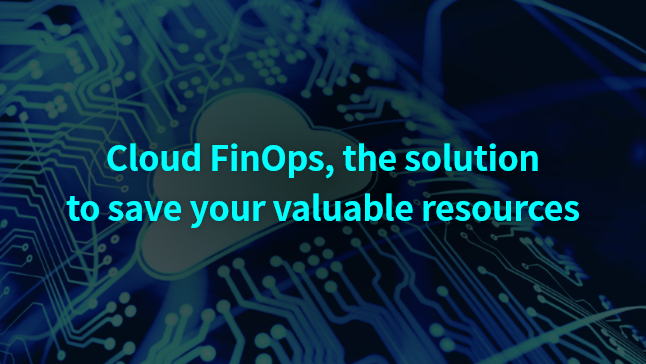 As more people use the cloud worldwide, its expectations and value are also rising. On top of that, COVID-19 triggered skyrocketing growth among cloud service companies and cloud-based businesses in the online market. Today, the cloud is not optional but an integral part of general business. In this report, we will look at the possible issues when running a business with the cloud and how to reduce costs. In this report, we'll analyze challenges in adopting cloud technology for businesses and explore cost reduction methods.
Welcome to the cloud era
As more people use the cloud worldwide, its expectations and value are also rising. On top of that, COVID-19 triggered skyrocketing growth among cloud service companies and cloud-based businesses in the online market. Today, the cloud is not optional but an integral part of general business. Nowadays, cloud utilization is becoming a necessity rather than an option for most businesses.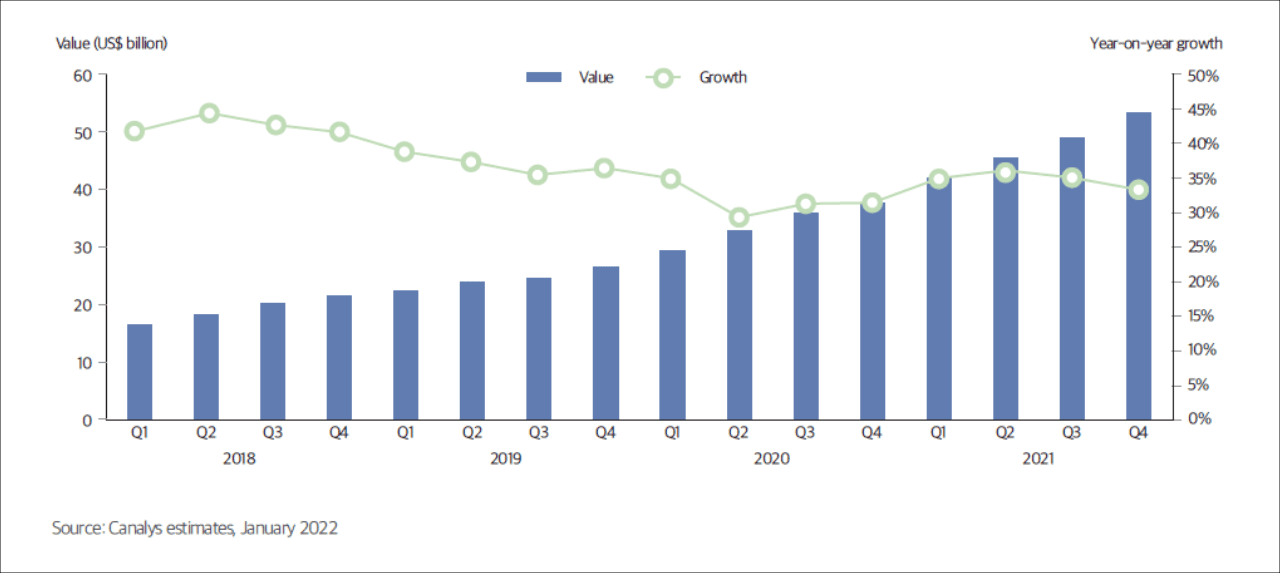 Service fees for global cloud infrastructure surpassed approximately $50 billion in the fourth quarter of 2021. The total expenditure in the fourth quarter has increased by 34% more than 2020 to reach around $53 billion, which is $13 billion more than the previous year.
As customer confidence grows, could services are becoming a technology that will lead various future demands including remote work, health, public, e-commerce, game, and content streaming. Source: Canalys estimates January 2022
While cloud services offer businesses a more efficient and flexible foundation, companies undergoing a profound shift towards cloud migration are meticulously evaluating many aspects of the cloud. Negative factors have been reported, such as the TCO having risen even after switching from an on-premise system to the cloud, and there are cases of returning to on-premise systems after the migration. Considering such issues, we cannot say the cloud is perfect for everyone.
Difficulties in adopting the cloud
In surveys, companies have mentioned the following difficulties in adopting the cloud: Different services provided by each provider, complicated pricing systems, fees being charged regardless of plan, and lack of unified tools for effective operation.

The companies are also pressured into considering application modernization for cloud-native-based refactoring to obtain seamless linkage and process integration of individually established systems in the on-premise and cloud environment, rather than a simple lift and shift into cloud adoption. Above all, introducing a new system and environment without changing the company's work process causes inefficiency and results in problems with using the cloud. You cannot change the company's culture and processes solely through short-term, project-based tasks that involve outsourcing relevant experts.

For example, when we look at how the finance department conducts investment reviews for cloud resources, they tend to apply similar standards as they do for hardware investments, such as servers and storage. Thus, once they complete the investment review for the cloud resources, they typically cease further management, treating it as a sunk cost.

This shows that the business processes that have been operating smoothly for decades can hinder the adoption of cloud technology. Also, if the organization functions like a silo, that makes it difficult to understand and deal with problems that are beyond the scope of each individual's work. Since cloud computing is not an asset of a company but a temporarily adopted service, it is difficult for the company's information strategists to actively check and manage how effectively resources are being used. How much money is wasted on cloud adoption? According to Accenture, the average cost wasted for typical companies is about 30% of the total cost spent on the cloud. Gartner also revealed that $26.6 billion was wasted on the cloud last year. Still, cloud costs will only increase in the future, and this means that wasted costs, which account for an average of 30%, will also increase inevitably.
How to reduce the cost of cloud computing
The fundamental reasons for wasted cloud costs
As mentioned before, the actual problem of waste is not from the cloud itself but from the users who don't know how to use the cloud properly. Gartner mentioned the root cause of waste is the neglect of cloud resources due to long-standing habits of traditional infrastructure management. That is because you can still reduce the cost as much as possible if you follow the information provided by cloud providers. There are two ways: Resource optimization and cost optimization.
Two ways to reduce cloud costs: Resource optimization and cost optimization
Firstly, resource optimization involves using an appropriate amount of resources based on the situation, rather than being limited by the pay-as-you-go cloud pricing model. Examples include deleting unnecessary resources that are not in use, rightsizing over-spec resources compared to demand, and turning off development and staging resources during the times they are not used. On the other hand, cost optimization is used for getting more discounts for the cloud from service providers with the same resource usage. If the resources are to be used anyway, use the long-term reservation products provided by the cloud service providers. AWS Reserved Instance, AWS Savings Plans, and Azure Reservations are typical examples of this. The discount rates for the cloud are different depending on whether it's a one-year or three-year contract. Since long-term reservation products are designed to lock in users, it is necessary to make a cost optimization strategy for the cloud considering the contract period and usage plan.
The emergence of company-wide perspectives to reduce cloud costs: Cloud FinOps
Of course, you can practice the cloud cost-reduction methods independently, but it is much more effective to practice them on a company-wide scale. However, in order to systematically practice them on a company-wide scale, more sophisticated methods and tools are required. For such purposes, Cloud FinOps is created for cost reduction and better use of the cloud from a company-wide perspective.
What is cloud FinOps?
Cloud FinOps is created based on various best practices and its basic idea is to have different departments, from finance to operation, to participate in cost efficiency on a company-wide scale.
Cloud FinOps starts from sharing information. For better understanding, let's take the "Prius effect" as an example. The fuel-efficient car, the Toyota Prius, has a large central dashboard. It continuously displays information about how fuel economy is saved as the driver drives. The information encourages the driver to make more active efforts to improve their fuel economy. Therefore, the first step in Cloud FinOps is to share information with many members in different teams to review resource and cost optimization policies and save costs.
To deliver usage information of pre-purchase resources along with recommendations for appropriate products with discounts by analyzing use patterns, such as how much has been spent, if it did not exceed the budget, the reasons for the cost increase or if there was any resources being wasted would be useful to members who need them. Yet, information sharing and optimization review are not the ultimate objectives of Cloud FinOps.
The key success factors of Cloud FinOps
The key of Cloud FinOps is operations and execution. No matter how high the quality of information shared or how much analysis is done for cloud efficiency and optimization, if it is not executed, there will be no change or results. Putting it into practice differs from simply sharing information. Then, what are the key success factors to run Cloud FinOps?

Cloud FinOps (O'REILLY, authors: J.R. Storment and Mike Fuller), which compiled and published best practices in the actual field, mentions various innovation keywords, such as new culture establishment and cloud adoption automation. Among them, the actual emphasis is on 1) metrics-based goal management and 2) process establishment and execution to achieve those goals.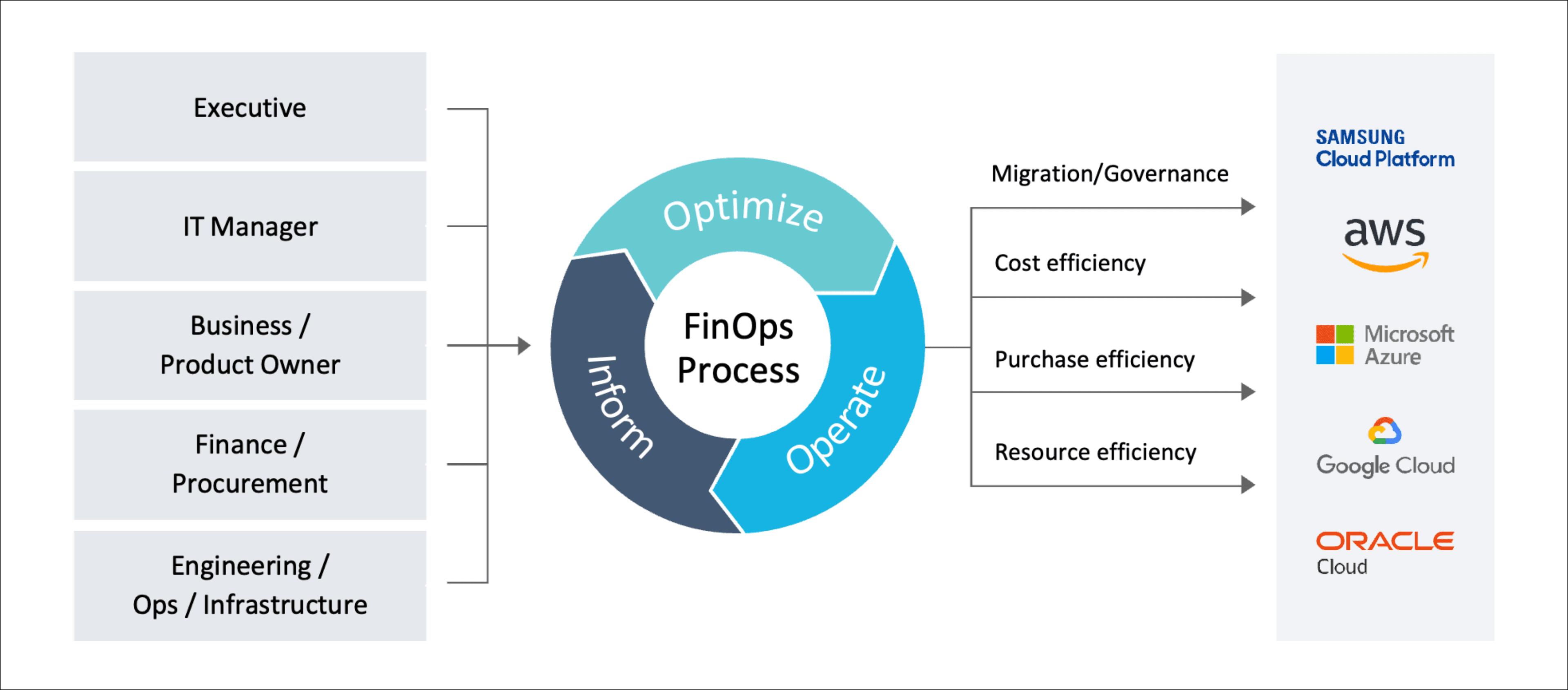 Quality information from the executives, IT managers, business/product owners, finance/procurement, and engineering/Ops/infrastructure should be shared for the success of FinOps.
Three major FinOps processes
Phased approach
Migration/Governance
Cost efficiency
Purchase efficiency
Resource efficiency
Companies that provide FinOps
SAMSUNG Cloud Platform
AWS
Microsoft Azure
Google Cloud
ORACLE Cloud
1) FinOps metrics implementation
To implement FinOps into action, we need something practical and concrete. It is similar to the idea that we all know exercise is good for our health but we still have difficulty putting it into practice. If your current health status is displayed as an itemized score and consistently shared with your spouse (or manager) and yourself, it would probably serve as significant encouragement to initiate an exercise regimen. Having data-driven work and action, rather than work and action-driven data, is more realistic in practice.

With FinOps metrics, you can understand the level of FinOps for resources and costs of the cloud quantitatively and obtain specific information to intuitively determine which organizations are lacking in which tasks or areas. As a result, you can make more detailed business execution plans. You will also be able to enhance efficiency by receiving data from the organization level down to the individual's task level. But when implementing the FinOps metrics, make sure to set realistic goals based on the level of cloud utilization in the organization.
Setting excessive goals makes them hard to achieve and will disappoint you quickly.
A step-by-step approach to accomplish Cloud FinOps objectives
With the step-by-step approach, Cloud FinOps divides the cloud utilization level into three stages: Crawl – Walk – Run. However, there is no need to worry about the level and say "our task is in the Crawl stage" or "our company is in the Walk stage." You can use the levels in point of setting up and executing FinOps strategies in consideration of the situation and status of your organization.
Establishing standard policies for FinOps according to your company's situation
When setting FinOps objectives, it is advised to establish standard policies that reflect your company's situation and strategy on a more detailed level.

Setting and managing the standard policies for the FinOps metrics optimized for the environment and level of the company is a very important step in management by objectives. Consider what level you are at and when you will be able to reach the objectives when making the policies. Remember that excessive goal-setting can lead to frustration. Setting specific goals that reflect the current level can bring positive results and the power to help put strategies into practice.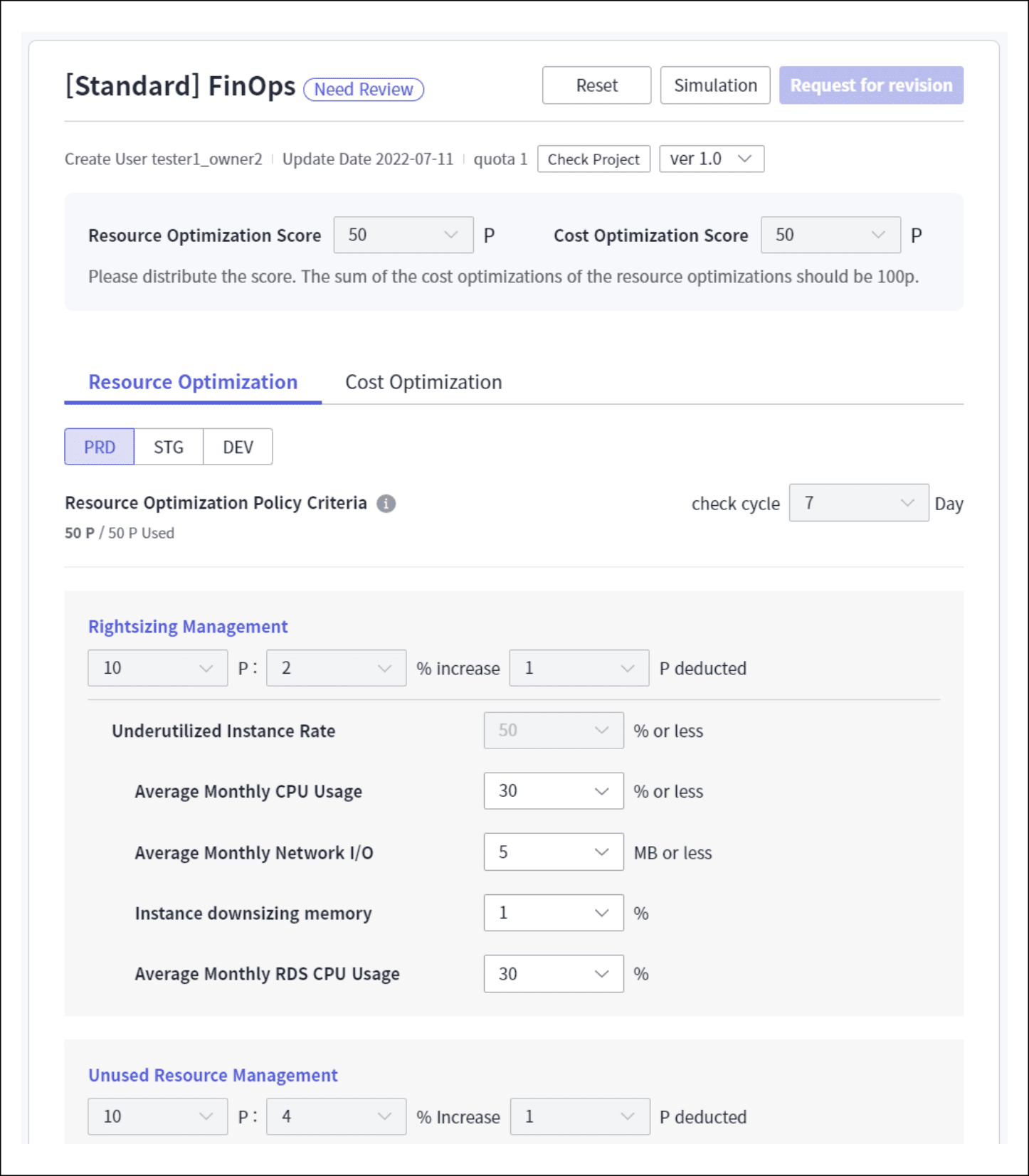 Here is the image of the Samsung SDS Cloud in One - FinOps policy settings.

You can check the total scores for resource optimization and cost optimization, and policy standards for resource optimization per PRD, STG, and DEV. You can also choose inspection cycles.

Rightsizing resource management shows the ratio of underutilized instances, a monthly average of CPU usage, network I/O usage, and memory usage.

Unused resource management helps adjust the percentage of resources and select unused periods.
Case 1. Cloud in One - FinOps policy settings at Samsung SDS능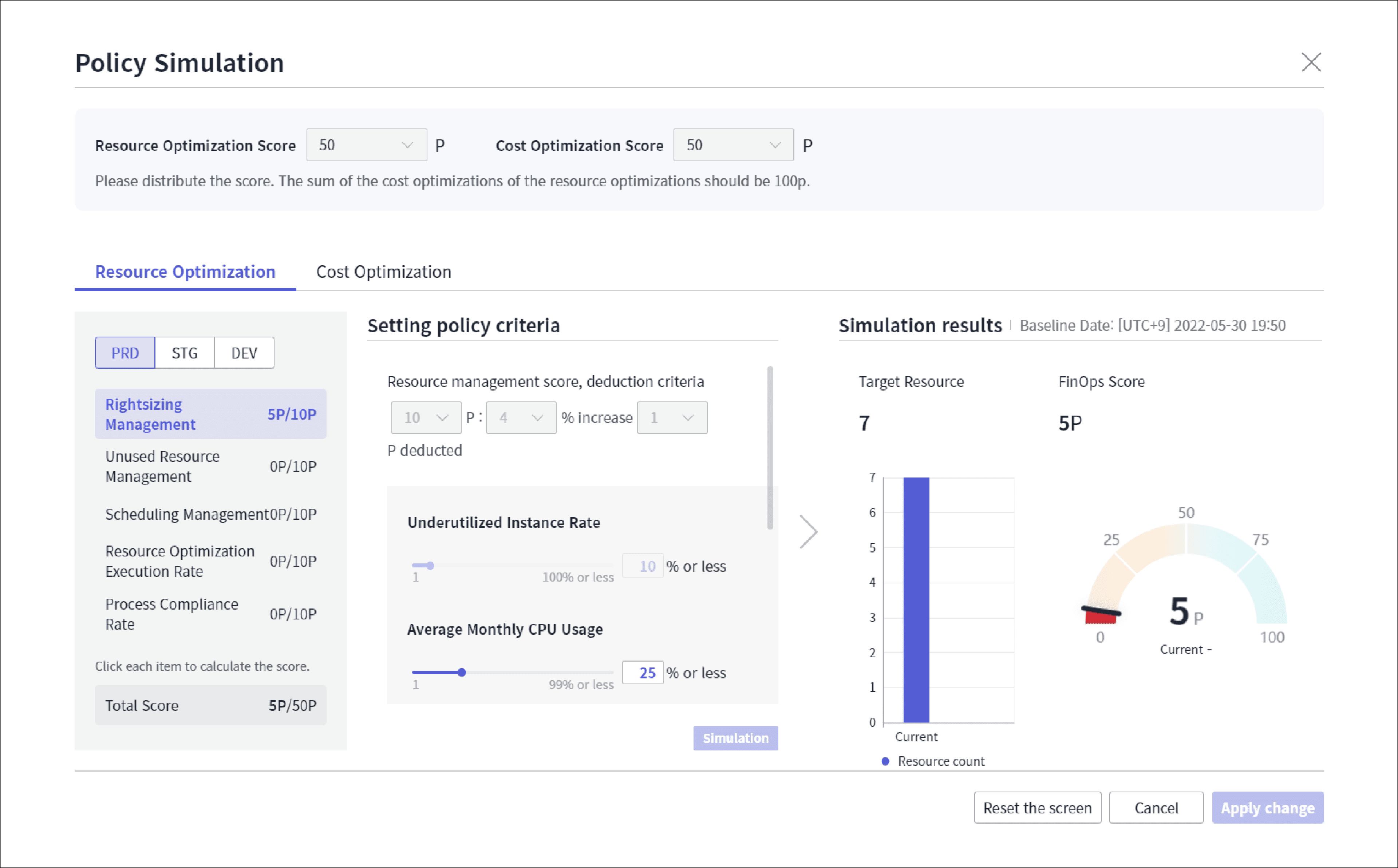 Here is the image of Samsung SDS Cloud policy simulation.

You can select total scores for resource optimization or cost optimization, and there is a detailed settings menu for resource optimization and cost optimization.
The image shows a resource optimization menu selected that includes total scores for rightsizing resource management, unused resource management, execution rates of resource optimization, and process compliance rates at PRD among PRD, STG, and DEV.

You can also set resource management scores or deduction criteria in policy standard options or underutilized instance ratio, and monthly average of CPU usage.

You can check the simulation results in small charts and graphs after setting them all.
2) FinOps process application
The manager in charge is important in FinOps processes
Even if improvement points for resources and costs are identified via FinOps metrics, you need to set up a predefined business process and a person in charge of each step for immediate FinOps implementation. Having a long communication process with various people makes it less practical to implement accurately. For instance, there are various unexpected scenarios to consider when automatically processing and running the resources for rightsizing that are recommended by rule-based or AI.

However, if an appropriate person to review and finalize this cannot be identified, the review and decision-making process will be hindered, leading to potential delays or omissions."

Therefore, there should be a project owner to implement FinOps. An owner who can clearly define who, what, when, and how. To achieve process maturity, it's essential to have clear responsibilities assigned to the process and to regularly verify that each process is functioning correctly.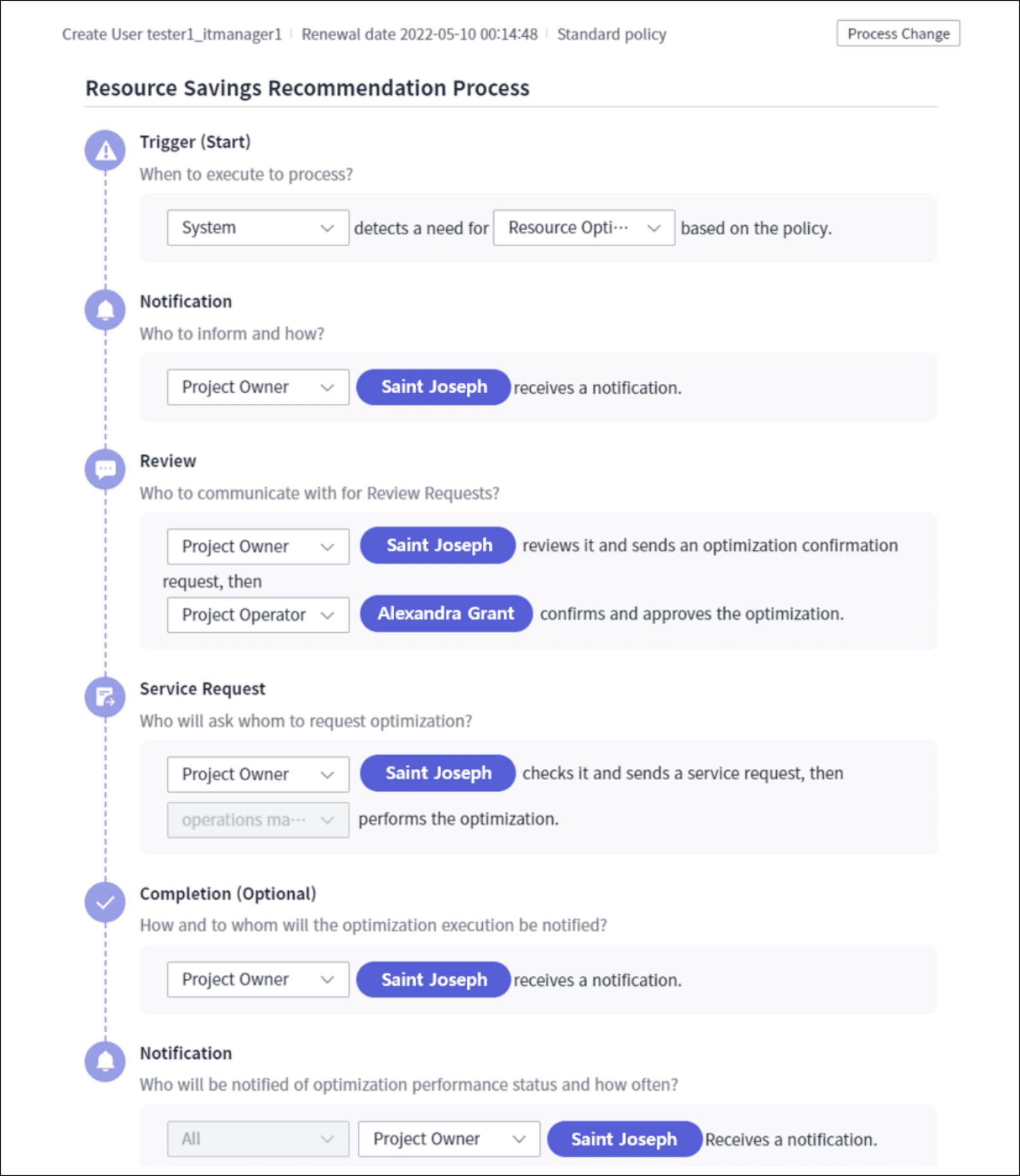 Here is the image of Samsung SDS Cloud in One - FinOps process settings.

The page shows the creator, renewal date, and FinOps-specific policies. You can change processes through dropdown menus.

In addition, it offers a list of recommended processes for resource optimization (Trigger, Notification, Review, Service Request, and Completion).
Trigger (Start)

E.g., When do you want to run the process? When the "system" detects the need for "resource optimization" based on the related policies

Notification

E.g., What to send to whom? Send an "email" to the "task owner."

Review

E.g., Who do you want to communicate with for review requests? The "task owner" checks and sends the request for opinions on optimization, then the "operation administrator" checks and approves the optimization.

Service Request

E.g., Who requests whom to run optimization? The "task owner" checks and sends the service request to the "operation administrator."

Completion

E.g., Who and how do you tell when optimization is complete? Send an "email" to the "task owner."

Notification

E.g., Send an "email" to the "task owner" every "quarter."
Case 3. Cloud in One - FinOps process settings at Samsung SDS
Task-specific workflow management is crucial for optimizing cloud resources
Specifically, you need to set and manage the workflow of those who perform resource optimization for each task. When the individuals designated by project owners integrate with the system to carry out reviews, decision-making, and management of delays or omissions at each step of the workflow, it results in enhanced process efficiency
Closing Remarks: Essential Methodology for Cost Saving in Cloud – FinOps
We have discussed the fundamental concepts of FinOps and productive cloud governance within the current work process. Additionally, we've highlighted the key factors necessary for successfully implementing FinOps to facilitate the effective adoption of cloud technology, which is becoming increasingly crucial for businesses.

I hope you can reduce your costs and effectively utilize the cloud by practicing the two key success factors: Metrics-based FinOps level management and establishing and implementing processes to achieve the objectives.

Let's learn more about the FinOps platform that integrates and manages hybrid/multicloud resources/costs.
Go to the FinOps platform >
Myeong-sik Kim / Samsung SDS

Based on our experience in research and planning for various new technologies such as AI, we are planning the SDS FinOps platform for effective introduction/application of Cloud FinOps.
---