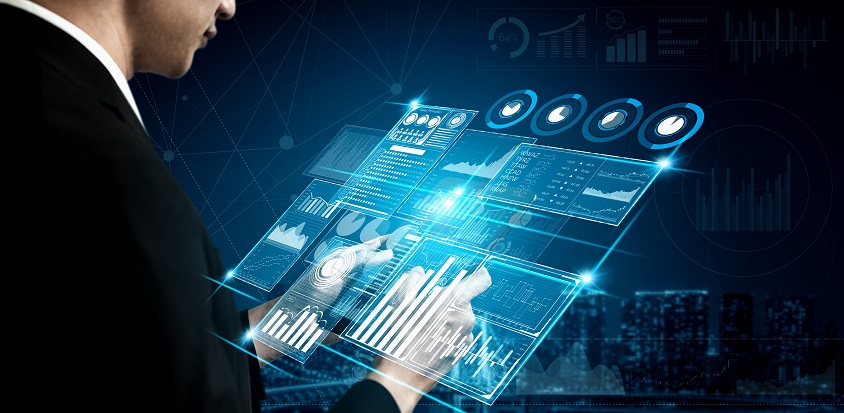 In the last article, I stated that there are three most frequently asked questions from the clients:

1. What is digital transformation (DT)?

2. What is the relationship between DT and technologies such as artificial intelligence (AI) and big data?

3. What should our company do?

I explained the concept of DT by taking the movie "The Matrix" as an example and described the relationship between DT and technologies like artificial intelligence, big data, and cloud through the DT Cycle. Today, I will go over the last question, "What should our company do?"

To me, the last question was the trickiest. A majority of companies large enough to hire consultants are either global firms or conglomerates in traditional sectors like electronics, heavy, chemical, or pharmaceutical industries. Therefore, whenever I mention advanced technologies like artificial intelligence or big data, most of the clients were perplexed or judged that they are not ready to adopt new technologies. So, I decided to separate the approaches of applying digital transformation into two categories as below: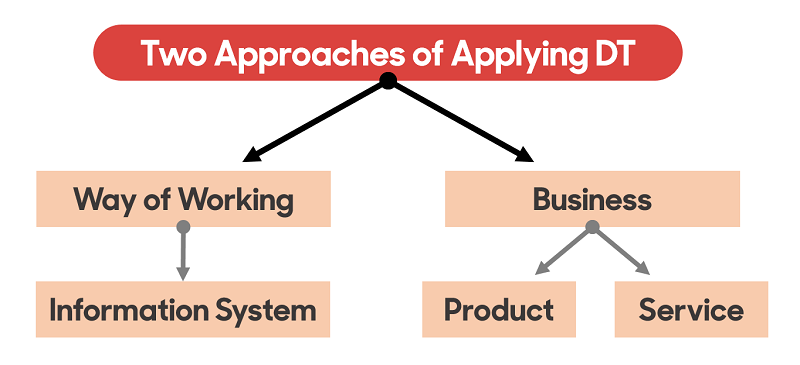 Two Approaches of Applying DT

Way of Working → Information System
Business → Product, Service
A company can either digitally transform the way of working or its product/service itself.

First, let's look at how digital transformation affects the way of working, particularly information systems. In the 1970s, companies started applying information systems to their accounting system to manage money. Then sales grew significantly during the economic boom, and companies wanted to rapidly and accurately predict the amount of materials needed for production. That is why Material Requirement Planning (MRP) was developed. Following MRP's success, MRP II was developed to manage all resources for production. Companies then wanted to efficiently manage other areas as well, such as sales, procurement, quality, service, and development, so the Enterprise Resource Planning (ERP) was developed to meet the need.

As a result, digital transformation has broadened its reach from accounting to the entire operation processes, digitizing each process one by one. In other words, information systems have witnessed both horizontal and vertical expansion, the former referring to an increase in the scope of areas handled by information systems and the latter to an increase in the depth and amount of information, particularly thanks to mobile technologies and the Internet of Things (IoT).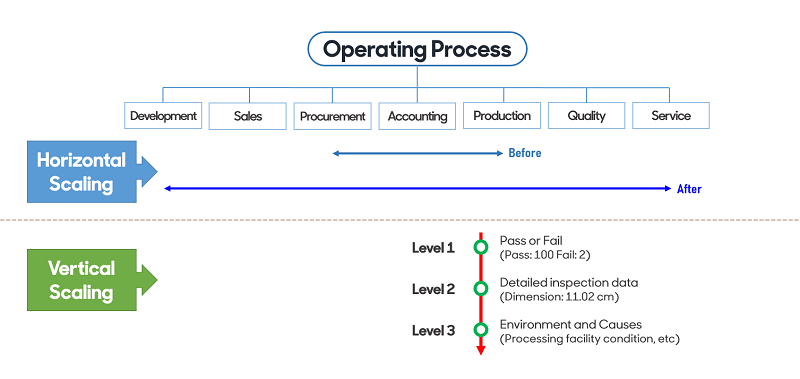 Operating Process
Development, Sales, Procurement, Accounting, Production, Qiality, Service
Horizontal Scaling

Before → Procurement, Accounting, Production
After → Development, Sales, Procurement, Accounting, Production, Qiality, Service
Vertical Scaling

Level1 : Pass or Fail(Pass:100, Fail:2)
Level2 : Detailed inspection data(Dimension:11.02cm)
Level3 : Environment and Causes(Processing facility condition, etc)
Let me take an example of quality inspection. In the past, people had to manually input all the inspection results into computers one by one in their office. Due to time constraints, only the total number of passes and fails of quality check was input as data. Then, as mobile devices have become more affordable and widely used, data input was done immediately on-site, including dimensional information. However, it was not until IoT became widespread that inspection devices directly sent data sets related to the environment and causes as well as dimensional information to quality control systems.

As described above, companies have adopted digital transformation in broader aspects of businesses, both vertically and horizontally. At the same time, they also applied new technologies such as artificial intelligence and big data.

Second, let's think about the digital transformation of product or service itself. This one is much easier to understand. Just think about your mobile phone.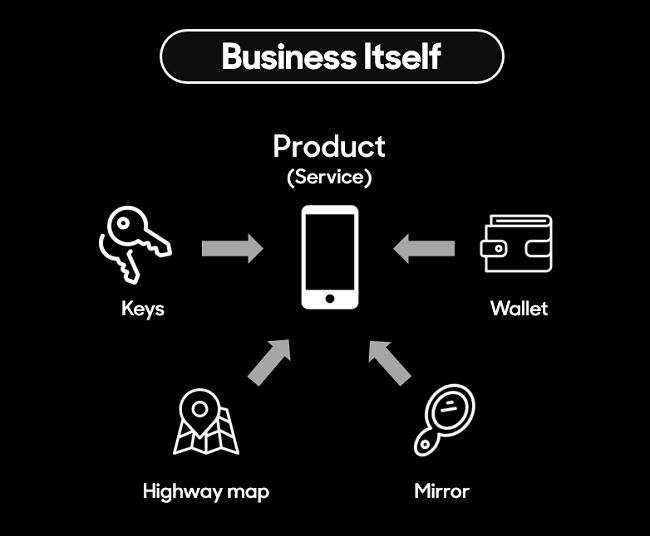 Business Itself
Keys, Highway map, Mirror, Wallet → Product(service)
In the past, you took a cell phone, a wallet, and a house key before going out; all three of which were essential. Nowadays, you simply take a mobile phone with you. Likewise, many products and services have become digitalized and are now available on mobile phones. For instance, you don't necessarily carry a highway map in your car or a small mirror in your bag anymore because they all have "digitalized" options.

In summary, digital transformation can be applied to the way of doing business, particularly information systems, as well as products and services like smartphones. In addition, companies can even be categorized further depending on their approach to digital transformation. The adoption of DT even differs by the companies in the traditional sectors and digital-based companies, including portals, gaming companies, social media platforms, and offline to online (O2O) companies, like Google and Facebook.

Companies in the traditional sectors already have information systems for operations, so new technologies are often first applied to these systems to improve operational efficiency. Digital transformation is selectively applied to areas where product competitiveness can be upgraded through digital technologies like artificial intelligence or big data. In other words, these companies will digitally transform the way they work first and then expand the application to their business.

On the other hand, for digital-based companies, digitally transforming their products and services are a priority because they are already running digital businesses. In the beginning, they mainly introduce cloud services for part of their operating systems. However, they later realize that a standardized cloud solution is not enough to cover their business as businesses becomes bigger and more diversified. They then adopt a customized information system. The following diagram describes these two different types of approaches.

Portal, Game, SNS, O2O → Digital-based Companies → Business Itself
Heavy Industry, Electronics, Chemical, Pharm → Companies in Traditional sectors → Way of Working
To answer the question "What should our company do?" we need to first ask ourselves whether the target company is in the traditional or digital sector. If a company falls into the former category, digitally transforming the way it works and then moving on to the business itself would be a smart choice. Doing the opposite would be ideal for digital-based companies.