Financial Institutions have been able to make significant advances in technology. That said, security and user experience shouldn't be sacrificed in the name of innovation.
Let's use the web browser as an example. The browsers we all use on a daily basis are anecdotally called "open browsers." As the name suggests, they are designed to be open and connect users to people, places and information on the web.
When commercial banking users access information through these browsers, it may leave them vulnerable to cyber-attacks. For example, customers could become victims of man-in-the-middle fraud if a criminal eavesdrops on their login credentials when accessing online or mobile banking through an unsecured wireless network.
Commercial banks cannot risk connecting to a malicious actor, in either bank-to-bank or bank-to-consumer communications. The stakes are always high.
Yet, bank leadership tends to overlook a key fact: bank security is only as good as its weakest link. It takes only one person using an outdated operating system or a browser that has not been kept up to date to inadvertently download or install malware. Remember, it just takes one employee not deploying a software patch to result in a massive or data breach.
This is why the commercial banking industry needs to invest in secure browsing. Our solution? Commercial CenterSM: Security from Fiserv.
The Secure Browser
Commercial CenterSM is a suite of cash management products that combine ease of use with the sophisticated capabilities business customers need. A key element of the suite is a secure browser that acts as a safe and convenient gateway to the apps or web pages a financial institution provides to its commercial customers.
Commercial Center: Security protects employees and customers. Instead of allowing them to connect to the World Wide Web without authentication, our secure browser uses certification verification to confirm and control destinations in a closed network. Users can access only preapproved websites instead of freely browsing. This approach also helps prevent accidental malware downloads and the submission of information in unsecure locations.
As a result of our collaboration with Samsung, Commercial Center becomes even more secure through the use of biometric authentication. Samsung SDS Nexsign biometric authentication is integrated into Commercial Center: Security, providing convenient access to a secure browser that is difficult to hack. Using biometrics like fingerprint, face or voice identification to authenticate their session, users can confidently engage in secure commercial banking activity without the fear of fraud or intrusion.
Commercial Center, combined with Nexsign, propels both the security and the user experience of commercial banking forward.
Today, banks of all shapes and sizes should take a serious look at how they manage and access secure data. Protecting your customers' information has never been more important. Secure browsing using Commercial Center: Security keeps data and information secure, and uses convenient biometric authentication to make sure your bank is right for today, and ready for tomorrow.
Intrigued by Nexsign? Check out the introduction video below and click here for more info on the solution.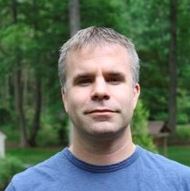 Scott Graf
Scott is a guest blogger for this week's post and is the VP of technology for Fiserv.