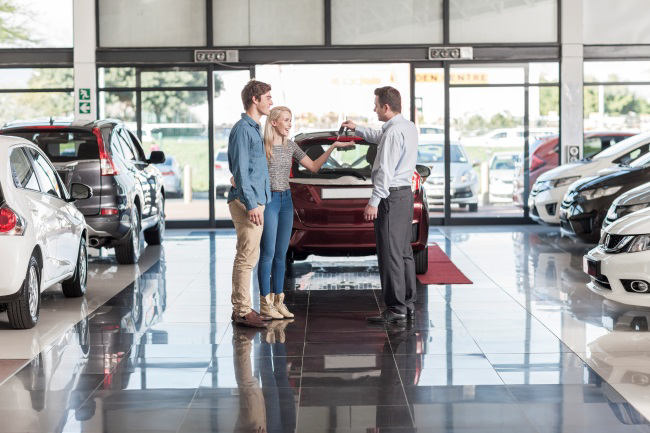 The automotive industry is on the move towards digital transformation. The ever-changing market conditions of the automotive industry make it an exciting, dynamic time to operate an auto dealership. By understanding the market, where it's going, and the importance of the relationship between technology and dealerships, you will be able to better position yourself for success, no matter what new innovations come your way.
Extending the customer's online experience to the in-store experience is essential for brand managers and dealership owners; without a unified omni-channel retail experience customer loyalty will suffer. Let's take a look at the market factors influencing the automotive industry, why a positive customer journey matters, and 7 easy steps to create a connected in-dealership experience.
Getting Started
Even in today's digital economy, where in-store customer engagement strategies are constantly evolving, a strong foundation for future growth is imperative. You will notice that all the strategies outlined below leverage technology to create a stronger, more informed relationship between your brand and your customer.
If you are looking for ideas on how to revitalize your dealership customer experience, or are simply looking for a great starting place to engage customers with a digital perspective, then it is important that you understand the current buyer perspective. According to Cox Automotive research, these stats reflect the car buying experience today:
◾ Auto buyers spend 60% of their time researching online
◾ When researching online, 46% of auto shoppers use multiple devices
◾ Walk-ins are still the most common form of initial contact with a dealership
What do these stats say about today's car buyers? They show that consumers are spending hours and hours researching online before they even step foot into your dealership. Customers are showing up more informed and less eager to deal with a lengthy sales process than ever before.
Why It Matters
Customer engagement is one of the biggest indicators of how your brand is perceived. It's also an indicator of brand positioning. Consider this, Tesla has successfully skirted the U.S. car franchising laws, upsetting the entire automotive industry, and car buyers are reacting positively. If you are trying to avoid disruption from competitor brands, you'll want to take steps towards moving the metrics that mean the most to you and customer engagement will be at the top of the list.
Strategies that aim towards increasing in-store customer engagement are more than marketing ploys, they are concerted efforts to impact your customers and strengthen your relationship with them. We are talking about brand loyalty. Think about it. If people like your dealership experience, they may or may not come back. If they love your dealership, they will definitely be back. When people value and trust their interactions with you, they'll come back and refer their friends.
The 7 Steps
Follow these steps to get your dealership into a digital position from which you can drive engagement, sales, and loyalty. Implement these ideas into your business strategy at your own pace. The best way to get started is to keep the process simple, cost effective, and convenient. All of these solutions do not have to be installed in order, or all at once. Some technologies may work better than others, it all depends on how your dealership is set up and the goals you are trying to accomplish. Here are 7 easy steps to transform your dealership:
1. Empower your sales team with modern technology to easily interact with car buyers
The digital display is one of the foundational pieces to creating a dealership that excites customers. The display is more than just a TV screen; it's an interactive, intelligent tool with a content management system (CMS) that delivers your message to the right audience, at the right time, and the right place.
There's a very powerful link between mobile and display technologies. Imagine being able to interact with your clientele using your phone or tablet synced to a digital display. Showcase the inventory on your lot from the comfort of the showroom. Run through color options, premium packages, and other up sell and cross sell opportunities on the spot.
2. Upgrade your finance and insurance (F&I) process and conference rooms
A great way to upgrade your F&I meetings is to incorporate Flip, an innovative digital flip chart. Flips make your conference room pitches more productive and efficient, especially when collaborating with mobile devices like tablets or phones. Enjoy the familiar feel of pen to paper in a versatile, digital format. Quickly erase with the swipe of a hand, and easily email and share your documents.
3. Engage visitors in the main showroom
There are so many ways you can use digital technology to engage visitors in your showroom, it's almost tough to choose. Almost. The layout and design of your showroom will be unique, but every showroom has pieces that can be upgraded with technology. Some examples are a digital wall, price stands, large format displays with apps like a car configurator, even an interactive kiosk that allows visitors a self-service option. The way you use technology in your showroom is truly only limited by your imagination.
4. Get a powerful & flexible content management system (CMS)
In today's digital world, you simply must have a CMS that allows you the flexibility to tailor and target your content based on weather patterns, time of the day, or customer behaviors. A powerful CMS allows you to deliver versatile, eye catching content quickly, remotely, and easily from a single point of management.
5. Add an intelligent display to personalize the visitor experience
Intelligent displays are true game changers. These displays can recognize customer demographics and serve up targeted promotions based on a rules-based engine. Serving customized ads to specific demographics can increase your conversion rate through hyper-targeted advertising.
6. Make better decisions with data
Once you have the basics down, you can get more advanced. Using IP cameras you can track visitors, and measure dwell times to understand customer behaviors in real-time. Easily see which showroom models are performing best. Make staffing decisions based on peak traffic using heat mapping reports.
7. Take it on the road
Use portable kiosks in a local public space or at an event to capture leads and deliver unique experiences to potential customers. This intelligent, pop-up shop is capable of acting as a salesman and marketing advocate in any place you want to set it up.
Final Thoughts
After reading this article, it should be clear that there are many ways to implement digital technology into your dealership that will allow you to transform the experience of your customers. This transformation will do wonders for your bottom line because it will convert a larger amount of foot traffic into walking marketing channels, telling anyone who will listen about the interactive experience they had at your dealership. The integration of technology that increases the interactive experience through targeted promotions, self-guided experiences, digital signage, or behavior sensing technology is a necessary step towards ensuring the future of your dealership. As you start the process, do not get overwhelmed or rush it. Take your time to implement the technology that will ensure your dealership's success in the future. If you have any questions, feel free to contact us.