AI/Analytics
Samsung SDS unveils enterprise AI chatbot Brity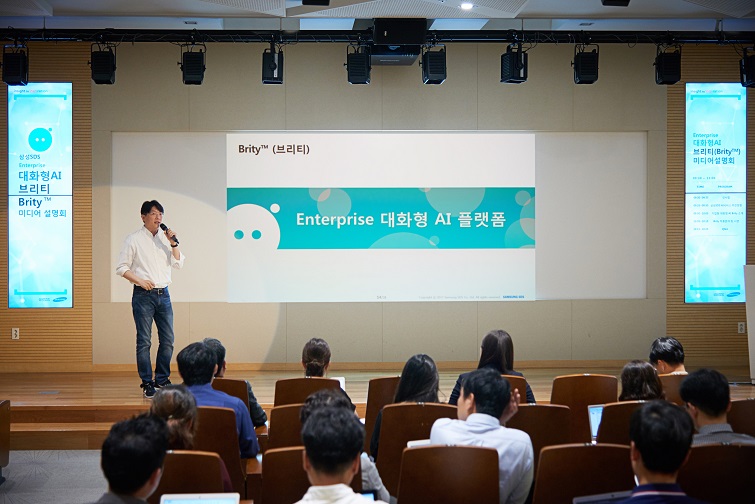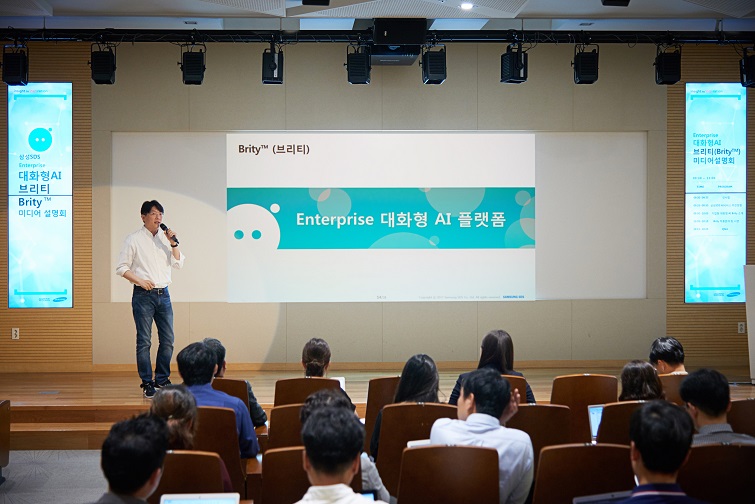 Samsung SDS launches conversational AI platform and steps into B2B AI market. Chihoon Lee, Vice President of AI Research Lab presents Brity and Jongphil Kim, Center Leader of Samsung SDS Development Center presents AI strategy of Samsung SDS.
- Enterprise AI chatbot that supports both text and voice chat
- The three key platforms of AI have been realized with analysis AI, visual AI, and now conversational AI
- Integrates industry solutions with data analytics platform, expanding AI-as-a-service


# "Hey Brity, what was business unit A's performance last month?"
# "Business Unit A made 100 billion won last month."
# "Where is the nearest service center?"
# "The nearest service center is at Gangnam station."


Samsung SDS (CEO & President Yoosung Chung, www.samsungsds.com) has stepped into the B2B AI market by launching its AI chatbot Brity™.

Samsung SDS held a media briefing at its headquarters in Jamsil on September 5 and unveiled「(Brity™)」to the press.

During the unveiling, a Samsung SDS spokesperson stated that "With the analysis AI launched in June, the video AI, and now Brity™, we are fully prepared to make inroads into the enterprise AI market for industries that require AI such as manufacturing, finance, and service.

In June, Samsung SDS launched Brightics AI, an analysis AI that analyzes figures and log data to identify patterns and predict sales, as well as visual AI that performs object recognition and scene understanding by analyzing images and videos.

AI chatbot 「Brity™」, which is the most recent addition, is a smart secretary that understands natural language and performs various duties requested by the client.

The most notable characteristic of 「Brity™」 is that it has a dialogue AI engine that is capable of understanding, deducing, and learning natural language in order to carry out client requests.

In other words, even if the client speaks in very long, complex sentences instead of short ones, 「Brity™」 is capable of analyzing the clients request, deduce their intentions, and provide an appropriate response.

For example, if a user asks, "I ordered a refrigerator yesterday. When is it going to be delivered?" 「Brity™」 can separate "I ordered a refrigerator yesterday", which is additional information, from "When is it going to be delivered?", which is the actual question. Then, it uses the additional information to provide an appropriate answer to the question.

In addition, even if the user suddenly changes the topic, 「Brity™」 is able to switch to a new topic and still return to the previous conversation.

So if someone asks "Recommend me a credit card", and then suddenly changes the topic by saying "How do I change my website's address?" it can still return to the previous conversation and say "Let me recommend a credit card to you. Tell me what sort of benefits you're looking for." Another key feature of 「Brity™」 is that it can intelligently manage the context of conversations.

To make this possible, Samsung SDS HQ and its research center in San Jose jointly developed a natural language processing engine and learning model that includes language understanding technology, multiple intention perception, and emotion analysis per sentence.

Moreover, 「Brity™」 not only supports text chat, but also voice chat. This means that it not only can be applied to mobile messenger services such as Kakao and Line, but also to any sort of hardware device such as PCs, telephones, and smartphones.

If a client calls and asks "I need repair services. Please advise me to the nearest service center", since it is an inquiry that does not require separate intervention from a call center agent, 「Brity™」 can process the call. On behalf of the call center agent, 「Brity™」 can find information on service center locations, convert it into voice, and say "The nearest service center is the Gangnam service center."

While existing AI chatbots take three months to implement,「Brity™」only takes a month by improving conversation model performance with automatic recommendation, ultimately helping save costs.

Samsung SDS also added that "Before external release, 「Brity™」was first internally deployed at Samsung SDS and its subsidiaries since May. Employees used 「Brity™」to check a wide range of information including telephone numbers, business trips, schedules, and cafeteria menu."

During the media briefing, Samsung SDS also demonstrated 「Brity™」in action.
Messenger-based
▶ Brity (schedule and contact info)
▶ Brity for Welstory (cafeteria menu) used by employees
▶ Brity for SCM (distribution network)
▶ Brity for Office Life (business trips, work attendance, etc.) as well as telephone-based call center
▶ Brity ICC (receives repair requests) were all introduced.

Jongpil Kim, Center Leader of Samsung SDS Development Center, explained that "「Brity™」 has already been implemented in various industries. We plan on evolving it into a platform service that innovates customer products and services."

Samsung SDS has also been actively working to continuously develop and strengthen its AI platform business by expanding its organization and securing industry experts.

In addition to creating an organization for AI technology development, in June, Samsung SDS recruited AI expert Chihoon Lee as Vice President. Chihoon Lee has an abundance of experience from global IT companies in Silicon Valley including Apple and Yahoo.

Chihoon Lee is one of the world's leading AI experts along with Rich Sutton, the creator of reinforcement learning and professor at University of Alberta.

Explaining why he decided to join Samsung SDS, Vice President Chihoon Lee said "Since data has become so important in the generation of AI, Samsung SDS strongly appealed to me." He also added that "I will do everything in my power to make sure Samsung SDS can grow into a cloud-based AI (AIaaS) provider that promotes business innovation for our clients".