AI/Analytics
Samsung SDS Held Data Analytics Contest on Demand Forecast for the University Students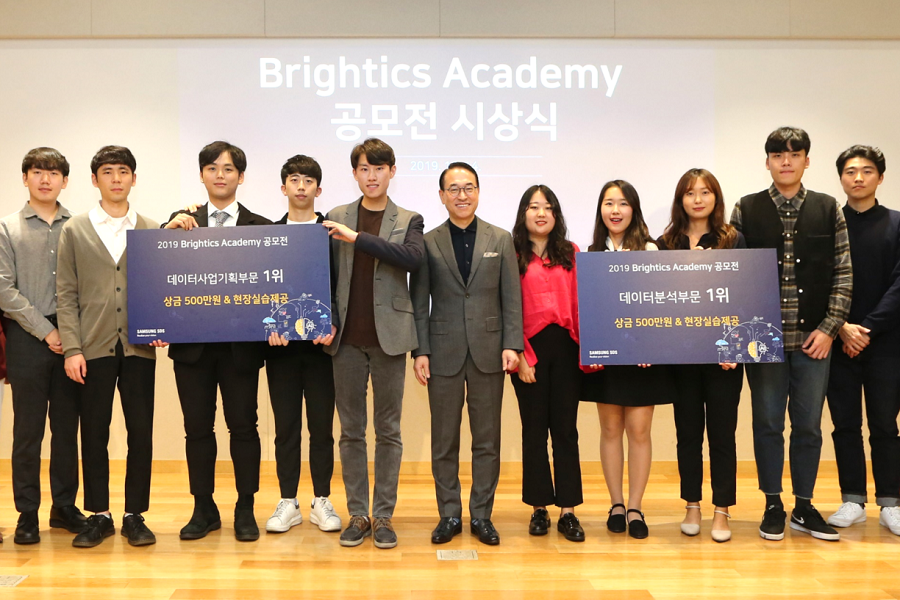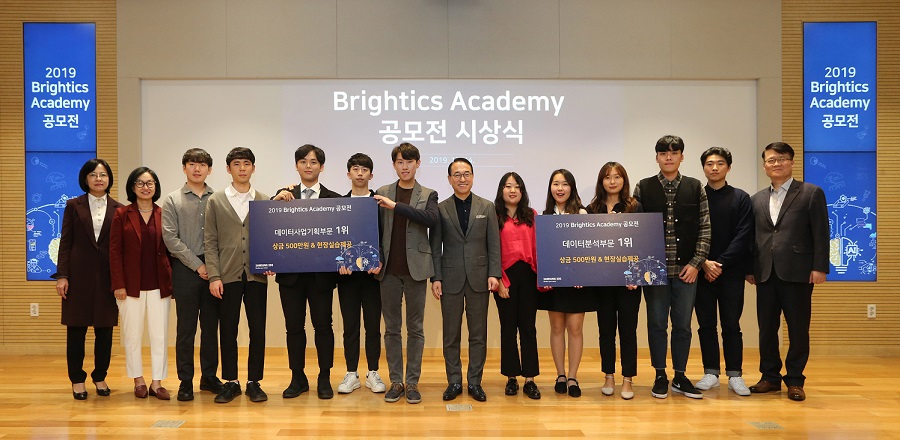 Samsung SDS Held Data Analytics Contest on Demand Forecast for the University Students
+ Samsung SDS held the awards ceremony of Brightics Academy Contest
+ A team from Yonsei University, which forecasted the demand of corporate cafeteria up to 99%, and a team from Korea University, which presented the idea of AI-based personal styling business, won first place in two categories, respectively.
+ Samsung SDS to nurture data scientists through Brightics Studio.

Samsung SDS held the awards ceremony of the Brightics Academy Contest at the headquarters on October 14.

Started in June, the Brightics Academy Contest is a contest on big data analytics for the undergraduate and graduate students in Korea. The competition aims to get Brightics Studio better known and to foster the growth of data scientists.

Brightics Studio is the open-source version of Samsung SDS's AI-based Big Data analytics platform, Brightics AI. Brightics Studio allows even the non-experts to easily utilize data analysis functions like machine-learning without a need of coding.

The contest is consisted of two categories: Data analysis and Data-based business planning. 1,253 students from various majors, including business administration and biotechnology, participated the contest as individuals or teams.

The contestants of Data analysis category analyzed the data of approximately 3,000 daily customers of the company's cafeteria from January to July of last year; and forecasted the demand for each menu.

The grand prize winner in this category was Team 'People from #501' from Yonsei University. The team recorded an average of 90% accuracy in the forecast.

In addition to cafeteria data, Team 'People from #501' analyzed additional data like weather, temperature, fine dust volume, and expected holidays of the employees to accurately forecast the number of employees who ordered bibimbap menu on a particular date up to 99% accuracy. Such accurate demand forecast can be used to reduce food waste.

The data-based business planning category challenged students to propose a business idea, driven by analyzing data in our daily lives using Brightics Studio.

The grand prize winner was the team 'I'll Be The Top' from Korea University. They analyzed a clothing database and past shopping history data using AI and proposed a personal styling business.

Samsung SDS awarded KRW 34 million (around USD 30,000)of prize money to 12 winning teams in the two categories. The grand prize winners will also be given a 4-week field training opportunity in Samsung SDS.

"Through this contest, I hope more students have easier access to data analysis using the Brightics Studio," said Dr. Shim Yoon, Executive Vice President and CTO of Samsung SDS.