Samsung SDS News
Samsung SDS to Strengthen Presence in the Enterprise Cloud Market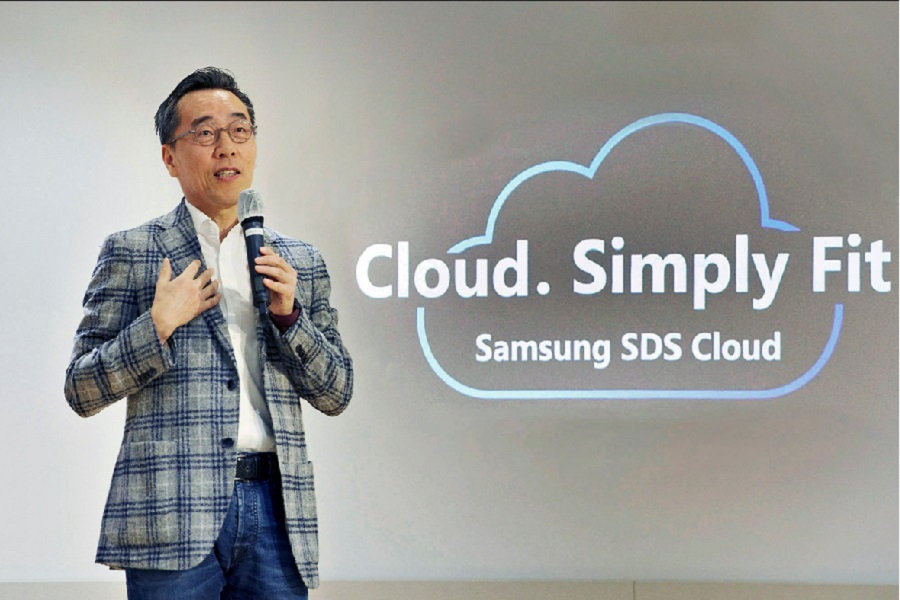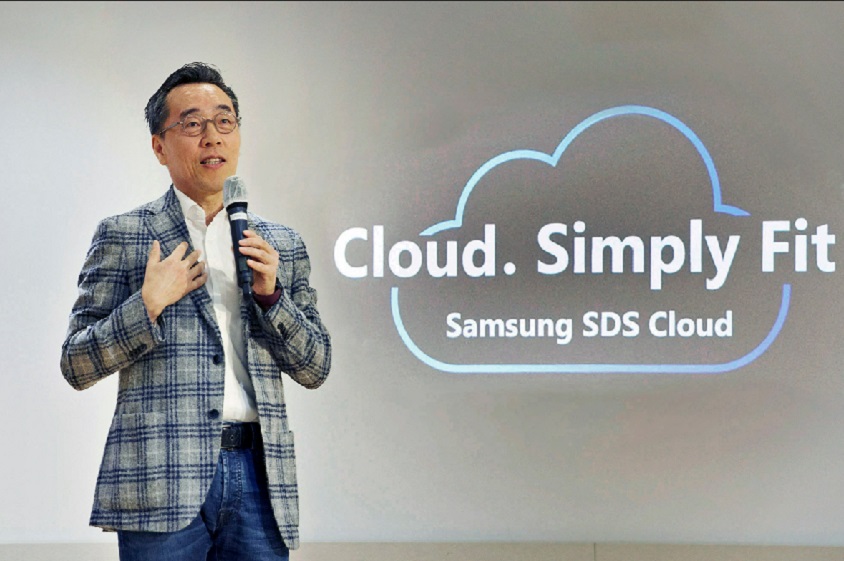 Cloud. Simply Fit Samsung SDS Cloud
Sungwoo Hwang (President & CEO of Samsung SDS) delivering welcome speech at Cloud Media Day
+ To drive efforts to jumpstart customized cloud services, as the only company in Korea offering a full package of cloud migration services
+ Announced the new brand slogan "Cloud. Simply Fit"
+ Opened Dongtan data center dedicated to ultrahigh-speed/high-capacity cloud computing required for AI, big data analysis, and R&D


On March 10, Samsung SDS held Cloud Media Day at Samsung SDS Campus (Global Headquarter) and announced that it will gear up its efforts to expand presence in the enterprise cloud market.
Highlighting the ability to offer customized cloud services, in line with the announcement of the brand slogan "Cloud. Simply Fit"
Samsung SDS is the one and only company in Korea that offers a full range of services required to perform cloud migration.

The company highlighted its unrivalled level of expertise in offering a "truly hybrid cloud deployment service" that can satisfy the needs of various corporate customers by delivering a comprehensive package of services including Samsung Cloud Platform (SCP), Managed Service Provider (MSP*), and Samsung Enterprise SaaS*.

Samsung Cloud Platform (SCP), a customizable enterprise platform developed by Samsung SDS, offers cloud services optimized for the varying needs and business of corporate customers that demand security, safety, and availability in IT operations.

The all-in-one Managed Service Provider (MSP) service supports the entire process of cloud migration from consulting to app modernization, based on the company's technological capabilities and extensive experience accumulated through the offering of IT consulting, conversion, deployment, and operation services for more than 30 years.

Samsung Enterprise SaaS encompasses the company's key solutions for enabling work efficiency through automation (Brity RPA), collaboration (Brity Works), and mobile security (EMM), which have been successfully deployed at various global companies. It also provides supply chain and human resource management solutions—namely Nexprime SCM and Nexprime HCM that have been upgraded through close collaboration with global solution providers—to support the business modernization process for driving work efficiency and future growth of corporate customers.

In addition, Samsung SDS announced its new brand slogan "Cloud. Simply Fit" which reflects its commitment to offer customized cloud services for various companies by capitalizing on its exceptional cloud capabilities and over 30 years of experience in IT services.

Gaining a stronger foothold in the market with the opening of Korea's first high-performance computing data center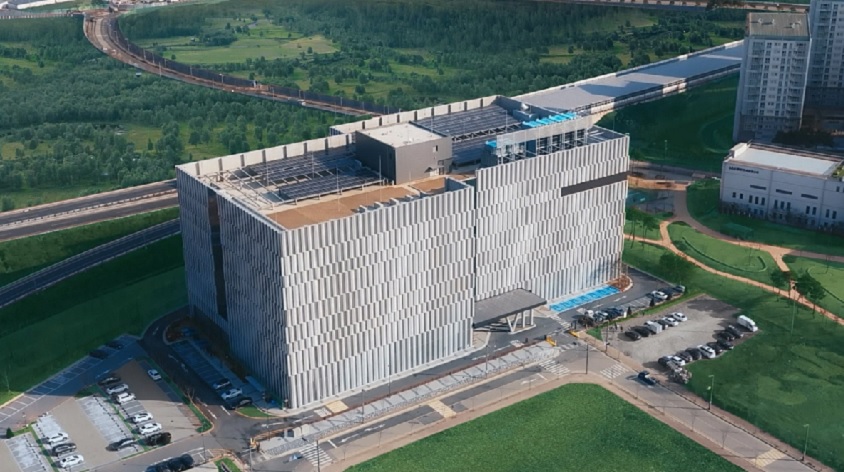 View of Samsung SDS Dongtan data center, Korea's first data center dedicated to high-performance computing (HPC)
The company's newly-built Dongtan data center, which is Korea's first data center dedicated to high-performance computing*, provides ultrahigh-speed and high-capacity cloud services to customers that handle complex computing tasks such as AI, big data analysis, and R&D work through SCP.

Dongtan data center is the only facility in Korea that is secured through mutual backups between three different data centers, thereby ensuring stability through swift service resumption in the event of a fire or power outage.

Moreover, Dongtan data center has achieved an optimal level of energy efficiency through an intricate power system design. By using the latest technologies on liquid cooling*, waste heat and renewable energy, Samsung SDS plans to maintain the PUE* of the center on a global level of 1.1.

Sungwoo Hwang, President & CEO of Samsung SDS, stated that "Samsung SDS is the only company in Korea that can offer a comprehensive package of SCP, MSP, and SaaS services," and that "the company will provide customized cloud services for various customer companies to actively support their digital business innovation essential for future growth."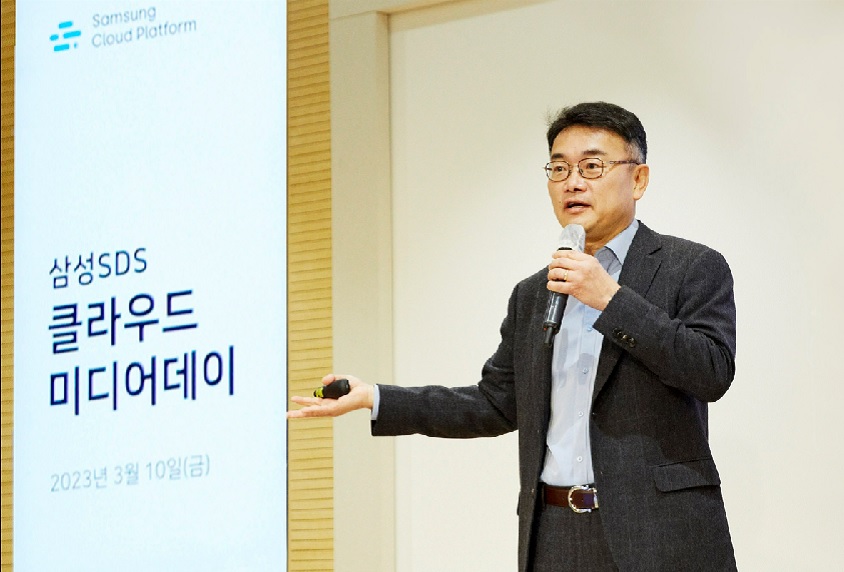 Samsung SDS Cloud Media Day 2023/3/10 Friday
Scott HJ Koo (Executive Vice President & Leader of Cloud Service Business Division) presenting strategy of Samsung SDS Cloud business
[Terms]
* CSP (Cloud Service Provider): a company offering virtualized physical resources such as software, storage, and servers over a network
* MSP (Managed Service Provider): a company offering a range of cloud migration services for the cloud adoption and operation of corporate customers, including consulting, network/infrastructure management, and monitoring,
* Software as a Service (SaaS): a service that provides applications needed by users on cloud
* High Performance Computing (HPC): High performance computing environment that enables the processing of massive data in high speed
* Liquid Cooling: technology for reducing the temperature of IT facilities by using liquid that has high thermal conductivity instead of gas.
* Power Usage Effectiveness (PUE): an indicator showing the energy efficiency of data center, with proximity to 1.0 indicating high efficiency


Contato de imprensa

Samsung SDS