Cloud
[Press Release] Samsung SDS, Beginning The Pursuit For Non-Samsung Cloud Business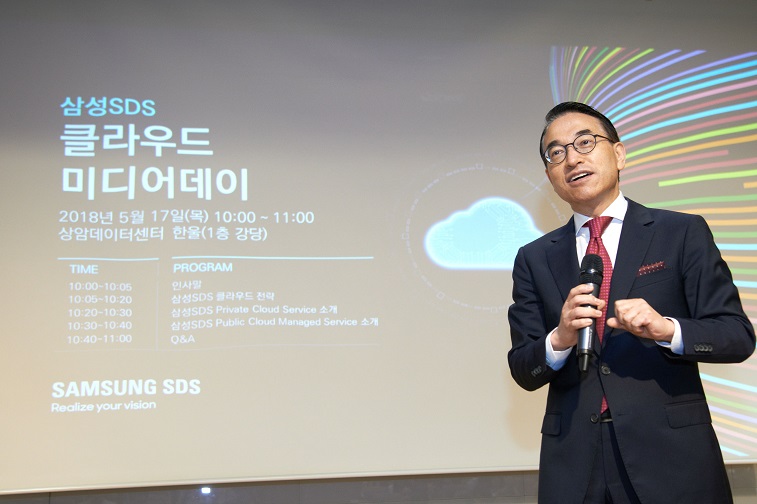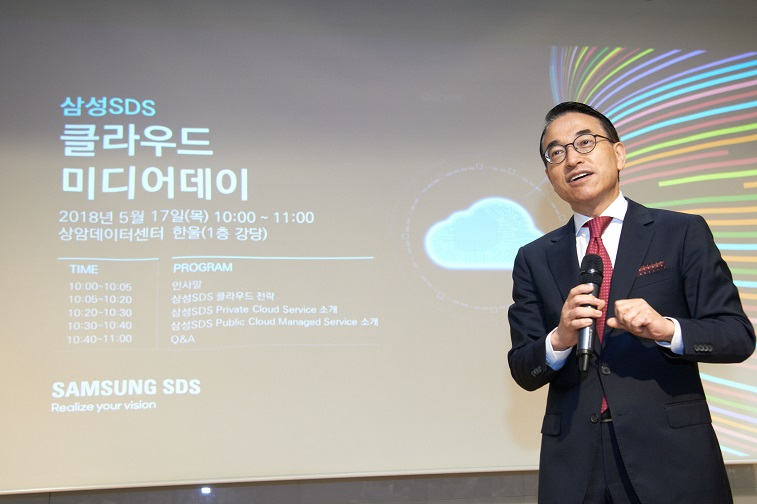 Samsun SDS CEO Won-Pyo Hong is welcoming people to the event.
▪ From consulting, conversion, to operations Samsung SDS is revealing the multi-cloud service 'Samsung SDS Enterprise Cloud'
▪ Providing top of the world class availability (99.999%) that guarantees a maximum downtime of only 5 minutes, optimizing all core businesses operations
▪ Providing cloud managed service (CMS) tailored for each clients

At the Sangam Data Center, the Samsung SDS (CEO Won-Pyo Hong, www.samsungsds.com) showcased their 'Samsung SDS Enterprise Cloud', revealing that they plan to start pursuing non-Samsung cloud businesses.

The 'Samsung SDS Enterprise Cloud' is a cloud service that is built upon the combination of the accumulated experiences they have gained through converting and operating Samsung affiliated cloud services, and the technologies they have newly acquired through co-working with other world-class enterprises.

Recently, global enterprises have faced new challenges such as choosing the most efficient cloud service, converting into suitable cloud services to fit their tasks, converting their cloud service from one model to another, as well as operating multi-clouds.

By applying the accumulated task-specific cloud conversion methodologies gained from servicing other Samsung affiliated department, Samsung SDS can service clients with concerns stated above with the multi-cloud total service, which includes everything from consulting, conversion, to operations.

In multi-cloud environment that requires both private and public cloud services at the same time, private cloud requires security, reliability, and performance while the public cloud requires a rapid development and cost optimizations.

Particularly, the Samsung SDS's private cloud service has the world's highest availability (99.999%), guaranteeing a total system downtime of less than 5 minutes per year. It also provides enterprise core services such as ERP (Enterprise Resource Management), MES (Manufacturing Execution System), and SCM (Supply Chain Management).

Additionally, through Samsung SDS's application development specific cloud platform PaaS (Platform as a Services), clients can reduce their time required to build a development environment from a few days to mere 15 minutes, enabling a faster development and deployment of applications.

Samsung SDS's customizable public cloud managed services (CMS) provide △optimal cloud selection, △stable cloud conversion, △maximizing cost efficiency, and △ management of heterogeneous cloud through GOV (Global One View).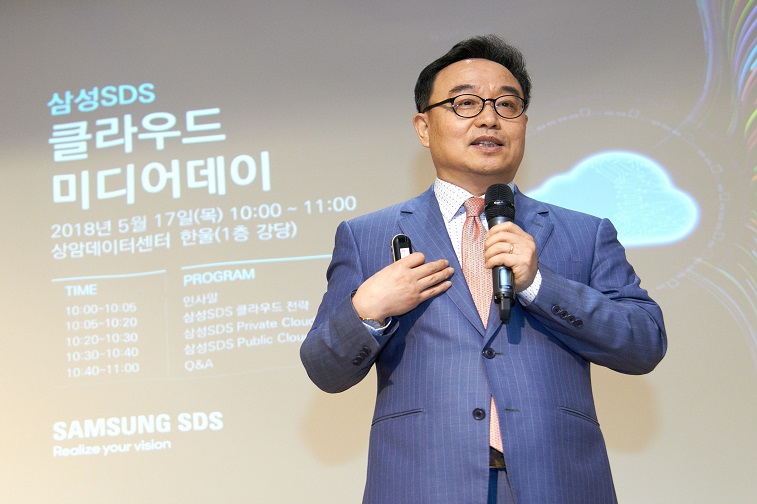 Cloud Business Division leader (Executive Vice President) of Samsung SDS Kim Ho
Samsung SDS also plans to launch supercomputing cloud in the second half of this year, providing cloud-based computing resources for high-performance computing and large data processing such as artificial intelligence and big data analysis.

Cloud Business Division leader (Executive Vice President) of Samsung SDS Kim Ho, stated "Samsung SDS Enterprise Cloud provides total package for the things our clients require concerning cloud services" and emphasized that "Based on our experience as a cloud service provider and the accumulated technology over the past years, we will push forward and pursuit non-Samsung cloud business."



Information about Samsung SDS news and ICT can be found in Samsung SDS Newsroom.