Blockchain
Samsung SDS unveils its blockchain vision at Money 20/20.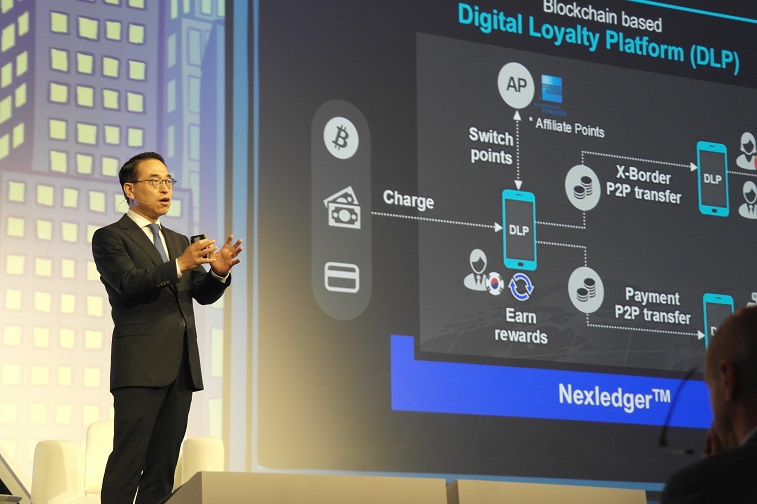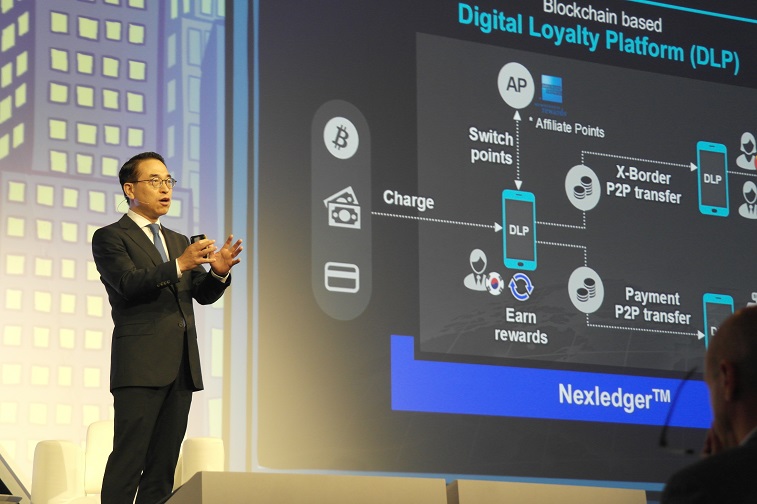 Hong, Won Pyo delivered a keynote, "Blockchain's commercialization, going beyond digital finance" at the Money 20/20 Europe
Samsung SDS (CEO YooSung, Chung) introduced its blockchain technology and vision for future business at the Money 20/20 Europe, the largest European FinTech Conference.

Money 20/20 Europe is a global financial innovation/FinTech event where major international banks, credit card companies and other financial organizations as well as mobile and logistics enterprises in total more than 1,500 global players share ideas on the future of FinTech.

Hong, Won Pyo (President of Solutions Division) delivered a keynote at the 「Money 20/20 Europe」 held in Copenhagen, Denmark on June 27. At the conference, he introduced Nexledger™, the blockchain platform under the theme of "Blockchain's commercialization, going beyond digital finance" and presented an extended model to utilize blockchain for all kinds of smart contracts including insurance claims, payment automation, and digital logistics.

Dr. Hong address followed keynotes from CEOs of Barclays, BBVA bank. He shared SDS' capability in developing digital ID and payment service based on Nexledger™ and a commercialization case such as checking the original copy of electronic documents, a stronger FIDO (Fast Identity Online) biometric security and an automatic login of affiliated companies.

Particularly, he showed SDS's ambition to gain new value with the ever-evolving technology of blockchain such as an electronic payment merged with IoT technology, to track personal health information.

Samsung SDS' is able to share this vision because of its performance in applying its blockchain platform to Korean credit card companies. This experience comes at a time when commercialization has slowed compared to the increasing interest and expectations around blockchain.

Samsung SDS is focusing on blockchain, as a keystone of the 4th Generation Innovation era, and is leading the field by investing in promising venture companies. Samsung SDS has joined Hyperledger, a global blockchain project operated by Linux Foundation in 2016, and has also gained membership to EEA (Enterprise Ethereum Alliance).
SDS also led the inauguration of a blockchain consortium for maritime logistics at the end of May last year with government organizations, including Korea Customs Service, The Ministry of Oceans and Fisheries, and Hyundai Merchant Marine, and the Korea Marine Transport Co.

Dr. Hong, said, "I am very pleased to have a chance to share Samsung SDS' technology around the world with global attention focused on blockchain. The commercialization of blockchain is in its early stage in the global market, so Samsung SDS will lead the market with its competitiveness."


You can also watch Dr. Hong's keynote speech at Money 20/20 Keynote on blockchain.