Security
Samsung SDS Showcases Biometric Authentication Technologies at Money 20/20 2017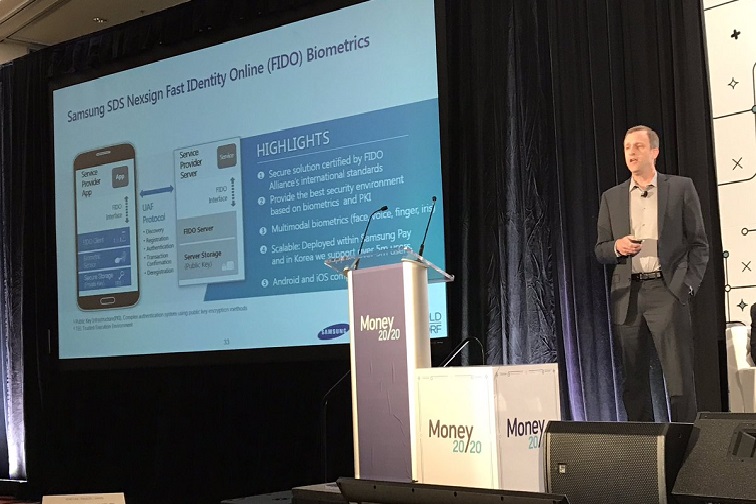 Partner demonstrations show how Samsung SDS biometric solutions are being used to bring financial transactions to the next security level
Today at the Money 20/20 USA conference, Samsung SDS America showcases its authentication technologies, including Samsung SDS Nexsign™, with leading partners in the financial industry, illustrating the latest innovations that use advanced mobile technologies to improve security and enhance the user experience.

Passwords are becoming more burdensome for consumers and employees, as they can easily be forgotten or obtained through malware and phishing techniques. With sophisticated biometric authentication technologies like Nexsign, user identities can be verified through biological information, such as a fingerprint, facial recognition, iris scan or voice identification, to complete financial transactions across multiple mediums, particularly mobile technologies.

"As financial industry customers and employees continue to experience security issues that can incur considerable time and money to resolve, Samsung SDS has invested numerous resources in our own mobile security platforms while collaborating with innovative companies in the financial industry to develop robust authentication solutions to replace passwords and other information which can be breached, stolen or forgotten," said Rich Lobovsky, VP of Enterprise Solutions of Samsung SDS America. "By using unique biological information for user authentication, critical financial and personal information can become more secure, saving organizations from using staff and budgets that would normally be dedicated to managing passwords and personal identification numbers (PINs)."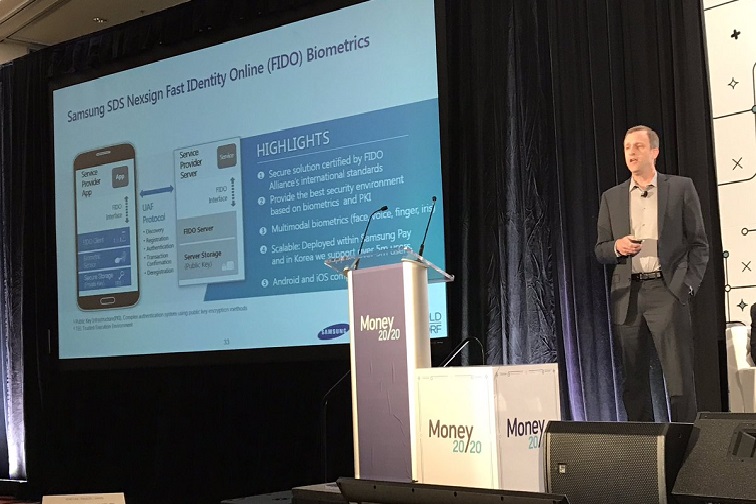 Samsung SDS Showcases Biometric Authentication Technologies at Money 20/20 2017
Partner Activities: Through its collaboration with financial technology leaders, Samsung SDS's biometric authentication solutions will be demonstrated at the following Money 20/20 USA locations:

• Diebold Nixdorf - Booth #1343: Features Diebold Nixdorf's latest conceptual technology, Fusion, which incorporates near field communication (NFC) for secure communication between the phone and the ATM. Utilizing Samsung SDS's Nexsign technology, which uses facial biometrics for user authentication, and Diebold Nixdorf's mobile banking application, the companies will demonstrate a seamless, cardless, pinless ATM cash withdrawal transaction.

• BioCatch - Kiosk #32: Biocatch's behavioral biometrics technology (physiological, cognitive, and contextual factors) will be featured as part of Samsung SDS America's demonstration that showcases frictionless, continuous authentication throughout a mobile banking session, from login to logout. A user may initiate the session via a choice of biometrics (face, fingerprint or voice recognition) and will be asked to re-authenticate upon confirming a transaction if a behavioral anomaly in the session is detected, simulating an account takeover scenario coming from malware or robotic activity or a human imposter.

• Moxtra - Booth #1573: Demonstrations of the bank branch of the future through tablets that utilize Moxtra's secure collaboration tools (e.g., secure video, e-form, e-signature), coupled with Samsung SDS's Nexsign biometric authentication technology, to exemplify the customer engagement process from onboarding to relationship management.

Samsung SDS America Executive Panel Presentation:
Analysts, media and all Money 20/20 attendees are invited to listen to insights from Richard Lobovsky, Vice President of Enterprise Solutions for Samsung SDS America, during the following panel discussion "Identity is Fundamental: What You Need to Know About Identity & the Future of Money":

• Wednesday, October 25, 8:30 a.m.-10:00 a.m. PT in the Titian room, level two at The Venetian

This panel will also include Samsung SDS America partner, Douglas Hartung, Senior Director of Global Software Innovation for Diebold Nixdorf.