Samsung SDS News
Samsung SDS to Lead Innovation in Hyperautomation with Generative AI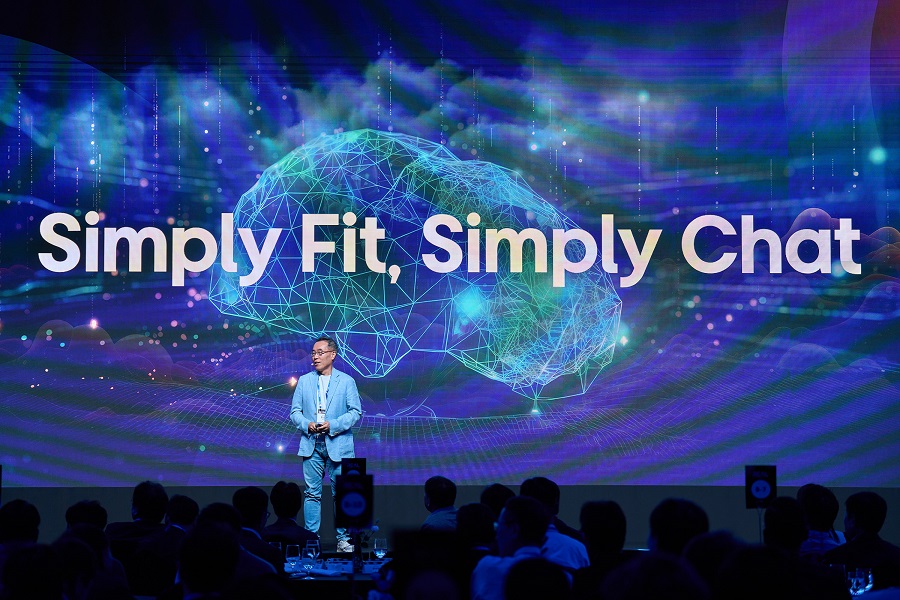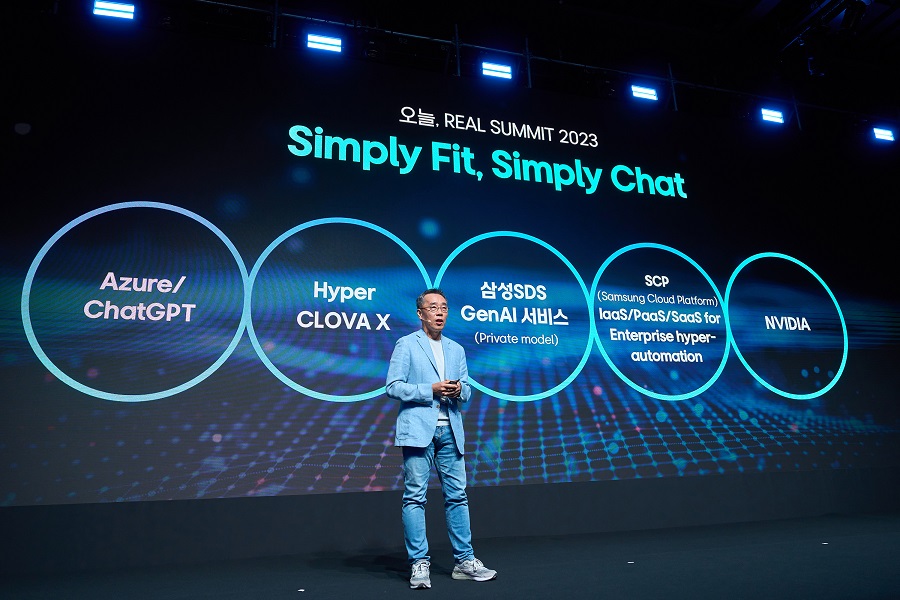 Sungwoo Hwang, President & CEO of Samsung SDS, speaks during the REAL Summit 2023 at the Grand InterContinental Seoul Parnas.
Sungwoo Hwang, President & CEO of Samsung SDS, speaks during the REAL Summit 2023 at the Grand InterContinental Seoul Parnas.
+ Unveiling FabriX and Brity Copilot for enabling easy adoption of generative AI at "REAL Summit 2023"
+ Announcing the slogan "Simply Fit, Simply Chat" that captures the essence of Samsung Cloud Platform and generative AI services

Samsung SDS announced that it will lead innovation in hyperautomation that will significantly improve workplace productivity through the adoption of generative AI.

To this end, the company unveiled its new services "Brity Copilot," a solution for automating intellectual tasks, and "FabriX," a platform accelerating the integration of generative AI with cloud systems.

Featuring great compatibility, the solution and platform can be combined with various kinds of large language models (LLMs) that companies wish to use such as Open AI's ChatGPT and Naver's HyperCLOVA X, and be offered in a private system built for enterprise customers that require a high level of security.
In addition, Samsung SDS announced its slogan "Simply Fit, Simply Chat" that reflects its ambition to offer generative AI services in a simple, easy way tailored to the needs of enterprise customers.

These announcements were made at "REAL Summit 2023" hosted by the company at Grand InterContinental Seoul Parnas on September 12th.

Brity Copilot, a solution automating intellectual tasks
Brity Copilot is a solution deploying generative AI for intellectual tasks that are conducted in common business processes such as email, messaging, video conferencing, and data storage, thereby overcoming the limitations of robotic process automation (RPA) that can only handle simple, repetitive tasks.

With generative AI, Brity Copilot can automate a wide range of tasks such as writing video conference minutes, creating an action plan, and sending an email to the person in charge. Also, it can integrate with existing systems used by companies and be deployed in a private cloud environment that ensures high security.

Haegoo Song, Executive Vice President and Leader of Solution Business Division at Samsung SDS, stated that in addition to Brity Copilot, companies can also use generative AI services for their core business systems including Enterprise Resource Planning (ERP), Supply Chain Management (SCM), and Human Resources Management (HCM), as well as for system development and operation to significantly improve their productivity.

Song also highlighted that when these solutions were piloted within Samsung SDS, the speed of development improved by 30% while performance verification became twice faster than before. Moreover, he emphasized that the time required for producing operational documents in ERP operations was reduced by 75%, and that the automation rate for handling customer requests reached 60%.
FabriX, a platform accelerating the application of generative AI
Samsung SDS also unveiled FabriX, a business platform that brings together various IT resources of a company including data, intellectual assets, and business systems so that employees can easily share and make use of such resources.

With FabriX, companies can more easily and quickly connect generative AI to their business systems.

Scott HJ Koo, Executive Vice President and Leader of Cloud Service Business Division at Samsung SDS, said, "Companies that wish to adopt generative AI can use FabriX to connect all their business systems with various LLMs in a simple, easy way and in turn accelerate hyperautomation."

In addition, he stated that the company will support secure use of generative AI through data collection, storage, and preprocessing features of Samsung Cloud Platform (SCP).

Meanwhile, in the afternoon session of REAL Summit 2023, Samsung SDS delivered 24 presentations under key themes including AI & Data, Cloud, Enterprise Solution, Supply Chain & Logistics, and Finance to share its core strengths and exemplary cases of projects.

In particular, the presentations on digital transformation of key corporate systems including ERP, SCM, and HCM, as well as the cases on Korean Air's application modernization project and Amore Pacific's cloud migration project received much attention from the audience.

Sungwoo Hwang, President & CEO of Samsung SDS, said, "Being able to well understand human language despite its variability, LLM has paved the way for a true hyperautomation of office work. Samsung SDS executives and employees have already begun our journey of accumulating business knowledge and improving productivity through generative AI, and we are already seeing surprising results day after day in our proof of concept (PoC)."

"Samsung SDS will actively collaborate with companies to support secure adoption and use of generative AI," he added.