High-tech Company A
Automation saved 240,000 work hours in a year for a high-tech enterprise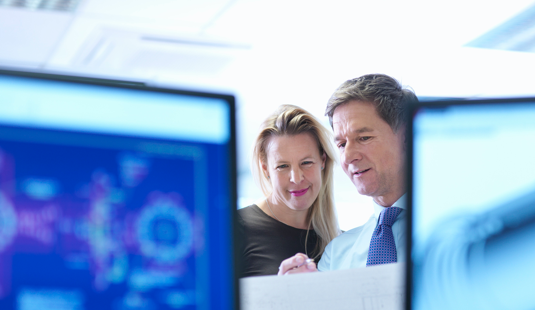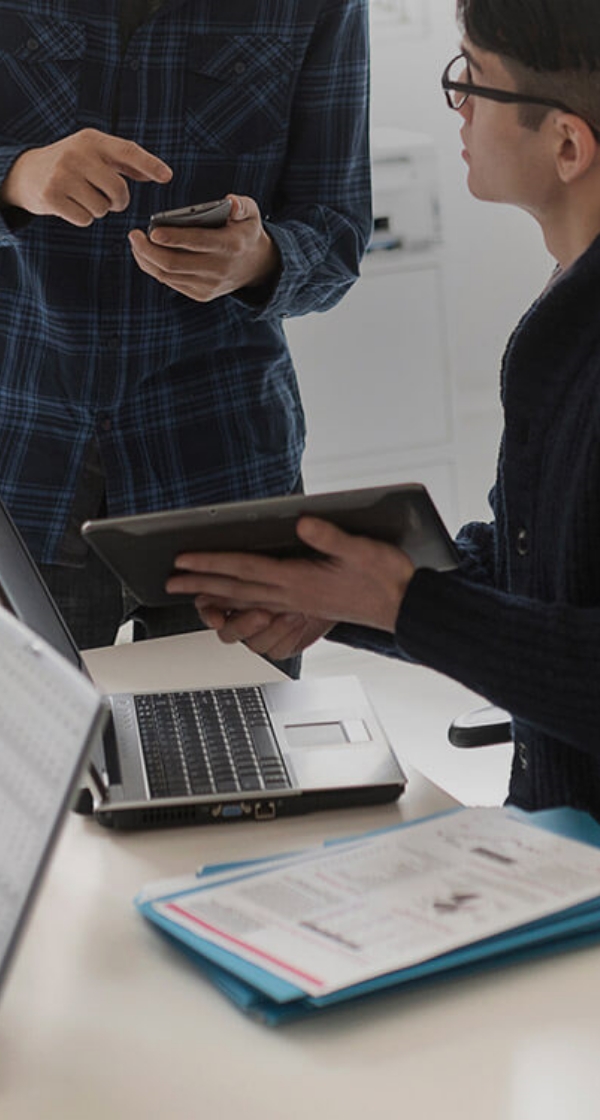 ""The company has introduced Samsung SDS' Brity RPA in all areas from manufacturing to development, sales and quality. Through work automation, we were able to save a total of 240,000 hours.""
Information Strategy Group, High-tech Company A
Challenge
Company A, a global high-tech company, experienced the increase in sharing/reporting status and doing simple and repeated work including order/shipping status, performance by manufacturing process, yield monitoring by products and creating invoices as its business grew. Accordingly, employees work longer hours.
In addition, a new system was introduced to mandate 52 hours a week to work. That deteriorates employees' satisfaction with work and creates a vicious circle that requires additional workforce.

Thus, Company A has introduced the RPA for profound work innovation and productivity improvement based on digital technologies rather than simply reducing work process.
Progress
Since the introduction of RPA in late 2017, the effect of RPA was proved by the pilot program in 2018. Therefore, Brity RPA has been selected as standard solution.
In 2019, all Korean and overseas subsidiaries applied and utilize Brity RPA.

2017.4Q

Applied RPA

2018.3Q

Applied to the sales area as a pilot

2018.4Q

Selected standard solution - Brity RPA (※ Built global infrastructure)

~2019.4Q

Deployed throughout the entire company

Briefing by workplace and subsdiary
Developed tasks and drew operation processes
Automated 3 workplaces and 6 subsidiaries

Present

Becoming intellectual / more advanced
Solution
Brity RPA is an AI-based RPA solution that helps establish and operate software robot that carries out simple, repeated and less productive work. The introduction of Brity RPA, companies can enhance the work productivity and workers can pay more attention to more creative and important work.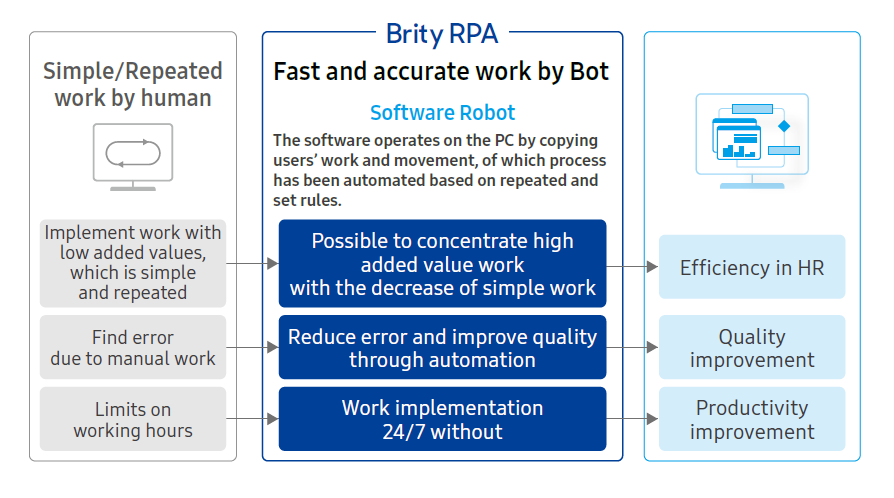 Simple/Repeated work by human, Brity RPA : Fast and by Bot Soft ware Robot The software operates on th PC by copying user's work and movement, of which process has been automated based on repeated and set rules.
Implement work with low addes values, which is simple and repeated → Possible to concentrate high addes value work with the decrease of simple work → Efficiency in HR
Find error due to manual work → Reduce error and improve quality through automation → Quality improvement
Limits on working hours → Work implementiation 24/7 without → Productivity improvement
Benefit
Company A has applied Brity RPA and expanded the application throughout the entire process of manufacturing, development, sales and quality. As of January 2020, about 230 different work has saved 240,000 hours.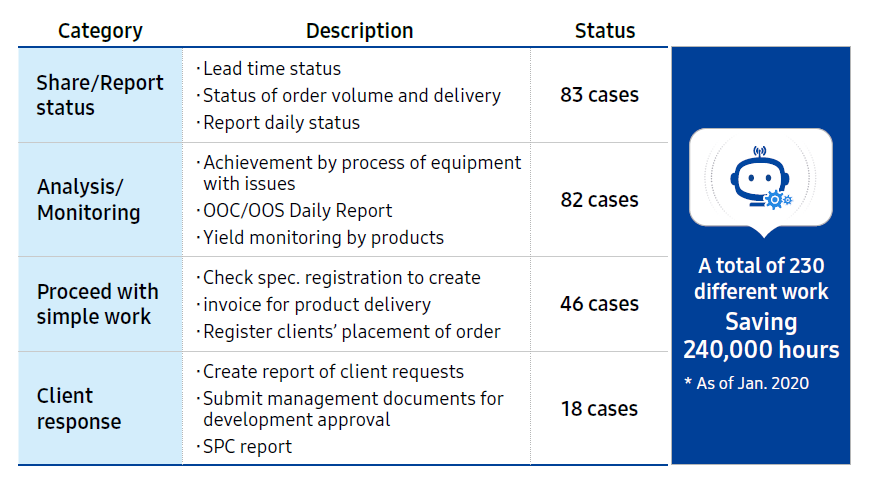 A total of 230 different work Saving 240,000 hours *As of Jan.2020
category
Description
Status
Share/Report status

Lead time status
Status of order volume and delivery
Report daily status

83 cases
Analysis/Monitoring

Achievement by process of equipment with issues
OOC/OOS Daily Report
Yield monitoring by products

82 cases
Proceed with simple work

Check spec. registration to create
invoice for product delivery
Register clients' placement of order

46 cases
Client response

Create report of client requests
Submit management documents for development approval
SPC report

18 cases
Customer's advice

※Key to success of RPA(Recommendations by Company A)
Widen your view to look at the entire process - shoud consider pre-/post-work as well as the actual work
Have the approach in the perspective of improvement - Expect greater benefits by optimizing processes
Secure sustainable measures in operation/manage - operation/maintenance is more important
Pay attention to exceptions - shoud find automation measures for exceptions
Be ready to be linked to the AI - collaboration with Chatbot, OCR and analytics