Samsung SDS President & CEO, Dr. WP Hong, attended the 1st Singapore Defence Technology Summit at the invitation of the Defence Science and Technology Agency (DSTA) on June 28 where he met with the Prime Minister of Singapore, Lee Hsien Loong, as well as eight world leaders in the technology field.
Experts from seventeen different countries specialized in a variety of fields such as academia, industry, and policy, spoke at the summit, among them, seven representatives, including President Hong, held a meeting with the prime minister of Singapore.
President & CEO, Dr. WP Hong presented plans to the Prime Minister to utilize the new technologies of private companies such as AI, IoT and blockchain in the areas of national defence and security.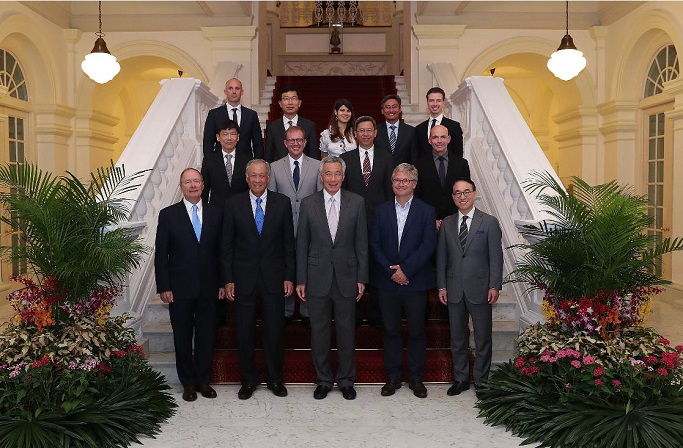 Speakers of the Singapore Defence Technology Summit call on Prime Minister Lee Hsien Loong(front row, center) at the Istana on Thursday, 28 June 2018 (Images from the Ministry of Communications and Information), Samsung SDS's President & CEO, Dr. WP Hong (front row, right)
credits : https://www.gov.sg/resources/sgpc/media_releases/dsta/press_release/P-20180628-3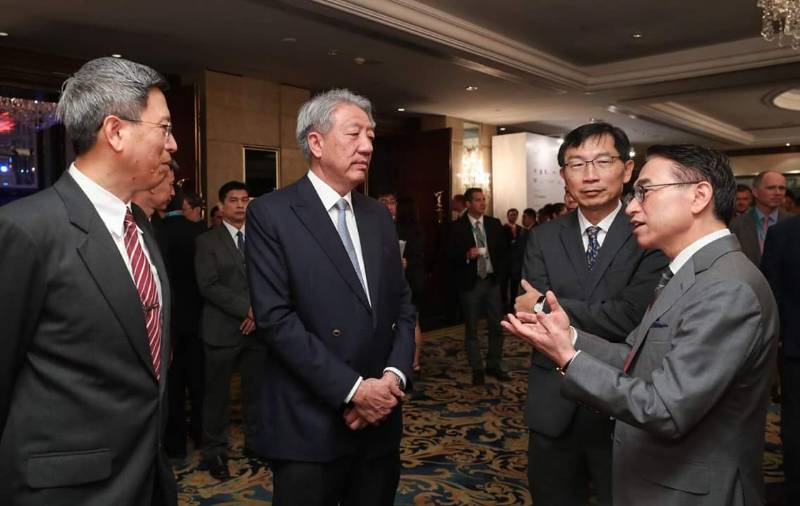 Samsung SDS President & CEO, Dr. WP Hong (R) talks with Deputy Minister of National Defence, Deputy Prime Minister of Singapore, and the Director of DSTA (L to R)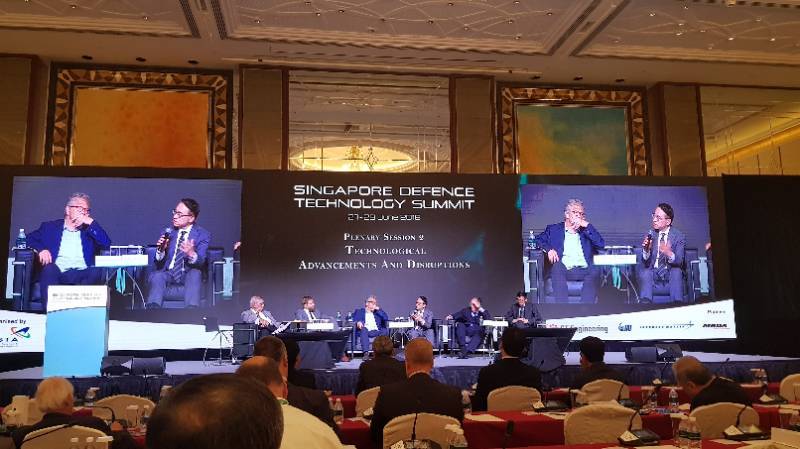 Discussants at the Singapore Defence Technology Summit
When partaking in discussions on the panel on June 27, in addition to Samsung SDS' strong security solution, Enterprise Mobile Management (EMM), President Hong discussed the case of using biometric devices combined with iris or fingerprint testing to detect dangerous persons and also talked about the company's cloud-based IoT security platform.
President & CEO, Dr. WP Hong went on to discuss the application of blockchain technology in the defense sector for tracking the purchase contract history of military materials, verifying military phones, and verifying IoT equipment for military use. He also explained how the technology could be applied to the military material supply chain.
He also discussed the S-Patch solution being applied to soldiers as it can be attached to the chest to monitor the heartbeat in real time and allow for biometric data to be stored in the cloud and analyzed. This would make it possible to predict or rapidly respond to any physical problems that may occur in the soldiers.
Dr. WP Hong stated that the Singaporean government is leading the Smart Nation Project and has a strong intention to take national defence and security to a whole new level with IT innovation. He said, "The Singaporean government thinks very highly of Samsung's IT innovation capabilities."