If you want to make a phone call in New York City, you don't even need a cell phone at hand. LinkNYC, a new service spreading like wildfire across all five boroughs, now offers state-of-the-art digital kiosks, called Links that provide free services including phone calls, high-speed Wi-Fi, a tablet for maps and city services and device charging. Over the next few years, the number of Links will grow from 1,000 to 7,500.

Funded by advertisers, LinkNYC services are free to both the public and taxpayers. Advertisers take advantage of large screen digital out-of-home (DOOH) signage at the kiosks to engage with consumers in a meaningful way and display highly targeted ads to them as they use the kiosks.

LinkNYC is one of the latest examples of the SMART city, an emerging trend that Samsung SDS and several other vendors discussed in a panel at last month's Digital Signage Expo (DSE) 2018 in Las Vegas. The free ranging exchange touched on trends precipitating the rise of the SMART city, current and future applications, and the technologies that are currently being used and will be deployed in the future to make SMART city dreams a reality.

At DSE 2018, Samsung SDS promoted various visual, interactive displays that can also be combined with rule-based content targeting and prescriptive analytics.
Propitious trends
Today 66% of U.S. cities have invested in SMART city technology while 25 percent of those currently without any SMART city initiatives are attempting to implement them. According to Dr. Peter Williams, Chief Technology Officer for IBM, "a SMART city is one where the Internet of Things (IoT) and analytics are applied to public infrastructure, services, and participation in the community."

The SMART city is enabled by technologies that are readily available today. These include video cameras and IoT sensors that gather data from intelligent devices across the city, video analytics and machine learning, targeted content management, and Digital-Out-of-Home (DOOH) displays.

These technologies create three types of connections. Machine-to-machine or IoT connections transmit data from one machine or "thing" (e.g., sensor, robot, computer, mobile device, digital sign) to another over a network. Machine-to-people connections transfer information from a machine to a person or vice versa. People-to-people connections move information from one person to another using video, mobile devices and social networks.

Adoption of SMART city initiatives will only accelerate as individuals continue to flock to urban centers. Three quarters of the global population are expected to live in big cities by 2050, according to market research firm PJ Sullivan.

SMART city technologies will increasingly intersect with today's on-the-go consumers. Consumers now spend 25% more time outside their homes than 10 years ago (source: Posterscope) while almost 70% of mobile usage is outside the home, putting users in direct proximity to Out-of-Home (OOH) media. By 2022, 80% of OOH placement is expected to be digital.

Solving pressing urban problems
Cities hope to improve residents' quality of life by applying SMART city technology to solving urban ills. Smart City kiosks placed in strategic locations across the urban environment, each incorporating dozens of sensors, will detect everything like weather, smoke, humidity, consumer geo-location presence and more. Cameras will record traffic congestion, accidents, violations, crimes and more.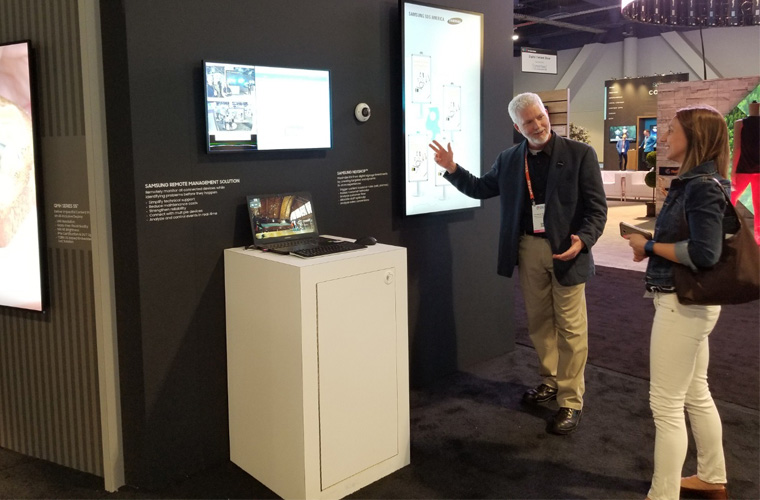 Also showcased at DSE, Samsung SDS' Remote Management Solution (RMS). RMS ensures that your displays and digital kiosks work as promised.
Smart analytics driven by machine learning can then be deployed, for instance, to reduce parking and traffic congestion. People will be able to look at a big screen that shows available parking spots or where streets are clogged and should be avoided. At the same time, the mayor of the city could review data such as traffic count data at specific locations to schedule road maintenance during lighter traffic periods.

City residents or visitors may even be able to obtain vital information in real time. A quick glance at a smartphone, kiosk, bench, transit shelter, phone kiosk, even news rack or bike sharing station may soon tell them when the next train will arrive, Yankees game will start, MOMA will close, or even when their parking ticket will expire.

Increasing relevance
While SMART cities are already providing tremendous value today, they will continue to connect people, processes, data and things in ever more relevant, useful ways by taking advantage of a growing array of technology advances.

Natural language processing may soon allow virtual voice assistants to replace wayfinding based on touch with that based on voice. This will reduce costs by replacing costly touchscreen with sensorless screens that are less expensive and easier to maintain.

Advances in machine learning and artificial intelligence will work with cameras to allow us to identify customer demographics, age, gender, sentiment and dwell time and optimize content presented to them over the digital display. We're already able to do these things at a smaller scale with retailers – which we will discuss in an upcoming post – but now we see it being scaled up for cities. For example, if the camera sees a female between the ages of 25 and 35 watching a lipstick ad on a smart city kiosk for 2.4 seconds, AI can identify the most effective ad for lipstick for that particular consumer group; and continue serving the same ad anytime a person within the same demographic group is passing by. This is a huge benefit to the advertisers since we can determine the right ad for the right demographic, at the right time and for the right purpose. Advertisers will be able to reposition marketing promotions and ad campaigns based on real time consumer engagements with the ad thanks to machine learning technology.

Explore your options today
If you're interested in using SMART city solutions to address pressing concerns in your city, Samsung SDS can help you evaluate the technology considerations and set up your IT infrastructure. For more information, contact us at: bd.sdsa@samsung.com
Also, join us in a conversation about SMART city solutions by tagging us on Twitter @SamsungSDSA with the following #Nexshop #SmartCity!
Intrigued by Nexshop? Click here for more information about the solution.



▶ &nbsp&nbspThe contents are protected by copyrights laws and the copyrights are owned by the creator.
▶ &nbsp&nbspRe-use or reproduction as well as commercial use of the contents without prior consent is strictly prohibited.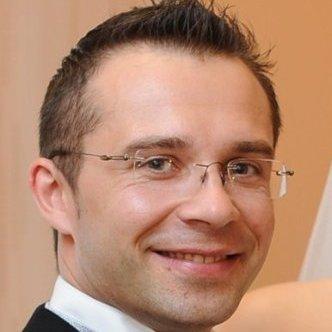 Director, Romulus Stoian
IT Technology
Samsung SDS America
Romulus is a seasoned advertising and marketing executive with nearly two decades of experience in domestic and international business strategy and execution, development, strategic partnerships and smart analytics for audience measurement, mobile and digital media innovation in OOH advertising. At Samsung SDS, Romulus leads DOOH Marketing Solutions and is responsible for product management, market positioning and strategy for digital out of home advertising in the US and Canada.