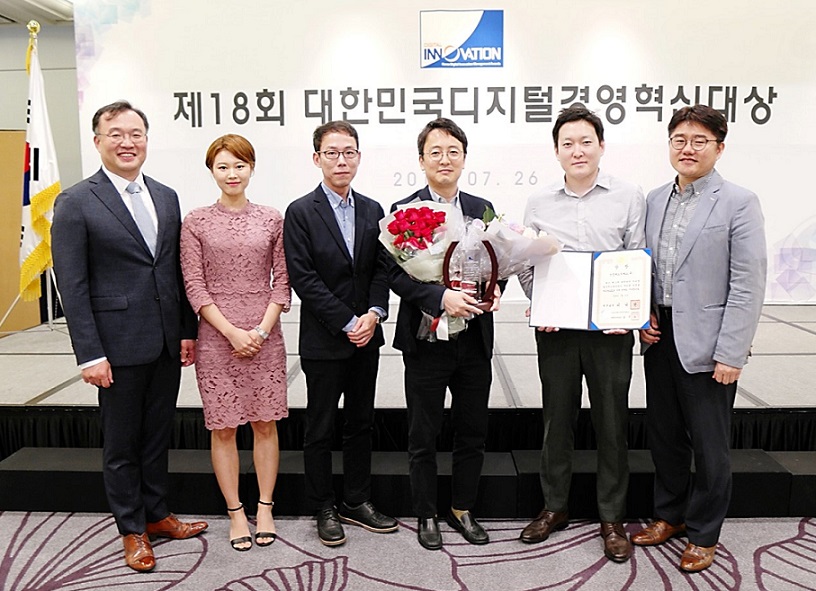 Awarded the Prime Minister Prize for Digital Management Innovation in Korea,(center)
Leader Seungjai Min Master of Data Analytics Center
On July 26, the 18th Korea Digital Innovation Awards ceremony was held. Samsung SDS was awarded the Prime Minister's Prize for Nexledger, the blockchain platform developed in-house.
What are the Digital Innovation Awards?
The Digital Innovation Awards are an annual event held by the Korean newspaper publisher, Maeil Business, which is sponsored by the Ministry of Science and Technology, the Ministry of Information and Communication, the Ministry of SMEs and Startups, and the Ministry of Culture, Sports and Tourism. Excellent organizations and enterprises that produce insights and value throughout the company via digital are selected to receive awards.
Samsung SDS' Nexledger, which was awarded the Prime Minister's Award, is a semi-finished product that can be readily used by established companies. Nexledger is an IT product that can increase the transparency of information circulation and operation, which is the main advantage of blockchain technology. This brings the technology into a more positive spotlight following the recent controversial issue of highly speculative cryptocurrency trading, allowing enterprises to re-evaluate the technology as being worthy of paying close attention to. Samsung SDS realized early on the possibilities of blockchain technology and has been steadily investing in it over the years. As a result, the company has been able to build its own blockchain-based platform, Nexledger, which is held in such high regard as to have been awarded the Prime Minister's Award for its excellence.

With Nexledger, Samsung SDS now possesses a management monitoring system that allows for the overseeing of entire development operation environments and ecosystems, which can be used in enterprise system environments. There are already cases in which Nexledger has been introduced and successfully used in the financial, manufacturing, logistics, and public sectors.

For example, from the first half of last year in the financial sector, the technology is being applied in the Samsung Card electronic document verification service for the digital trading ring, automatic login service of a partner company applying blockchain identification, and biometric authentication security enhancement. Currently, we are conducting a blockchain co-certification project for banks, currently in the pilot testing phase for the six Korean banks. Nexledger was also selected as the preferred bidder for the 'Life Insurance Company Blockchain Platform Building and Blockchain-based Innovation Implementation Project' in Korea.

But that's not all. SDS implemented the Nexledger platform in the manufacturing field to prevent contract documents from being tampered with, to ensure authenticity, and to achieve a standardized and transparent management system, such as non-repudiation of contractors. In the logistics field, from May to July last year during the Marine Logistics Blockchain Consortium Project, the technology was proved to prevent tampering with and simplified the issuance process for import and export-related documents as logistics officials such as shippers, shipping companies, customs officers, and bank workers shared logistics-related documents using blockchain technology.

Master Seungjai Min said in his award acceptance speech, "This award confirms the excellence of Nexledger blockchain technology. Having received this award, we will now go beyond our domestic business and contribute more to expanding our global business based on the Nexledger brand."

Samsung SDS not only provides Nexledger in a customized way such as on-premise, cloud platform as a service, and software as a service, but plans to develop it into an integrated platform that fuses AI, big data analytics, IoT and a variety of other innovative technologies to create a unified platform that will lead digital transformation.

Congratulate Samsung SDS on being awarded the Prime Minister's Award for Digital Innovation in Korea!!!