Your stores are talking. Are you listening?
When it comes to your online store, you probably have more data than you know what to do with. Thanks to web analytics, you know what pages are popular, what offers get noticed, how long shoppers visit, and more—insightful data that savvy e-retailers are using to improve the shopping experience and increase conversions.
Why shouldn't your brick-and-mortar store give you the same insightful data?
It can.
Thanks to the latest people-counter solutions, retailers can now gather deep insights about their customers' in-store activity and, as with their websites, use that data to drive improvements.
Why focus on the in-store experience
Just a few years ago, industry experts were spouting that brick-and-mortar retail was dead. But is it?
Despite retailers' laser focus on improving the online shopping experience, consumers still prefer to shop in-store. In fact, according to The International Council of Shopping Centers (ICSC), 78% of consumers prefer to shop in-store and spend almost $1,500 more per month at physical stores versus online.
In-store shopping is clearly alive and well, but the experience could definitely be improved. That's where new people-counter technology comes to the rescue.
How People Counters Have Evolved
Most stores have a traditional traffic-counter system in place. Maybe it's a store greeter who does a manual count, or an electronic entrance counter. Both have been the mainstay for collecting store traffic counts, but neither is highly consistent. Store greeters get distracted helping customers, while laser-based systems often make incorrect counts when large groups come through the door. Today's advanced systems use a store's existing security cameras and gather more precise "head counts." They also apply advanced analytics, transforming head-count data into insightful information retailers can quickly use for more than just knowing how many people visited their store.
Additionally, if a store visitor has a mobile device, this technology can add even greater detail, such as demographics, visit duration, and visit frequency, that retailers can use to transform many elements of the in-store experience.
Improve Retail Store Layouts
An effective store layout can be a huge boon to a retailer. Using camera images, people-counter solutions create customer traffic patterns (sometimes referred to as heat maps) over time and in real time. These maps help retailers quickly identify store hot spots, dead zones, and bottlenecks—information that can be used to improve a store's layout. These solutions also make it easy to determine which products spur the highest interest, where people spend the most time, and also address queue times.
Optimize Staff Schedules & Improve Customer Service
With detailed customer traffic information by day, week, or year, retailers can easily align their staffing schedules to ensure just the right number of available sales associates. Additionally, heat map data can identify locations in the store where shoppers need the most engagement. Or conversely create a complete interaction analysis of shoppers and sales associates to identify service issues.
Transform Window Displays to Boost Sales
Retailers put considerable time into their window displays in hopes of enticing shoppers to come inside and buy. Advanced people-counter technology enables retailers to quickly determine window display effectiveness, encouraging more testing of different variables to find what really "speaks" to shoppers. This same technology can also be used to measure in-store displays and signage.
Deepen Customer Loyalty
For retailers with loyalty apps, every time a customer with the app installed enters, the technology can track their movements and send promotional messages. What else?

For more information on the Samsung SDS People Counter solution, contact us today at bd.sdsa@samsung.com.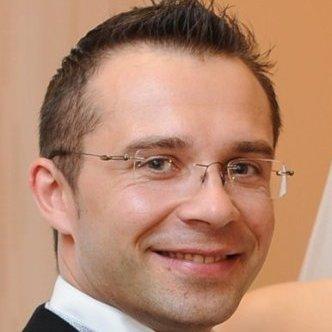 Director, Romulus Stoian
IT Technology
Samsung SDS America
Romulus is a seasoned advertising and marketing executive with nearly two decades of experience in domestic and international business strategy and execution, development, strategic partnerships and smart analytics for audience measurement, mobile and digital media innovation in OOH advertising. At Samsung SDS, Romulus leads DOOH Marketing Solutions and is responsible for product management, market positioning and strategy for digital out of home advertising in the US and Canada.