Samsung SDS News
Samsung SDS Reports 2019 Financial Results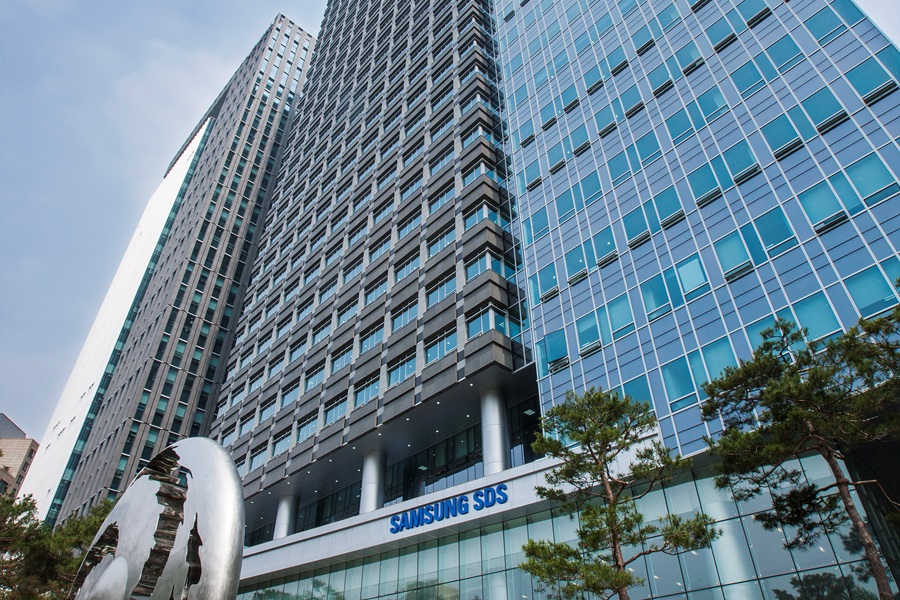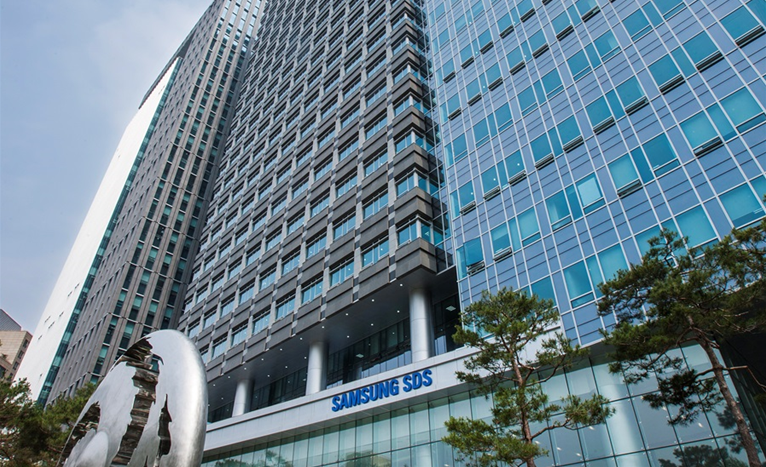 Samsung SDS Campus in Jamsil, Seoul
+ Revenue of KRW 10.7196 trillion (7% YoY increase), Operating Profit of KRW 990.1 billion (13% YoY increase)
+ External business sales increased 31% YoY, powering the growth

Samsung SDS recorded highest revenue last year while continuously expanding external business in the Q4.

Samsung SDS announced that it achieved revenue of KRW 10.7196 trillion, 7% YoY increase, and operating profit of KRW 990.1 billion, 13% YoY increase, in 2019.

Under the management strategy of 'Innovative growth through external business', Samsung SDS has actively secured non-Samsung customers and the company's external business sales recorded KRW 1.8 trillion which is 31% YoY increase.

In particular, the company's four major IT strategic businesses including intelligent factory, cloud, artificial intelligence & analytics, and solution continued to drive growth, accounting to more than 30% of IT services business revenue.

In terms of business performance, IT services business revenue recorded KRW 5.8727 trillion, 3.8% YoY increase from KRW 5.6567 trillion. External sales revenue increased 26% YoY to KRW 1 trillion by securing customers from various industries such as manufacturing, finance and security.

Logistics Business Process Outsourcing business revenue recorded KRW 4.8469 trillion, 10.7% YoY increase from KRW 4.3775 trillion. External sales revenue increased 38% YoY to KRW 770 billion, derived from various industries such as auto parts, electronics, consumer/household goods and solar modules.

In 2019 Q4, Samsung SDS recorded revenue of KRW 2.7827 trillion and the operating profit of KRW 326.2 billion, achieving 4.7%, 58% QoQ growth respectively.

Samsung SDS has set new management strategy as 'Global business expansion as a sustainable growth engine' and plans to continuously grow by targeting strategic business in the global market and actively discovering new customers and business models.

To support its global business expansion, Samsung SDS has recently participated the Consumer Electronics Show in the United States with its own exhibition booth and met with over 100 global customers and partners to discuss strategic cooperation plans. The company also plans to participate in Mobile World Congress to be held in Barcelona next month with a separate exhibition space.

At the CES, Samsung SDS showcased intelligent factory fueled by 5G and edge computing, artificial intelligence based work automation solution, and the global business cases that utilize its blockchain platform.

Through the board resolution, Samsung SDS has decided the dividend of KRW 2,400 per share, an increase of 20% from KRW 2,000 last year. Moreover, the company announced a dividend policy to increase the dividend payout ratio to over 25% over three years.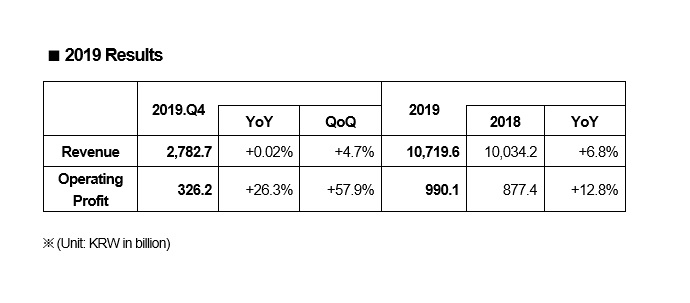 2019.Q4     2019     YoY QoQ 2018 YoY Revenue 2,782.7 +0.02% +4.7% 10,719.6 10,034.2 +6.8% Operating Profit 326.2 +26.3% +57.9% 990.1 877.4 +12.8% (Unit: KRW in billion)