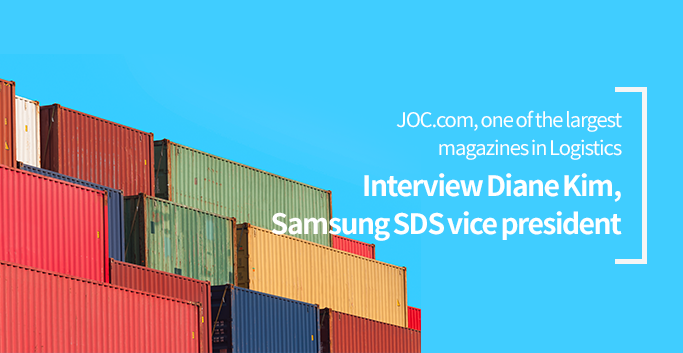 Samsung SDS coordinates the logistics activities of SEC through its Cello logistics platform and the company is now also supporting BCO customers
Diane Kim, One of Business Development Team Leaders in Smart Logistics Unit, had an interview with JOC on 13th of Jan.
She mentioned several issues about current market situation, if you are the one who is in Logistics & Transportation Industry, and then you would be interested in this article…
---
Turloch Mooney, Senior Editor, Global Ports | Jan 17, 2017
The ongoing rise in trans-Pacific spot rates has so far not been replicated in contract rates for large shippers, which are still similar to those of 2016, according to Samsung SDS, the company that handles global logistics operations for giant South Korean beneficiary cargo owner Samsung Electronics.
The latest figures from the Shanghai Shipping Exchange show trans-Pacific spot rates are now more than 35 percent higher than they were in December. Spot rates to the West Coast are more than $2,211 per 40-foot-equivalent unit, and more than $3,594 to the East Coast. Current and historical spot rates can be found on JOC.com's Market Data Hub.
Samsung's 2017 contract rate, which started in January, is just slightly up on last year and the company does not expect a rapid rate rise any time soon, Diane Kim, vice president with Samsung SDS told JOC.com at the company's headquarters in Seoul.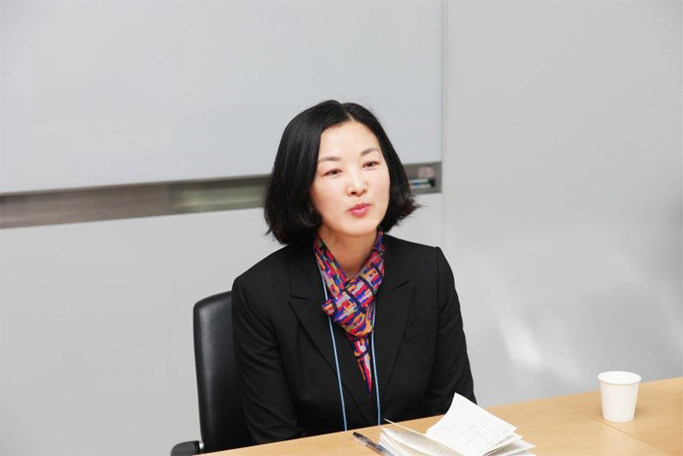 ▲ Diane Kim
"It is not easy to predict, but the rate is stable at the moment and we do not anticipate a rapid increase any time soon."
The one-year rate will be reviewed again with container lines in July, just three months after the launch of new vessel-sharing agreements in April.
Kim said while the contract rate was currently stable, she does expect to see a gradual increase in rates from the all-time lows of 2016 over the course of this year.
"We see this happening already in the spot market, where rates are up by 30 percent or 40 percent, but there is still overcapacity in the market and it is going to take some time before there is real balance in supply and demand."
Some in the industry believe that supply-demand balance is not too far off, but others believe the imbalance is likely to worsen in the coming years.
Pantos Logistics, which handles around 1.1 million 20-foot-equivalent units annually, said at the end of 2016 that carriers had been trying to lock in higher trans-Pacific spot rates to service contracts for 2017. BCOs that invited container lines to discuss 2017 contracts were pressed by lines to keep rates as close as possible to the $2,000 per FEU spot market rate at the time, said Minseop Kim, head of the global sea pricing team with Pantos Logistics.
Samsung's Kim said shippers saw both positives and negatives in the ongoing trend of consolidation in liner shipping, particularly in terms of larger alliances.
"There is some concern the larger alliances will have more control over ocean slot supply and will be in a stronger position to drive up rates. However, it should also mean improved service levels and quality for shippers, which is a good thing.
"While large shippers are unlikely to be too affected, I believe we can expect to see a higher number of SME [small- and medium-sized enterprise] shippers working more closely with 3PLs [third-party logistics providers] because combining volumes will put them in a better negotiating position."
If the alliances fail to secure the higher rates needed to remain financially viable, spurring yet more bankruptcies and consolidation, shippers may find themselves at the mercy of large container lines that are able to dictate the terms of the market.
Samsung SDS, which has annual revenue of around $3.2 billion, moved 660,000 TEUs in 2016. This included around 210,000 TEUs shipped to North America; 85,000 TEUs to Europe and Commonwealth of Independent State countries, and 190,000 TEUs shipped between China, Southeast Asia, and South Korea.
The volumes included finished products as well as parts shipped out of major manufacturing facilities in China, South Korea, Vietnam, and Thailand.
While more than 90 percent of its business comes from Samsung Electronics, Samsung SDS handles logistics for around 400 other BCO customers.
Given the rapid deterioration in value of consumer electronics products, Samsung Electronics requires the highest container shipping service level available and its contract rate includes guarantee of space and on-time delivery.
Kim said South Korean shippers are still feeling some impact from the collapse of Hanjin Shipping, particularly in terms of increasing spot rates.
"The impact on shippers and 3PLs was huge, especially on Korean companies. A lot of money had to be spent rerouting freight, and in the worst cases there was loss of business."
While large South Korean shippers work with multiple liner companies, they see it as important for the overall health of the national maritime sector and economy for South Korea to have a national carrier. South Korean ocean carriers also have a better understanding of the service requirements of the country's major exporters, Kim said.
BCOs are currently very focused on managing logistics costs in order to maintain competitiveness in the current global trade environment, Kim said.
"Customer requirements are higher and satisfaction levels are lower. They consistently look for better service at lower cost and this is making IT capabilities in logistics more important."
Samsung SDS coordinates the logistics activities of Samsung Electronics through its Cello logistics platform and the company is now also supporting BCO customers in other industry verticals, including textiles and automotive.
The platform offers real-time tracking of shipments globally to improve efficiency, exception management, and supply chain responsiveness. The data management and analysis capability of Cello are being expanded to support improved levels of forecasting, supply chain planning, and optimization of warehousing and transportation systems.
---
Source : JOC.com
.
.