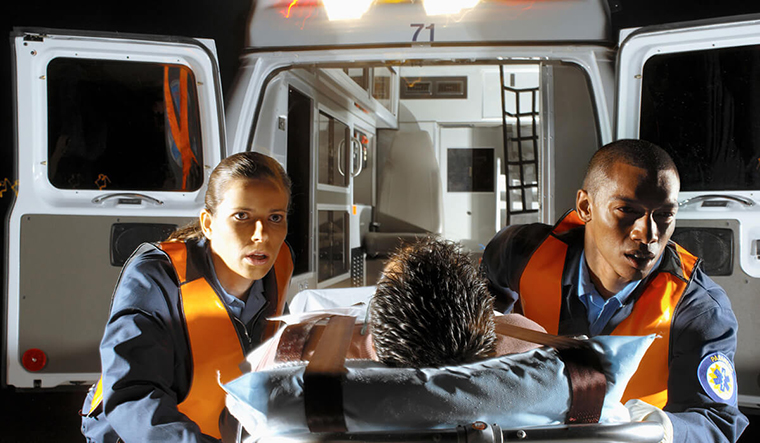 Securing Your Interconnected Future Series
Part 2 of 4
To read part one please click here, to read part two please click here, to read part four please click here.
Imagine enabling government vehicles, police officers, and first responder's with Enterprise Mobility Management (EMM) technology. They would be able to accomplish much more with smart technology. Police vehicles would be able to talk to one another, routing officers through traffic in real time to the scene of an accident. One-touch-calling links (OnStar) connect these officers to other emergency first responders, all sharing locations and details of the accident. The built in cameras on the police vehicles catalogue the accident, sharing this information with first responders before they arrive.
When EMS personnel arrive on the scene, by using their mobile device through their vehicle internet, they would be able to securely submit vitals. This information can be gathered from Bluetooth LE devices that are placed on the patient and then shared through secured channels directly with the nearest hospital. Minimizing the amount of time it takes for information to be shared and maximizing the amount of lives that could be saved; all because this information is communicated in real time and gets where it needs to be before the patient does.
Now, let's take all of that and move it one step further. What if the vehicles involved in the accident could communicate to the preferred emergency contact of the driver (parent/guardian/spouse)? What if it could alert them to the accident immediately (along with police, fire, and EMS) allowing them to get in their car, and be directed to the hospital where their loved one would arrive, either prior, or at the same time. How many people would want to be there for their loved one, and be proactive about it, not reactive? In a recent study conducted by USA Today, emergency medical systems in the nation's 50 largest cities save only an estimated 6% to 10% of the victims of sudden cardiac arrest who realistically could be saved. By cutting down the response time, there is a huge potential to give a family enough time for a last goodbye or to save lives completely, allowing families to stay together.
Samsung SDS knows that we all live in a world today where technology can save lives and it is only a matter of time until we see this technology in our daily lives. The technology can provide faster response times but it can also prevent dangerous situations from happening in the first place. For instance, we already have cars stopping themselves through predictive braking using radar-like technology. Now, imagine this information being transmitted in real time to the cars that were in this accident, and then to the car behind it, and the car behind them. How many accidents can we avoid that are caused by this domino effect? How many serious injuries can be lessened or prevented? There are hints and glimpses in the world now (OnStar uses vehicle notification to EMS), but nothing really brings it all together. This truly is a capability that can be built on the backbone with Samsung SDS Enterprise Mobility Management (EMM).
To read part one please click here, to read part three please click here, to read part four please click here.
Photo Credit: U.C.E.
Winfield Decker
Winfield Decker is a Solutions Architect who has been with Samsung SDS America since August of 2014. In this role, he is responsible for sales and solution consultations. What Winfield likes the most about his job is the fact that he gets to help customers solve their mobile technology needs; which is something that he has always been interested in; he specifically enjoys mobility and recognizes the need for security for corporations. In his spare time Winfield enjoys 3D printing, computer games, and spending time with his family.