A new employee who manage to do 10 tasks when asked to do 1.
We introduce smart Brity RPA that handles various tasks before you even notice!

Brity RPA is becoming more intelligent every day with new AI technologies such as Conversational AI, Text Understanding, Visual AI and AI Analytics.

Let's see what our Brity RPA can do in the future through the webcomics.
The highlight of the workday: lunch! Ding! Here is the lunch menu: SDS Chinese Restaurant There are too many options! Chinese restaurants always have lots of amazing dishes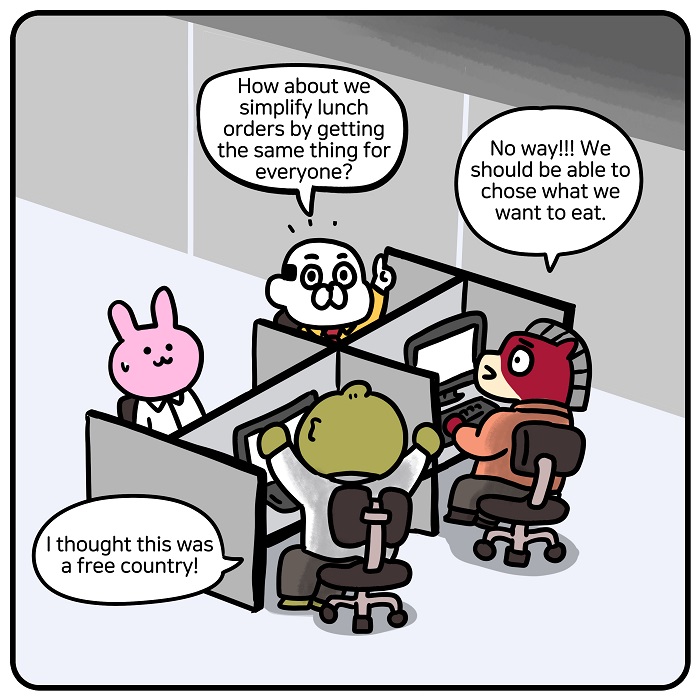 How about we simplify lunch orders by getting the same thing for everyone? No way!!! We should be able to chose what we want to eat. I thought this was a free country!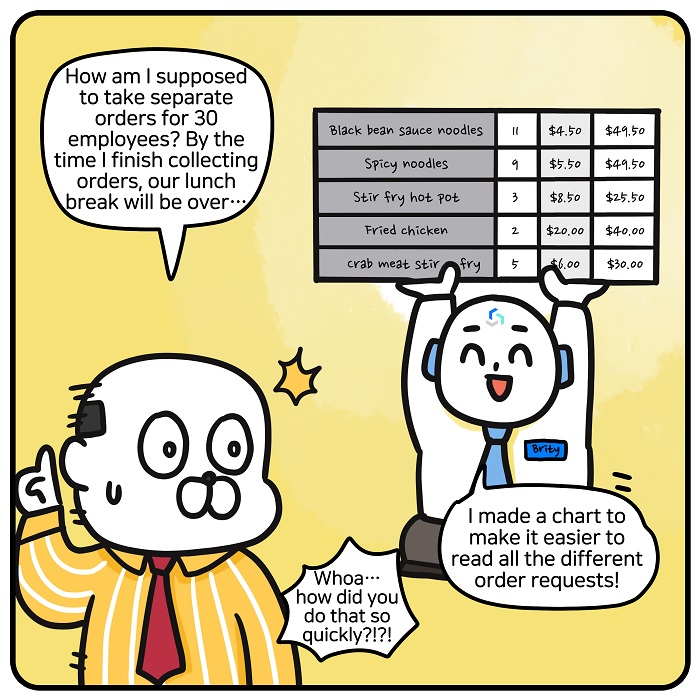 How am I supposed to take separate orders for 30 employees? By the time I finish collecting orders, our lunch break will be over… I made a chart to make it easier to read all the different order requests! Whoa… how did you do that so quickly?!?!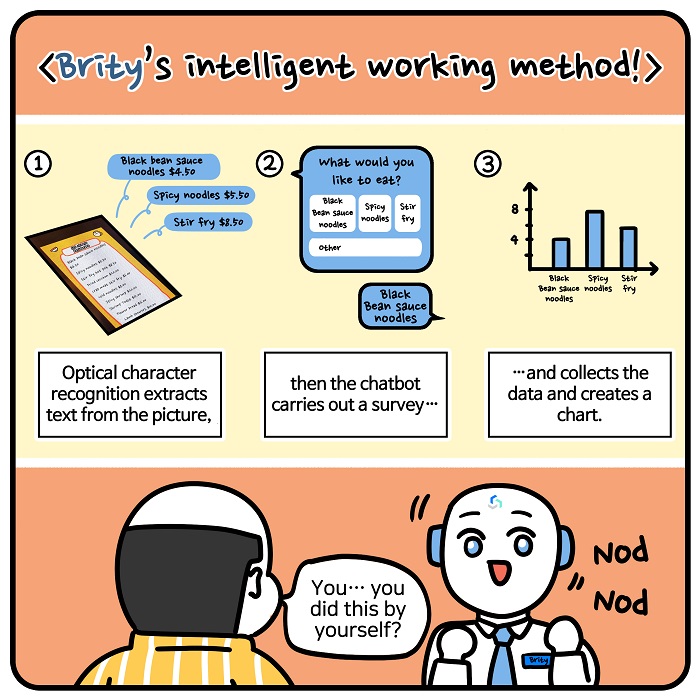 Brity's intelligent working method! 1. Optical character recognition extracts text from the picture, 2. then the chatbot carries out a survey… 3. …and collects the data and creates a chart. You… you did this by yourself? (Brity) Nod Nod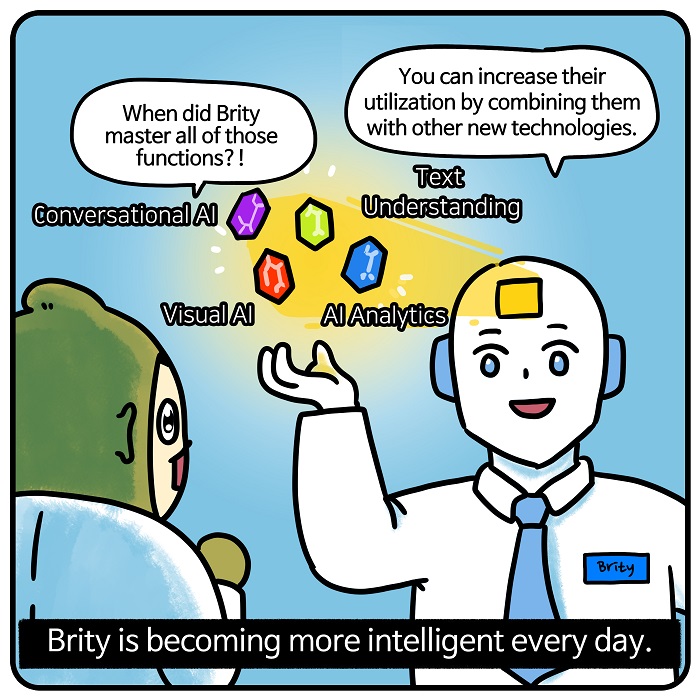 You can increase their utilization by combining them with other new technologies. When did Brity master all of those functions?! Brity is becoming more intelligent every day.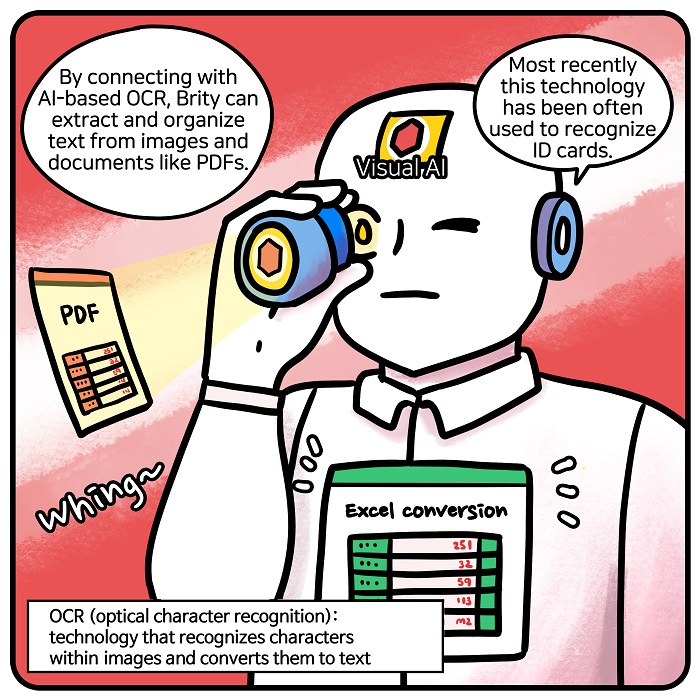 By connecting with AI-based OCR, Brity can extract and organize text from images and documents like PDFs. OCR (optical character recognition):technology that recognizes characters within images and converts them to text Most recently this technology has been often used to recognize ID cards. Whing~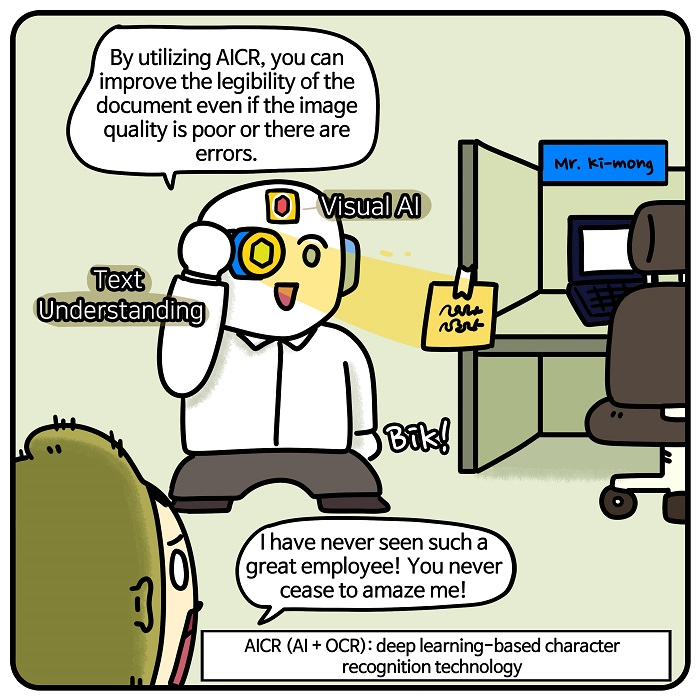 By utilizing AICR, you can improve the legibility of the document even if the image quality is poor or there are errors. AICR (AI + OCR): deep learning-based character recognition technology I have never seen such a great employee! You never cease to amaze me!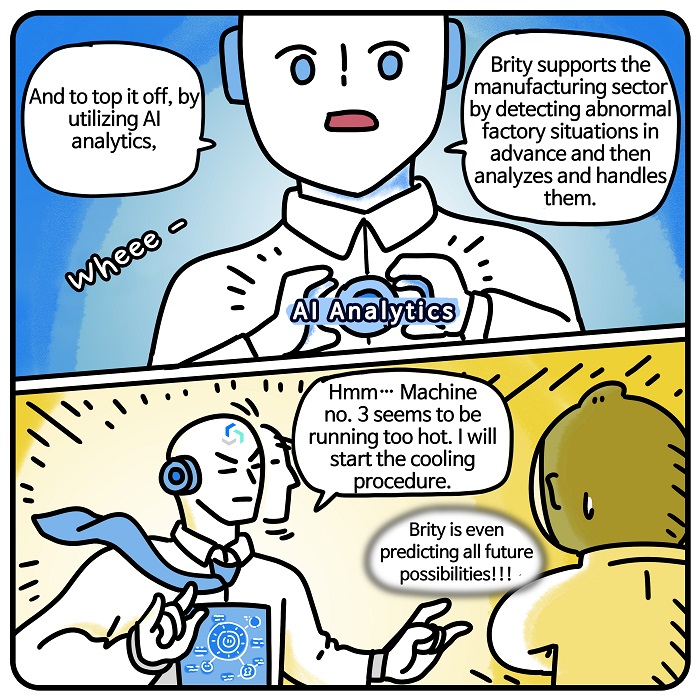 And to top it off, by utilizing AI analytics, Brity supports the manufacturing sector by detecting abnormal factory situations in advance and then analyzes and handles them. Wheee - Hmm… Machine no. 3 seems to be running too hot. I will start the cooling procedure. Brity is even predicting all future possibilities!!!.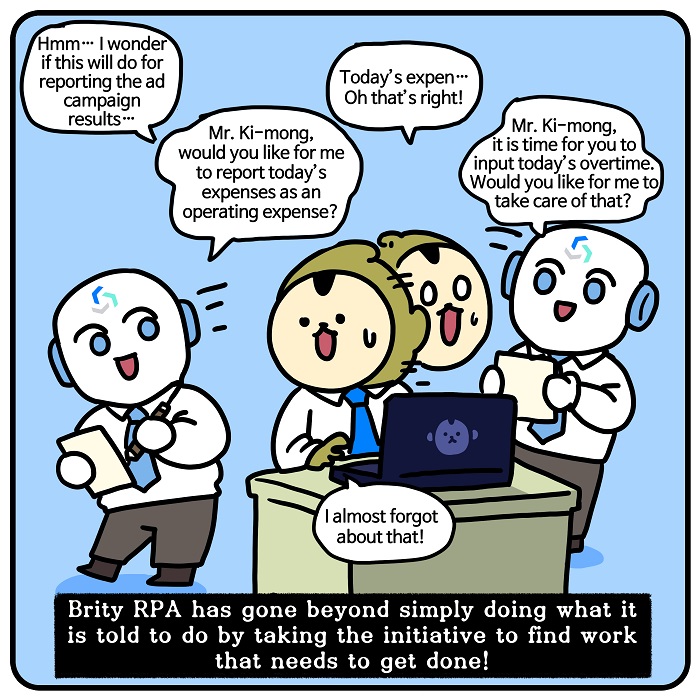 Mr. Ki-mong, would you like for me to report today's expenses as an operating expense? Hmm… I wonder if this will do for reporting the ad campaign results… Today's expen… Oh that's right! Mr. Ki-mong, it is time for you to input today's overtime. Would you like for me to take care of that? I almost forgot about that! Brity RPA has gone beyond simply doing what it is told to do by taking the initiative to find work that needs to get done!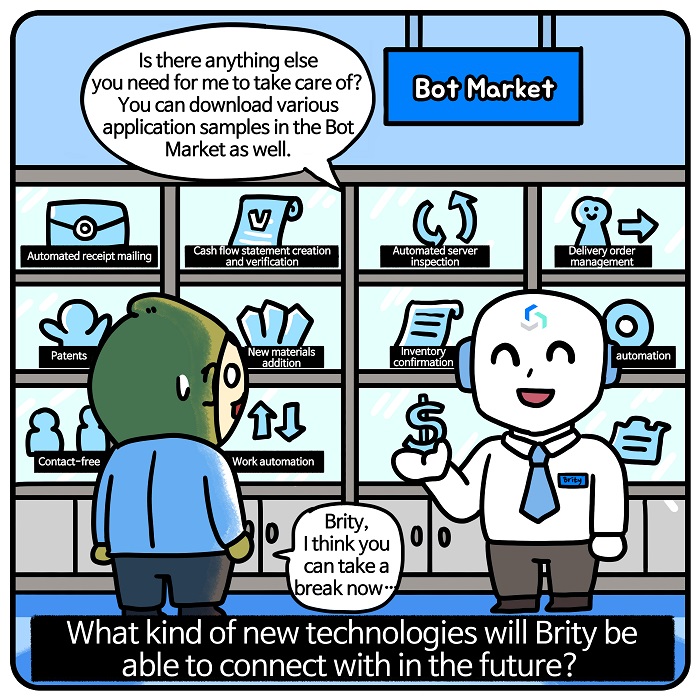 Is there anything else you need for me to take care of? You can download various application samples in the Bot Market as well. <Bot market> Automated receipt mailing Cash flow statement creation and verification Automated server inspection Delivery order management Patents New materials addition Inventory confirmation automation Contact-free Work automation Brity, I think you can take a break now… What kind of new technologies will Brity be able to connect with in the future?
This webcomics are also posted on Samsung SDS website and SNS pages including facebook and linkedin. You can share it with your customers to help them better understand Brity RPA.

+ Go to Facebook
+ Go to LinkedIn

About Kimong
Kimong is a webcomics creator who studied architecture in college but is now working full-time as an emoticon creator and Kakao Webtoon/Insta Toon writer who uses "dad jokes" as the main theme of his work. His key works include Kimong's Life of a Pushover which recorded over 20 million views at Kakao Webtoon and his book Kimong Quits Job with Emoticon.