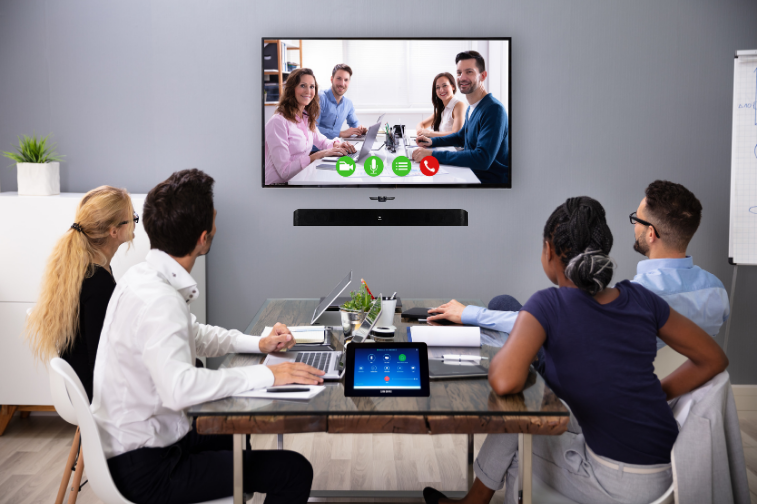 The Samsung Zoom Rooms Kit is helping businesses transform their workplaces for the better with a seamless Zoom Rooms user experience aided by state-of-the-art Samsung communications technology you know and trust.
Video conferencing has been an important business tool even before the COVID-19 pandemic drove the world towards social distancing and remote collaboration. In 2020, it has become a critical technology used on a daily basis by the vast majority of teams and organizations worldwide. With the sheer number of existing and emerging video conferencing solutions in the market, it can be difficult to determine which is best for your business. You need a video conference solution that can be installed quickly and offers clear visuals and audio, but how can you know which solution offers all of that?
In Okta's Businesses @ Work 2020 Report, it is clear that Zoom has been the application of choice for businesses. The video communications app earned the rare distinction of being the top app based on the number of customers and daily active users, as well as the fastest-growing app compared to its competition. As companies across all verticals prepare to virtually attend Zoomtopia, Zoom's annual user conference, it's a great time to hone in on how video-first unified communications are empowering the workforces of today and transforming the workspaces of tomorrow.
And now, it's even easier to transform any space into a Zoom meeting place. The Samsung Zoom Rooms Kit is helping businesses transform their workplaces for the better with a seamless Zoom Rooms user experience aided by state-of-the-art Samsung communications technology you know and trust.
A look at the new needs of the office
Today, Zoom dominates the web conferencing space, holding 42.8% of total market share, according to LeadBonds. But it's not just the recent events that have led to the widespread corporate adoption of this application. While the COVID-19 pandemic served as the catalyst for rapid increase in Zoom use, the platform has slowly but surely gained momentum in previous years because of easy accessibility and great user experience. .
However, many businesses still struggle to create a seamless Zoom Rooms experience at the workplace. They need a one-stop-shop solution that is easily installed and adaptable to their environment and workflows.
Samsung SDS's collaboration with Zoom provides businesses with a fully integrated video conferencing hardware solution that can help:
Improve your huddle rooms
Many organizations have begun to prefer small huddle rooms as spaces for collaboration instead of large conference rooms. These small rooms, typically no larger than 12 x 12 feet, are dedicated creative spaces where teams of 4-6 people can meet on the fly to discuss new ideas and strategize.
However, even though these spaces are meant for interaction and ideation in an organization, few are truly set up to optimize communications. According to Frost & Sullivan, of the estimated 32.4 million huddle rooms around the globe, less than 2% are video-enabled. This means that the vast majority of organizations utilizing these creative spaces are relying solely on in-person conversations, audio-only or audio with content sharing. This is not ideal for companies that need to connect with teams at other offices using visuals and live video for their collaboration process.
These clutter-free and minimalist rooms are already the ideal settings for a visual solution. Samsung Zoom Rooms Kits provide business users with audio, visual, and display hardware for their huddle rooms so it's easy to start a collaborative meeting with intuitive wireless content sharing.
Streamline a cost-effective installation
Installing a video conferencing solution can be much more intensive than you may think. Of course, the first thing you should evaluate is which video conferencing app works best for the size, needs, and budget of your business. Then, you'll need to consider how it will be installed and integrated with your existing hardware and software.
As Business News Daily pointed out, your huddle rooms or other office spaces may need to be set up for video conferencing. For many solutions, that means you would need to contact multiple vendors to equip the room with the correct hardware and integrate it with your existing setup. This can be time-consuming and frustrating, as delays and disruptions in the installation process can also interrupt daily meetings and productivity.
A Samsung Zoom Rooms Kit is a pre-integrated bundle that provides Zoom Rooms users with the hardware and software they need to get their video conferencing up and running quickly. This includes a Samsung 65 inch UHD 4K Pro TV, Panoramic 180 degree Field of View 4K Camera by Jabra, built-in microphones, and a PC with Intel 7th Generation Processor by Aopen Solutions, among other premium features.
You receive everything you need for a frictionless video conferencing experience in a bundle that is already integrated and easily installed, all at one competitive price. Additionally, since you're working with only one vendor, you simply need to contact one company to resolve hardware related issues.
Meeting capabilities
It may come as a surprise, but the largest adoption of video conferencing is among small and medium-sized businesses. According to data from Techaisle, the percentage of SMBs in the U.S. using web-video conferencing solutionsis likely to increase this year from only 38% to 89% — a 184% uptick. The report highlights that SMBs are realizing how video conferencing helps them coordinate meetings across multiple locations, speed up the pace of decision making, better connect with staff and improve engagement.
Having an integrated video conferencing solution helps businesses of all sizes improve their agility. The aforementioned huddle rooms can be used for scheduled or impromptu meetings. When equipped with Samsung's Zoom Rooms Kit, video and audio are accessed with the touch of a button and are easily controlled by a Zoom Rooms Controller, built from Samsung Galaxy Tablet.
In a world where the market is uncertain, it's important for businesses to continue to find new avenues for viability and growth. The ability to have frictionless video conferencing is a differentiator that helps these companies improve their productivity and decision agility.
Zoom Rooms Kits: Creating a better user experience
Samsung Zoom Rooms Kits make it easier, faster, and more affordable to install all the high-quality video conferencing hardware and software you need. One system equipped with the Samsung technology you already trust brings together the best of breed audio, visual, and display in a way no other company can.
A wide range of industries and fields stand to benefit from the enhanced Zoom experience Samsung now offers. Healthcare facilities across the nation have already been utilizing Zoom for mass-training mental health therapists, assess supply inventories, and coordinate deliveries, according to a report by the company. Educators, government entities, and other essential service provider can also harness the power of seamless video conferencing to their advantage during these uncertain times and into the future where video calls will likely be the norm.
Samsung Zoom Rooms Kits are available for US based business or organization, so enterprises and essential services can create elevated experiences with a unified communications platform and customized workflows. Booking a meeting, starting a conference, and sharing content doesn't have to be difficult with an all-in-one solution. Contact us today to learn more.