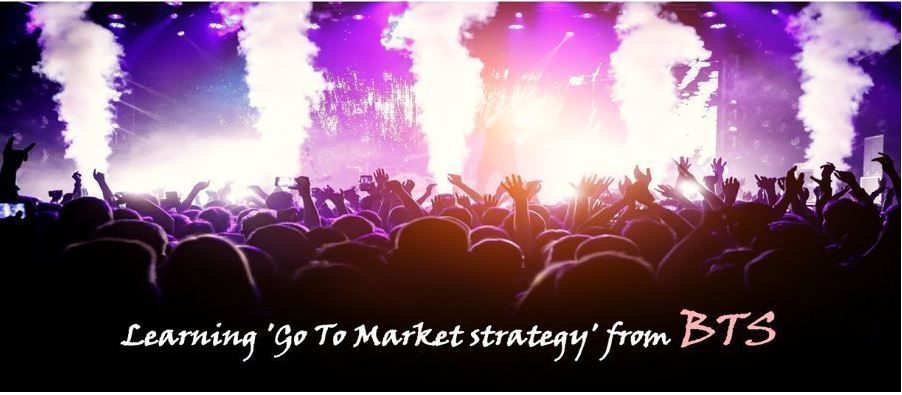 Learning 'Go To Market strategy' from BTS
Let's talk about the rise and success of K-pop group, BTS, and their go-to-market strategy that enterprises can learn from.

In the 1970s and 80s, boy bands like Duran Duran and New Kids On The Block enjoyed huge popularity across the world. At the time, no one could have imagined a K-pop group would rise in a global fame, just as it was impossible to imagine that Samsung Electronics would grow into a world class company. How did BTS manage to succeed in the global market? Let's analyze BTS from the perspective of a product released by an entertainment company.

First, their songs carry messages. Unlike most young singers who deliver message written by adults, BTS tried to tell their own stories. In this process, their stories about achieving growth, overcoming hardships, as well as their views about social issues gained strong sympathy among younger generations. In the past, there was a similar case – korean musician, Seo Taiji and his crew, changed the existing paradigm. One might also assume that their songs, Classroom Idea, Dreaming of Balhae, Dr. Jekyll and Mr. Hyde, probably had a positive impact on today's BTS' music.

Second, we need to pay attention to the concept of BTS. They create songs to 'watch,' rather than songs to simply listen to. Of course, music videos played a significant role in the music industry in the past, but the main concept was still to listen to the songs. Most music experts said it would be difficult for musicians to succeed in overseas markets due to a language barrier as listeners would have difficulties understanding the lyrics, unlike movies thanks to the subtitles. This holds true in one way, but it is a whole different story when it comes to music that people can watch. The company that planned BTS put a great amount of effort to create quality music videos in addition to sharp choreography. Music was expressed through dance, and combined together has reproduced the music into music videos as integrated piece of artwork. Most of BTS' music videos were produced by Lumpens (a visual artist known for Taekwon V robot, a Korean animated film). In particular, a signboard that says "Omelas" appears in the music video of BTS, Spring Day. BTS tries to criticize the inconsistency and wrong doings of the older generations by asking questions about society's disturbing reality and happiness. In the music video of the second regular album, WINGS, the secret codes of Hermann Hesse's novel 'Demian' were hidden throughout the film, giving fans interesting experience of finding the connections. BTS is now going towards creating music to watch and think, stepping further away from music to listen.
The Ones Who Walk Away from Omelas
The Spring Day music video was inspired by novel "The Ones Who Walk Away from Omelas" written by SF writer Ursula Le Guin in 1973. There is a utopia that seems to be perfect and full of happiness on the surface, but there is one secret that everyone knows - a suffering child locked in a basement. People living in Omelas share a dilemma that the happiness they have enjoyed will disappear from the moment that they rescue the child from the basement. The novel talks about the happiness people can enjoy at the expense of the pain and sacrifice of a few. The author asks whether it is right to enjoy happiness in return for turning a blind eye to a disturbing reality.
Third, BTS actively utilized social media platforms considering the characteristics of their target audience of teenagers and 20s. Now we are living in the era of hyper-connectivity. BTS understood and utilized the consumption process of the so-called digital natives. By accessing BTS' new songs in real time via SNS and by sharing reviews, replies and reaction videos, these digital natives have become active supporters beyond fans. Especially through reaction videos, BTS' devoted followers called ARMY have become producers themselves, not just consumers. In other words, this boy group now has very strong and smart fans. According to the big data analytics company Linkbricks' survey of Instagram mentions, BTS was ranked an indisputable no. 1 for as many as 60 weeks, defeating the world stars, Justin Bieber and Ariana Grande. In addition, BTS is a world record holder in 'The Guinness Book of Records 2018 Edition' for having most Twitter engagement as a group.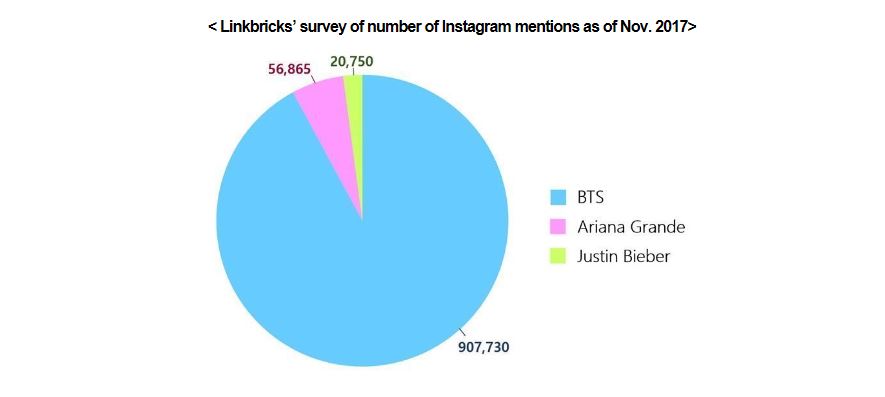 BTS 907,730 Ariana Grande 56,865 Justin Bieber 20,750
Linkbricks' survey of Instagram mentions, BTS was ranked an indisputable no. 1 for as many as 60 weeks, defeating the world stars, Justin Bieber and Ariana Grande
Fourth, under the traditional market approach, launching new product in a new market requires a diversification strategy, which entails high risks. However, BTS took the risk and opted to advance into the overseas markets first, rather than taking the easier option such as local or captive market. If you are too involved in the existing market for an easier start, it will become difficult to expand any further. What BTS did was a drastic move that makes us look back on what we have been accustomed to.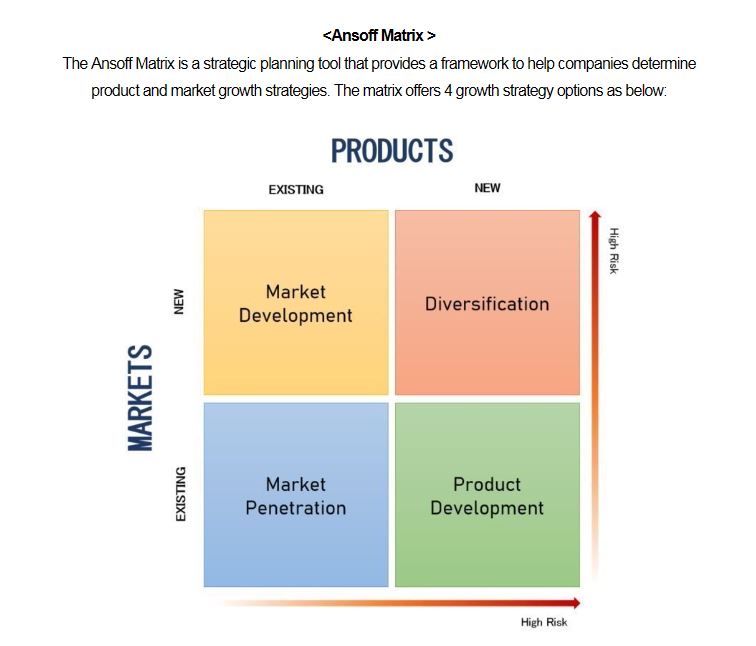 Products Existing New Market Development New High Risk Diversification Exiting Row Risk Market penetration High Risk Product Development
Ansoff Matrix
Fifth, BTS is a "deep-learning" group. Unlike existing k-pop groups that have been trained under entertainment agencies' standardized system, BTS has learned and grown by themselves just like deep-learning machines. For instance, agencies rigorously control everything from A to Z of their groups including love life, SNS activities, etc., but BTS is free from such intervention. According to a theory about education psychology, researchers found that a teacher's intervention with students' thoughts and activities causes them to stop doing it or lose interest no matter how much they like it. In other words, BTS is a self-evolving group in the era of the Fourth Industrial Revolution, not a group that was mass produced on a 'conveyor belt' in the Second Industrial Revolution. Therefore, BTS enjoys taking new challenges such as adopting new music genres including electronic dance music (EDM) or Moombahton Trap (house music + reggae), showing integrated arts and delivering intuitive message beyond language.
BTS=Deep Learningx
BTS has not become world stars overnight. As their name Beyond the Scene (BTS) conveys, and just like their song Blood Sweat & Tears, they must have shed a lot of blood, sweat and tears behind the scene. However, without the clear and drastic go-to-market strategies as mentioned above, their devotion and passion might have been in vain. A market should be created, if it does not exist.

Kevin Shim, Cloud Planning Team of Global HQ