Robotics Process Automation (RPA) is a technology which automates simple repetitive tasks with software robots, thereby reducing errors and accelerating the speed of the work process. Even for high-level tasks, the introduction of RPA can enhance productivity if the work involves a repetitive process.

Complex tasks such as performance reports, VOC classification, data extraction from legacy system, survey statistics, and logistics cost verification can also be automated through the application of AI technologies including OCR*, chatbot and data analytics. In other words, it's just like hiring a smart SW robot assistant of our own.
*Optical Character Recognition: a device that verifies characters written on documents by using light

To help gain a better understanding of RPA, we created two webcomics in collaboration with comics creators. Let's have a look at the first episode "Secure your free time with Brity RPA!"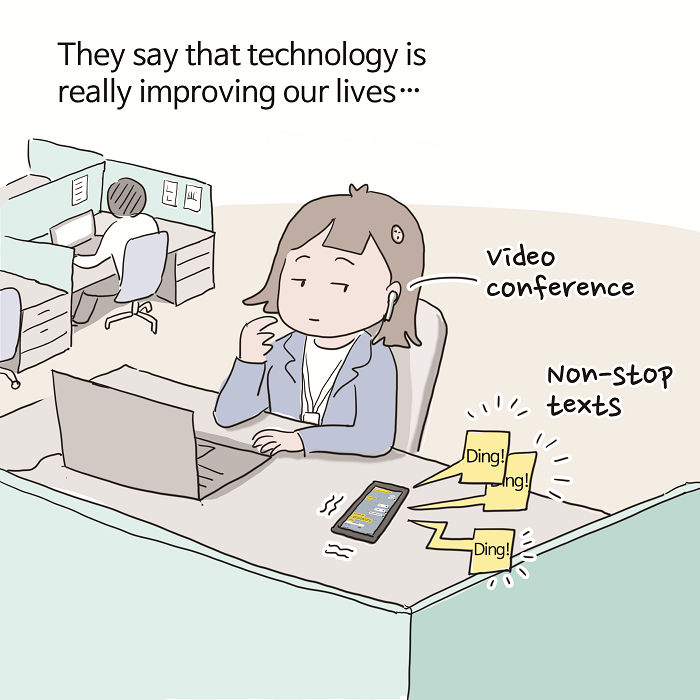 They way that technology is really improving our lives... video conerence non-stop texts Ding! Ding! Ding!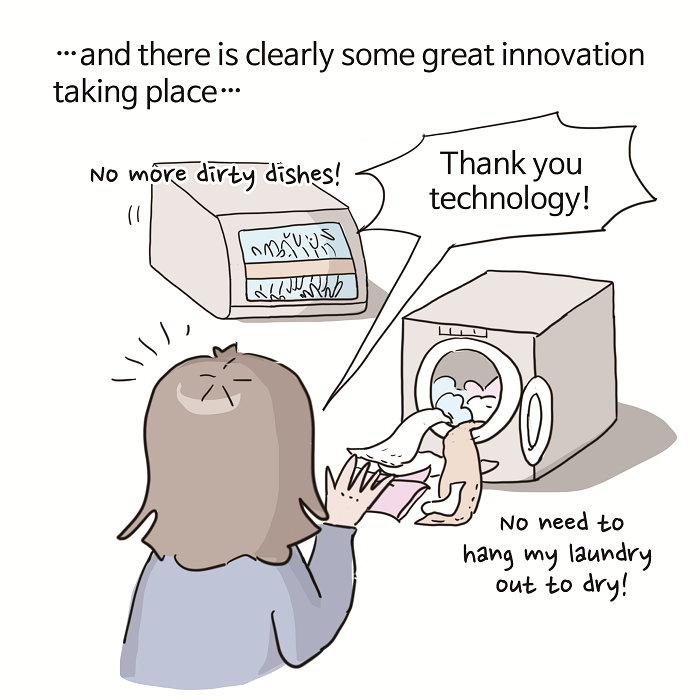 ...and there is clearly some great innovation taking place... no more dirty dishes! no need to hang my laundry out to dry! thanks technology!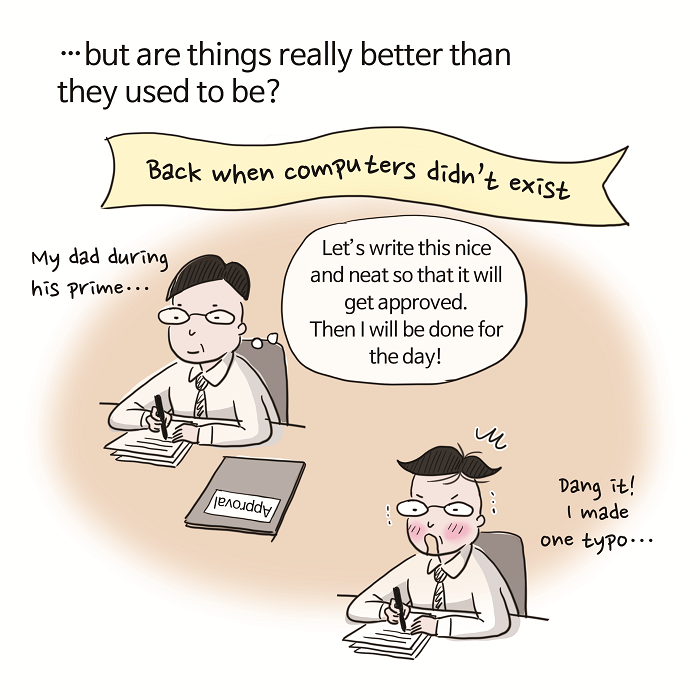 ... but are things really better than they used to be? Back when computers didn't exist my dad during his prime... Let's write this nice and neat so that it will get approved. Then I'll be done for the day! Dang it! I made one typo...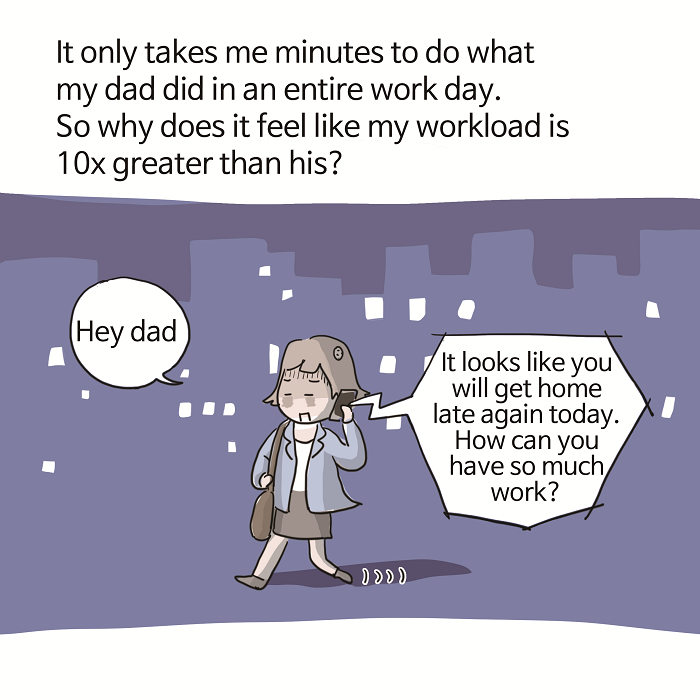 it only takes me minutes to do what my dad did in an entire work day. So why does it feel like my workload is 10x greater than his? Hey dad it looks like you will get home late again today. How can you have so much work?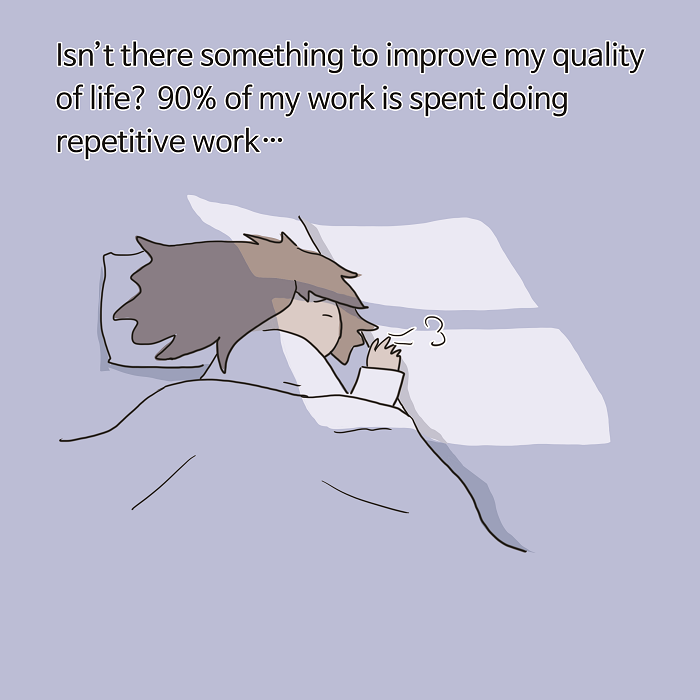 it's there something to improve my quality of life? 90% of my work is spent doing repetitive work...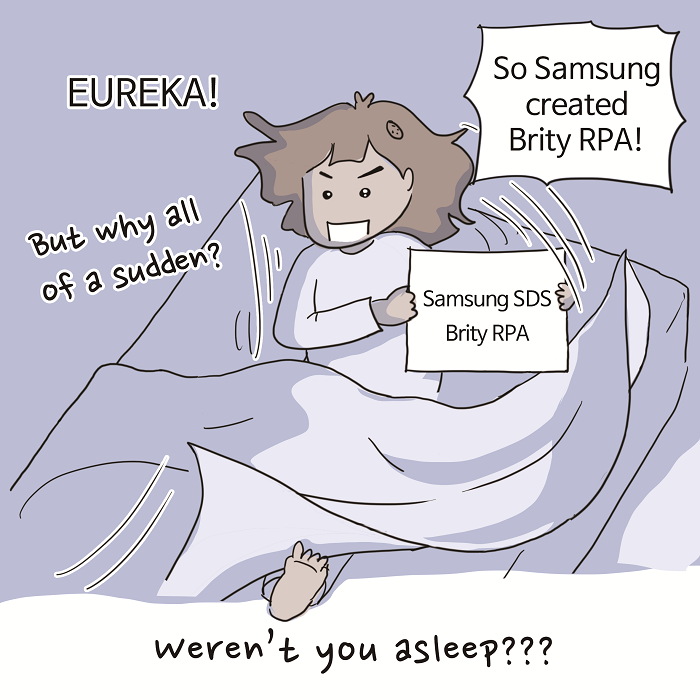 EUREKA! so Samsung created Brity RPA! but why all of a sudden? weren't you asleep???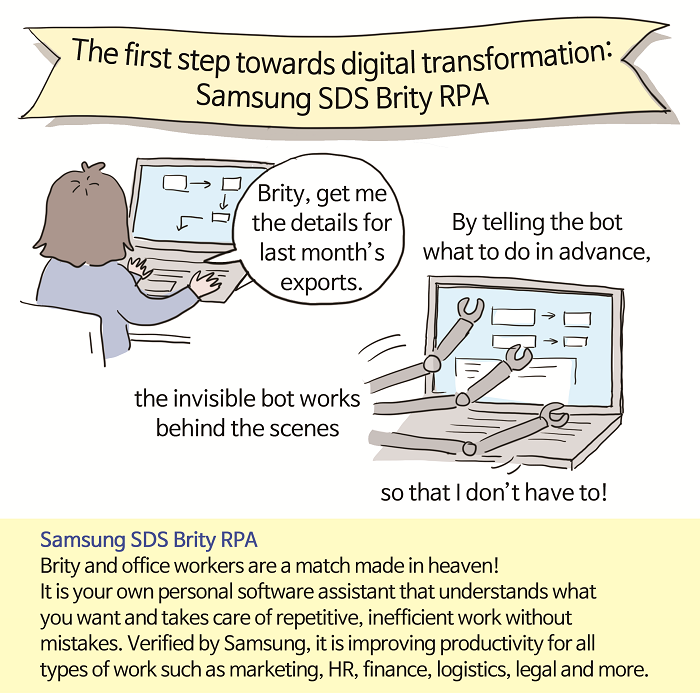 The first step towards digital transformation. Samsung SDS Brity RPA Brity, get me the details for last month's exports. By telling the bot what to do in advance, the invisible bot works behind the scenes so that I don't have to! Samsung SDS Brity RPA Brity and office workers are a match made in heaven! It's your own personal software assistant that understands what you want and takes care of repetitive, inefficient work without mistakes. Veryified by Samsung, it is improving productivity for all types of work such as marketing, HR, finance, logistics, legal and more.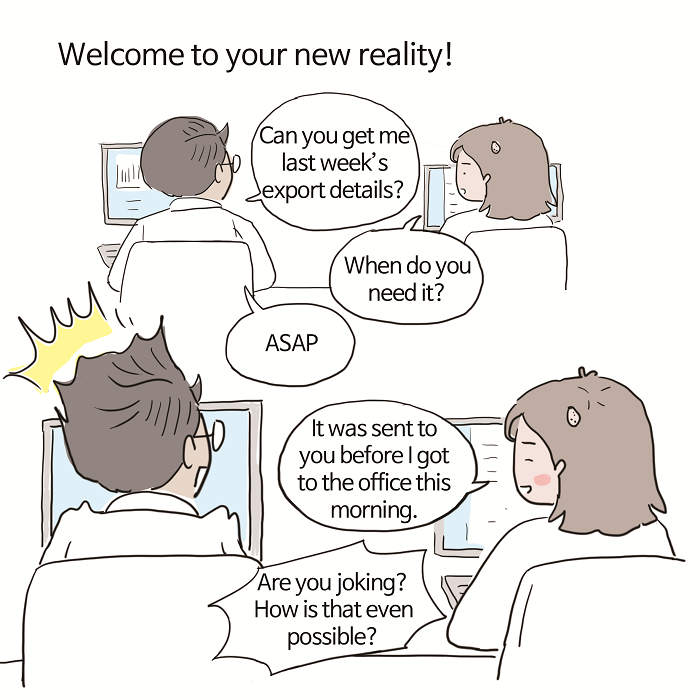 Welcome to your new reality! Can you get me last week's exoprt details? when do you need it? asap it was sent to you before i got to the office this morning. are you joking? how is that even possible?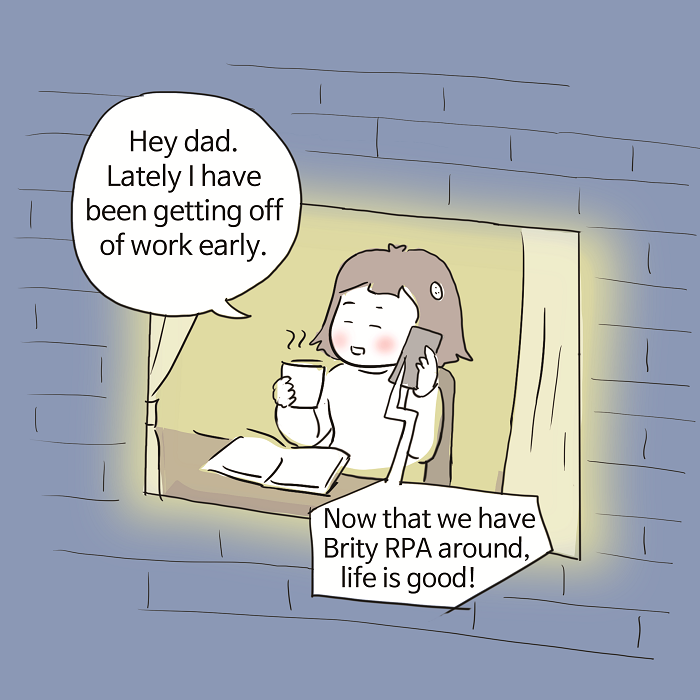 hey dad. lately i have been getting off of work early. now that we have Brity RPA around, life is good!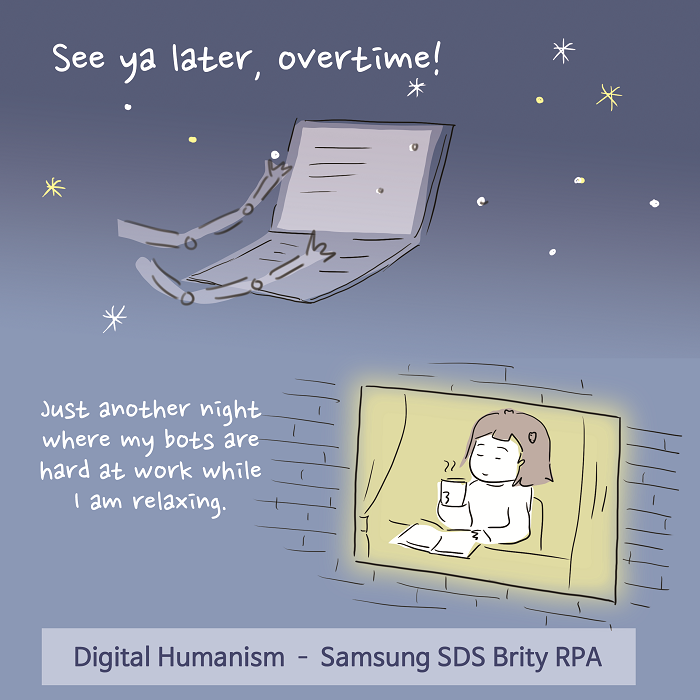 see ya later, overtime! just another night where my bots are hard at work while i am relaxing. Digital humanism - Samsung SDS Brity RPA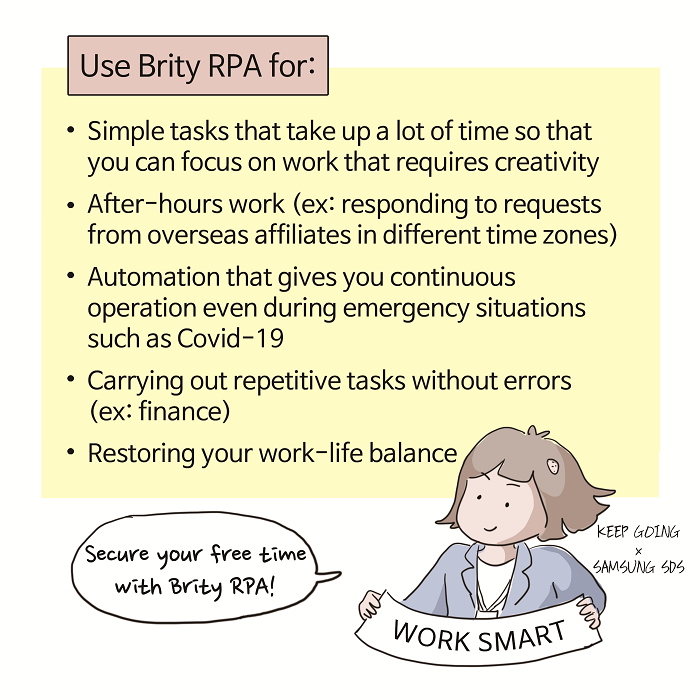 use Brity RPA for: - simple tasks that take up a lot of time so that you can focus on work that requires creativity - after-hours work (ex.responding to requests from overseas affiliates in different time zones) - automation that gives you continuous operation even during emergency situations such as Covid-19 - carrying out repetitive taskes without errors (ex.finance) - restoring your work-life balance secure your free time with Brity RPA! work smart keep going x Samsung SDS
This webcomics are also posted on Samsung SDS website and SNS pages including facebook and linkedin. You can share it with your customers to help them better understand Brity RPA.


+ Go to Facebook
+ Go to LinkedIn


About KEEPGOING
Korean comics creator "KEEPGOING" is an office worker who once worked at Cyworld, SK and Samsung after studying in the U.K. and is now working at a foreign company. She is the author of Office Lady in Despair, a webcomics recording 15 million views which depicts stories about office life that we can all related to.