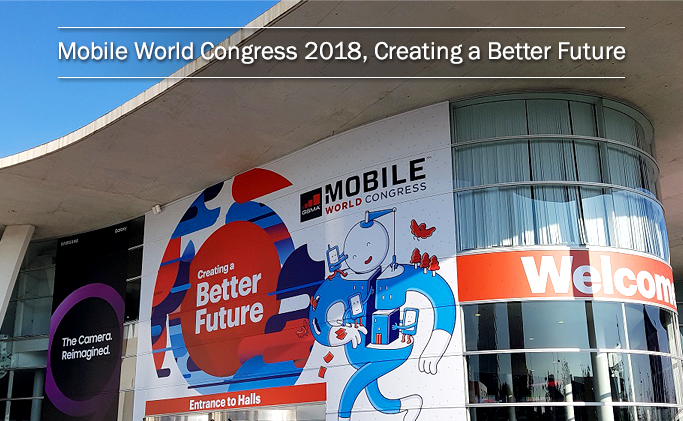 The world's largest mobile exposition 'Mobile World Congress (MWC) 2018' was in Barcelona, Spain from February 26 to March 1. This year's theme was "Creating a Better Future." The MWC is the world's largest mobile exhibition hosted by a worldwide network of mobile carriers, mobile makes, and equipment manufactures. This year's MWC had participants from more than 200 countries, accumulating up to over 2,300 companies and 100,000 people around the world.
The main trends of MWC 2018 are 5G, IoT, and AI.
5G announces the new age of network
5G technology is the keyword that hits the sweet spot of the MWC 2018 because as a term of a "link", it allows all technologies to connect and converge. 5G is a key communication technology of the fourth industrial revolution that connects 100 million devices within a radius of 11㎢ with the technology that is 100 times faster than the 4th generation mobile communication. It is gaining attention due to the emerging potential 5G services such as AI and IoT leading to the fact that 5G commercialization is nearing.
The Internet of Things (IoT), the age of connection that expands from home to the city
IoT is an increasing trend not only in the public sector but also in the homes as well. Through the implementation of Smart City with the IoT technology, all our daily lives such as transportation, energy, and city controls, will be connected throughout the city on a network.
AI is on the rise, the competition for artificial intelligence platform intensifies
The competition among the companies in order to the first one to preempt the artificial intelligence platform is fierce. Beyond the smart home appliances equipped with AI, the competition for connected car services based on voice recognition is also expected to become competitive in the future.
Samsung SDS held several exhibitions revealing its mobile technologies
For the future of new smart devices and mobiles in the field of cutting edge IT technology, we exhibited Tablet Branch and Wearable EMM solution through the B2B cooperation with Samsung Electronics.
From product consultations to account openings the one stop service scenario utilizing tablets, received much attention from customers in the financial markets. Samsung SDS's biometric authentication solution Nexsign provided easy and safe banking services and introduced essential solutions for Mobile-First branch linking with real-time expert consultations in conjunction with a Square Meeting.
We also exhibited wearable EMM solutions through the partnership with US healthcare solution vendors. Wearable EMM of our company which easily managed various wearable terminals, received much attention from visitors in the MWC's electronic booth.
Additionally, a demonstration has been held on linking partner's security solutions with Samsung SDS's Nexsign at the booth of a partnered German mobile security vendor. There were also exhibitions on Nexsign solutions at the Alliance booth in cooperation with Thomson Reuters.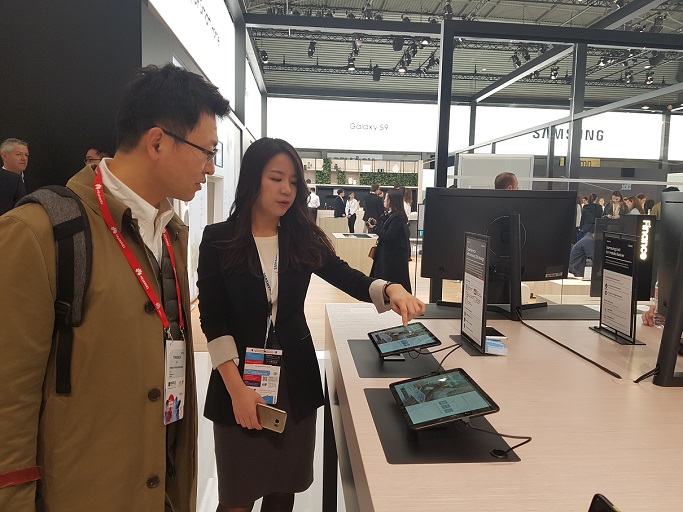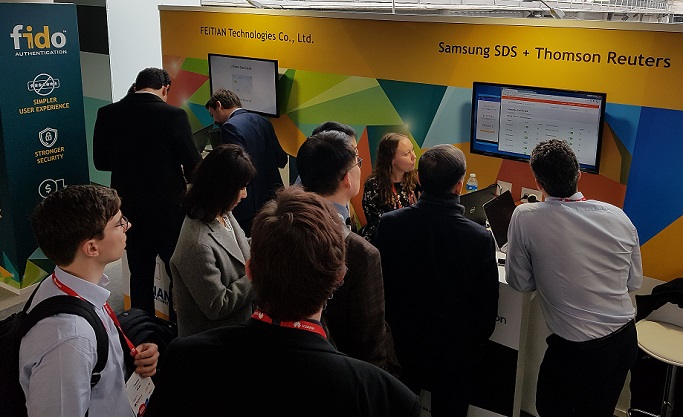 Samsung Electronics held an unpacking a day before the MWC opening, and released 'Galaxy S9' and 'Galaxy S9+'. At this unpacking, Samsung introduced various new functions to provide optimized usage experience in our 'Visual Communication' era.
▲ Samsung SDS CEO and other executives are trying out the Samsung Electronics smartphone zone (L to R) Park Hark-Kyu, Executive Vice President, Hong Won-Pyo, CEO,Chung Seok-Mog Vice President of Samsung SDS
Among various functions, the 'AR Emoji' which shoots 960 frames per second in order analyze your facial features such as eyes, nose, and mouth in order create an avatar that resembles you, were well received by the visitors. Also the Galaxy S9 and Galaxy S9+ are both equipped with SmartThings, which manages Samsung IoT devices such as smart TV, family hub refrigerator, washing machine and vacuum cleaners with just only one app. The Samsung Electronics booth exhibited a variety of IoT devices such as Galaxy S9, Galaxy S9+, Family Hub refrigerator, and QLED TV giving people a chance to experience a true smart home. Additionally, the Samsung Electronics introduced various insights such as the 5G connected cars and smart city service model that confirmed the potential of Samsung Electronics becoming a leader in the next generation of 5G technologies.