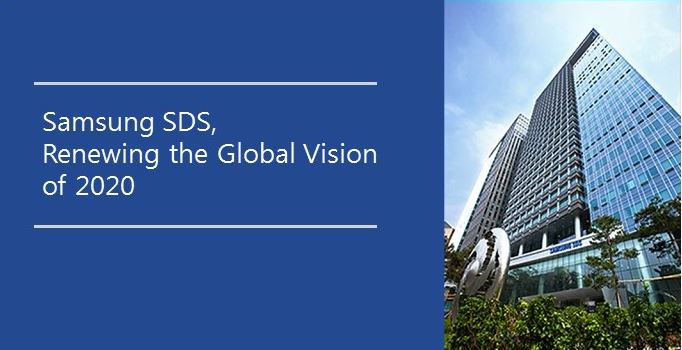 -Announcement of new vision 'Data-driven Digital Transformation Leader'
-Reveal vision slogan "Realize your vision'
-Event proceeded in a conversation like fashion, CEO directly communicating with the employees

Samsung SDS (CEO Hong Won-Pyo, www.samsungsds.com) held a 'Vision & Talk' event that aimed to renew their global vision on January 31st.
With 400 employees filling the Global HQs' lobby, Samsung SDS declared their new vision the 'Data-driven Digital Transformation Leader.'
This vision has a meaning of creating outstanding solutions and services based on data and intelligent platforms, both of which are critical to the competitiveness of this digital age.
Samsung SDS plans to focus on four strategic businesses in the IT service industry, which are the Smart Factory, AI(Artificial Intelligence)•Analytics, Cloud, and Solutions. In the logistics business Samsung SDS plans to expand their new business to various industries such as e-Commerce. The plan is to reinforce the new and strategic businesses and through inorganic growth such as M&A, move forward into becoming an even more global company.
Additionally, Samsung SDS plans to provide and foster blockchain technology as one of their core platforms in order to allow customers in various industries to execute their own digital transformation.
Also based on the management philosophy of 'Innovation & Synergy' and 'Platform & Growth', Samsung SDS will make the customer growth possible with digital innovation and transform the corporate work environment so that the employees could reach their full potential. Samsung SDS also plans to build a platform-based ecosystem with their partners in order create stronger synergy.
Samsung SDS also revealed their vision slogan 'Realize your vision' with the promise of realizing their customers', partners', and employees' vision.
The event was conducted in the company lobby, a space where employees can freely participate, so that the CEO and the employees could proceed the event in a conversation like fashion and raise the awareness of SDS's new vision.
The CEO hosted the event and the directors of the business department who participated as the panel shared success stories of each division and its future plans with the employees.
The CEO Hong Won-Pyo emphasized the new vision by stating "We will create a differentiated value with data technology and platform capabilities and create a new global Samsung SDS with our customers, employees, and partners."