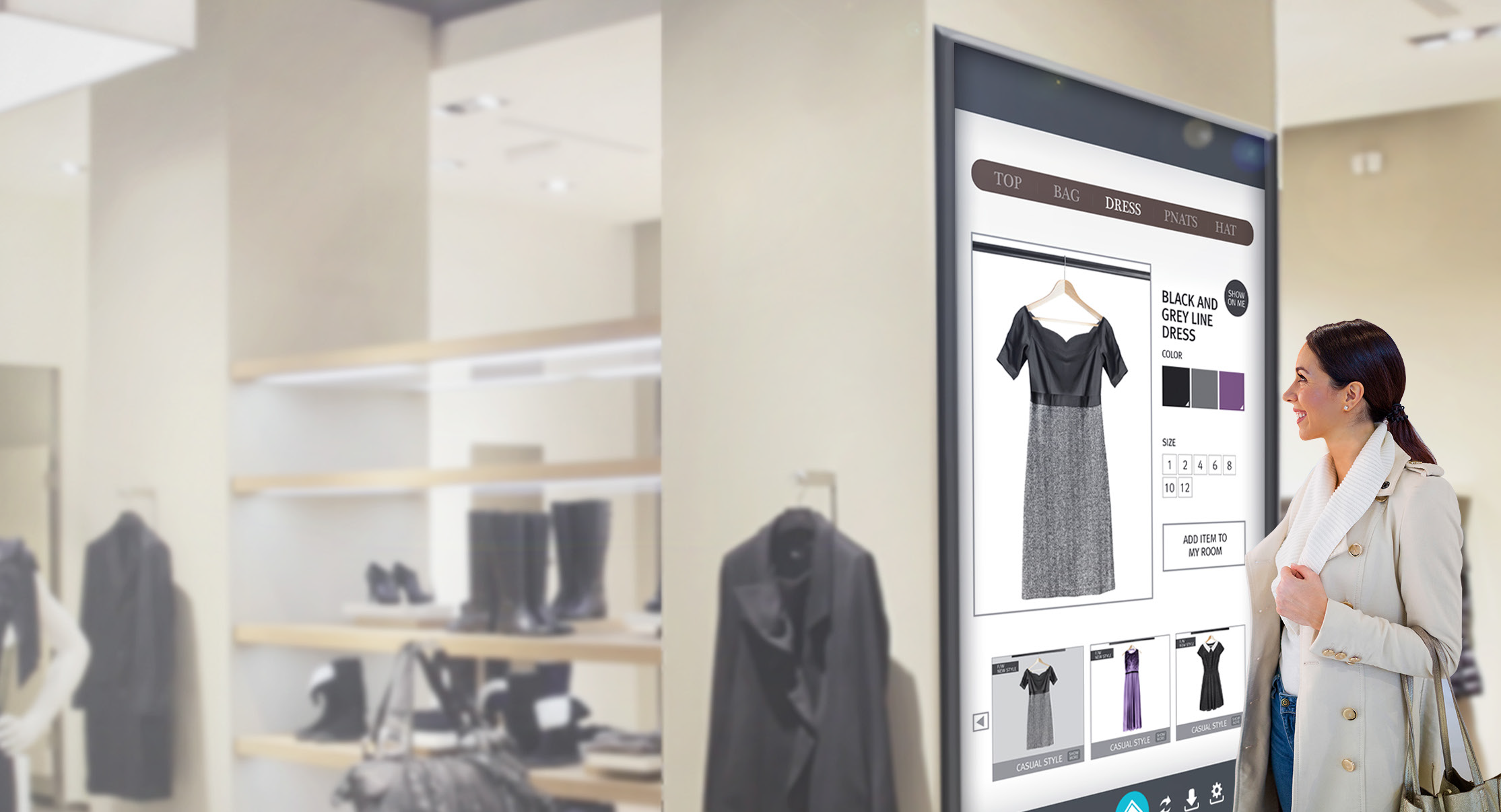 Digital signage is on the cusp of a meaningful transformation as competitive solutions are transcending trendy ads and flashy displays to facilitate truly immersive, engaging and memorable experiences that are strategically positioned towards engaging the end user.
Interactive digital display software allows you to collect consumer behavior and demographic insights that inform more accurately targeted advertisements, increasing the likelihood that the messaging resonates with your audience. In addition to location-based DOOH, convention centers, malls, department stores, and other large venues can leverage interactive digital signage to enhance the user experience with wayfinding solutions and rich event displays. By connecting interactive displays to mobile screens, brands and venue managers can continue to expand the user experience even after they walk away from the display.
Making digital signage an interactive experience
With technologies like LCD, LED, video and projection, digital signage can display advertising messages, entertainment, announcements and other information on screens in virtually any environment. They are most often leveraged in malls, museums, retail stores, restaurants, large venues, conference centers and corporate buildings, but the application of digital signage is truly limitless.
Adding interactivity to digital signage allows users to engage with digital content via touch screens, body sensors, QR codes, Bluetooth, and mobile integrations. The technology creates far more opportunities for brands to engage audiences, such as:
●Creating quizzes, games, photo booths and other interactive features
●Integrating social media so users can share photos or info on their personal accounts
●Sharing product menus or event listings
●Using interactive maps and directories to help users navigate their surroundings
●Providing scannable codes to receive more information on a mobile device
●Displaying updated wait times
●Demonstrating products or services
●Welcoming consumers with custom messages
●Presenting public information such as news, weather and traffic reports
Providing such an experience with the most advanced iteration of digital displays to date enables brands to use interactive digital signage to transform static messaging into useful and engaging experiences in a meaningful way.
Why it works: Reasons to use interactive digital signage
Interactive digital displays create an immersive and targeted experience for users. The power is in the consumers' hand to touch the screen and follow as many prompts as they wish to achieve their desired goal, meaning interacting with the brand is a choice rather than a forced encounter.
Create a more impactful user experience
Interactive signage puts the focus on the end user, giving them the opportunity to access information in real-time. Rather than waiting for a display to reappear after scrolling through others on traditional digital displays, interactive signage allows them to see the desired information immediately.
Multitouch technology is also intuitive for most consumers because of their frequent use of smartphones and tablets. Not only does this make interactive displays easy for people to use, but it also makes them relevant because they meet audience expectations of technology and digital exchanges.
Further, with tools like contextual digital signage, your brand can target ads based on customer demographics and contextual relevance in real-time. When the message is personal and based on real-time behaviors, a natural and meaningful conversation can be initiated with your target audience.
Boost sales and engagement
Naturally, interactive displays require audience involvement, and the very act of touching a screen makes the experience more engaging and memorable than simply looking at an ad as a passive bystander.
Directly interacting with information closes the distance between brands and their target audiences. In fact, a survey conducted by the Content Marketing Institute found that 81 percent of marketers believe interactive content is more effective than static content in capturing consumer attention. Such a statistic indicates that consumers are much more likely to engage with an interactive digital display than a static screen. The more effective interactive digital signage is in engaging audiences, the better the consequential sales results will be.
Collect compelling data with video analytics
There's a great deal of high-resolution digital signage out there, which means the information has to be meaningful to avoid becoming part of the digital noise. The data collected from interactive digital displays can help you deliver the targeted content that stands out from the crowd.
For instance, consumer behavior sensing technology uses real-time video analytics to anonymously collect demographic data about your consumers, such as age, gender, sentiment and foot traffic. This information helps you better understand when, where and how people are interacting with your screens. You can then use these insights to develop personalized messaging and make real-time updates, displaying highly targeted and engaging content.
Even when you have multiple interactive displays, you can control each one individually. By segmenting the data, you can further customize your content by screen location.
It's important to underscore that none of the data collected is personally identifiable information. Video analytics technology aggregates and anonymizes the data so that individual information is not collected or stored. Bodies, faces, and other moving objects are assigned identification numbers for their duration within the sensor range.
Looking to the future of digital signage solutions
Digital signage solutions continue to develop at a rapid pace, meaning interactivity will only become more advanced and effective in the near future. Global research firm Markets and Markets predicted that the interactive display business will be worth 26.91 billion dollars by 2022, and the industry appears to such an upward trajectory.
With interactivity at the forefront of advancements, digital signage continues to grow and develop to deliver more effective results. In the 2019 Digital Signage Future Trends Report, Digital Signage Today predicted that an increased number of deployments, improved analytics and more robust hardware are all on the horizon. Interactive touchscreens are guaranteed to play a role in each of these expected trends.
Will interactive digital signage be in your near future? To learn more about how to implement interactive digital displays into your customer experience, contact Samsung SDS today.