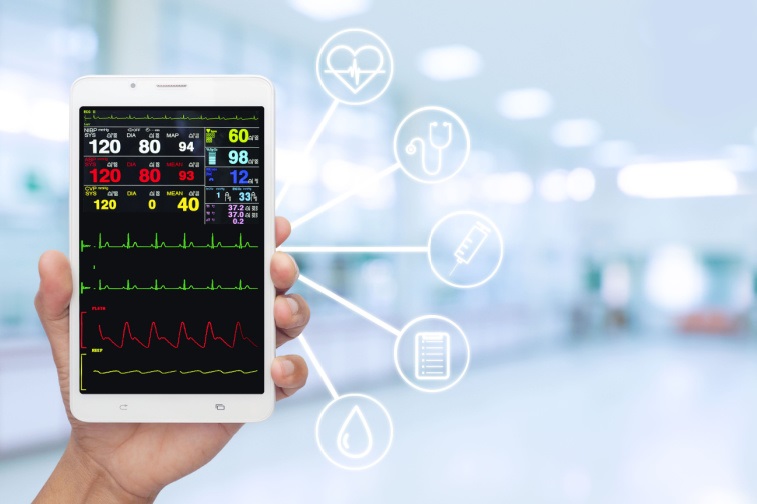 Medical facilities around the world have been starting to adopt remote patient monitoring and telehealth solutions in order to provide the best possible treatment for their patients while minimizing time spent on hospital grounds. With a rise in hospital admissions combined with the shrinking workforce of the health system, healthcare providers need to find ways to improve on patient outcomes with minimal resources. By allowing their patients to be monitored from home, hospitals are able to quickly take care of their patients while freeing up space for more critical cases.
However, remote monitoring has its vulnerabilities. Patients operating a remote monitoring device are responsible for checking their own vitals and often abandon or forget to provide accurate data to their physicians. This is due to the fact that many remote monitoring devices can be complicated, confusing or just painful to use. To solve this problem, simplified remote patient monitoring devices help to keep patients engaged and able to keep track of their care without confusion.
Simplified remote patient monitoring - an overview
Remote patient monitoring provides many boons to any healthcare provider in terms of ensuring their patients stay healthy. This is accomplished largely by the level of investment that patients have in their own healthcare, as well as the ability to keep track of patient data such as blood pressure, heart rate and other vital signs in contexts outside of the strictly managed regimens of a hospital. In fact, according to Relias Media, studies have shown that remote patient monitoring has benefits for their patients like improving guideline-concordant care, resolving the causes of symptoms, and keeping patients adhering to various therapies. But, traditional remote patient monitoring can be a double-edged sword for many hospitals as high costs combined with the risk of program abandonment may prove risky.
Simplified remote patient monitoring works to resolve the issues traditional RPM solutions have by creating an easy to understand interface for patients. Medical equipment is often clunky and counterintuitive for many patients to effectively work, leading to frustration and full abandonment of their at-home reporting. To counteract this, simplified RPM devices use commercial tablets and mobile devices that are specifically linked to medical equipment to ensure the methods of operation and reporting are aligned as closely as possible with the operation of a regular commercial device. This allows patients to intuitively operate their reporting and stick to their care plan without having to learn a whole new system.
The benefits of simplified remote patient monitoring
The adoption of simplified remote patient monitoring carries many of the same value propositions for medical facilities as traditional RPM solutions. By allowing medical providers to discharge their patients for monitoring at home, it helps organizations to reduce the cost of care, increase their own revenues and lets clinics be far more efficient with their usage of resources. The patient data and resources that come from RPM solutions also remain the same, assisting clinicians in gaining access to long-term data on the status of their patients' health in living conditions outside of the carefully controlled environment of a medical facility. RPM solutions also allow patients to become more engaged in their own health if used correctly as the act of tracking data and sending it to the hospital can encourage healthier life choices. This higher level of patient engagement, combined with tracking for sudden changes in measurement, can help notify patients if their metrics are suddenly concerning, prompting them to visit their care provider. Health engagement and notification are especially important for people with chronic illnesses, such as heart disease, diabetes or COPD to bring peace of mind. As such, RPM allows care providers to be far more efficient with their chronic care management.
Where simplified RPM really shines over more traditional solutions is in granting the ability to deliver better metrics to hospitals regarding health outcomes and usage rates of the devices. By using familiar commercial tablet devices with health applications connected to medical tracking devices, patients can engage with their own care as simply as opening up a fun downloadable game or puzzle. Using familiar technology helps patients feel comfortable and familiar with tracking their own health while also providing an easy, centralized platform to receive reminders for meetings and educational content from their care providers.
Samsung is helping revolutionize remote patient care
To help incentivize medical facilities to adopt wide-scale remote patient monitoring, Samsung has created a turnkey at-home monitoring solution which assists in simplifying the delivery of effective monitoring tools combined with an easy-to-use interface for patients to better engage with their own health data. We provide organizations that deliver remote patient monitoring the ability to send pre-configured medical equipment that use a Galaxy tablet as a centralized hub, right to patients' front doors.
With pre-provisioned and fully customizable medical kits, your organization can deliver a quality home-care experience for any type of disease. From diabetes and heart disease to COPD, you can enable patients to easily track relevant data points from any of their necessary medical devices, including statistics like blood pressure, oxygen levels and body weight, helping them manage their chronic illness. Our solution can be tailored to each individual patient's needs, ensuring they get the correct devices for tracking their medical condition.
The beauty of our solution is the simplicity that it brings for everyone. Pre-configured, vendor agnostic kits combined with a cellular tablet help patients rapidly get onboarded into their remote care platforms quickly and without need for extensive setups. The Samsung Galaxy tablet delivers patients smooth access to their vital health information and allows for care providers to interact in a natural manner with them, sharing educational content, building trust, enabling telehealth conferencing and sending reminders to maintain a higher rate of patient adherence. By making reporting and medical technology easy to use, Samsung's Remote Patient Monitoring solution improves a patient's connection to their remote health systems, helping to improve outcomes and lower the total cost to healthcare providers by limiting secondary complications through data. From RPM providers, Samsung helps your organization deliver these solutions directly to healthcare providers or to a patient's door and enables you to troubleshoot software problems remotely. We also assist organizations in reprovisioning and redeploying kits for new patients, helping to reduce the efforts of your IT team and some of the total cost of providing remote care.
If you'd like to learn more about how Samsung delivers a seamless remote patient monitoring service for RPM providers, health providers and patients, read more about our product here. Alternatively, contact us to learn more.