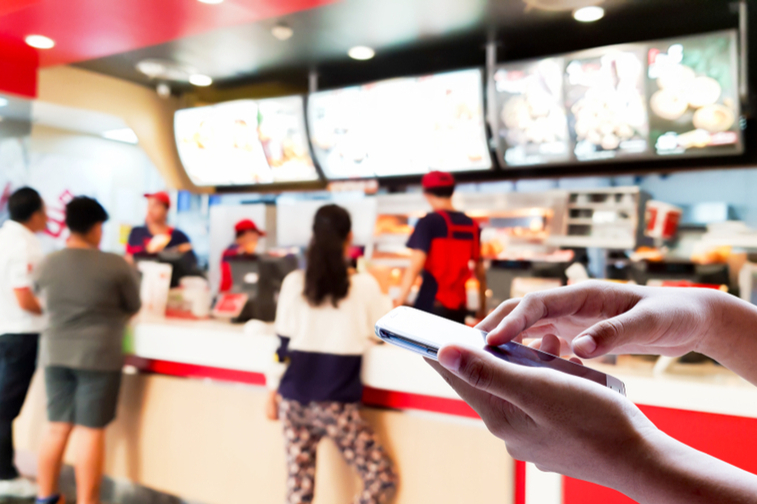 There are three basic tenets of the quick service restaurant: speed, convenience and affordability. Advanced restaurant solutions provide the tools QSRs need to uphold those principles, while also meeting the demands of hungry consumers who are highly versed in the digital world.
Adopting the right technology allows QSRs to reduce order inaccuracies, provide multiple order and payment methods, speed up the entire process and maximize crew productivity - all of which translates to greater customer satisfaction and superior QSR experiences.
Here's a look at five innovative restaurant solutions that can enhance the customer experience in quick service environments:
1. Digital ordering systems
The idea of remotely ordering a meal on mobile devices is no longer novel to customers, which means that QSRs without mobile and remote ordering capabilities will inevitably fall behind their competitors. Mobile solutions, such as branded apps, push notifications, contactless payment systems, online ordering for in-store pickup and reward programs, allow restaurants to engage with customers before, during and after the dining experience. The digital ordering options can also extend in store, with solutions like self-serve kiosks and tabletop devices. Upgrade the drive-thru experience with conversational digital signage, voice recognition technology and custom recommendation displays to complete the transformation.
Enhancing ordering systems with digital solutions can reimagine customer experiences by raising the convenience factor, reducing wait times and making it easier to customize orders. On the backend, automating these services can improve crew efficiency and increase sales margins. In fact, average in-store purchases tend to be less than $10, while mobile app purchases are closer to $20. This is, in part, due to intelligent ordering systems that can recommend additional menu items in real-time based on selected items or current offers.
Solutions that can enable a mobile customer-first approach create positive and engaging experiences that are crucial to encouraging customers to choose the QSR again.
2. Behavior sensing
According to recent research, approximately 86% of consumers have left a retail store due to long lines, resulting in purchases at a different location or loss of purchase intent. For quick service restaurants, this translates to loss of brand equity, lost sales, as well as increased costs due to labor inefficiencies and food waste. With real-time customer data analytics from solutions like Samsung SDS's Nexshop Behavior Sensing, restaurant management can gain a deeper understanding of their clientele and more accurate demand forecasts while learning the answers to questions like:
● Who's coming into the my restaurant?
● What's the demographic breakdown of the customer base?
● On average, how many people are waiting in line?
● What are the peak ordering times throughout the day?
● Do more people choose to order at the counter, mobile kiosk or drive-thru?
This insight can help managers optimize the back of the house, such as strategically scheduling the right number of employees for the expected amount of business. Managers can also assign employee tasks in real-time based on behavior sensing data. For instance, when there are a lot of people in line at the counter, there may be a need to man another register. If there are a lot of orders coming through from self-ordering kiosks, it may be more effective for the majority of the team to be in the kitchen.
Advanced analytics also prove helpful for optimizing restaurant configurations that complement how people tend to interact with the space. Customer profiles can further inform a wide range of marketing decisions, such as messaging, placement and timing.
3. Data-driven experiences
Along with behavior sensing, other advanced analytics can help drive better customer experiences. All QSR touchpoints, including dine-in, drive-thru and mobile ordering, provide metrics that restaurants can excel upon.
For instance, video analytics measure foot traffic, sense dwell time and pinpoint the menu board items that grab customer attention - all of which can inform proactive business decisions. Restaurants can also utilize purchase history data to provide personalized recommendations for returning customers. Intelligent greeting signage encourages customers to enter the restaurant and may even lead them to make additional purchases they hadn't originally planned on by displaying relevant offers, promotions and recommendations.
4. Device and system management
Restaurant managers and company leaders need access to device and system information to make sure all elements are running smoothly when customers arrive. That's why QSR solutions provide visibility into the status of devices and alert managers when there are network outages, system errors or tech malfunctions. The sooner they're aware of the problem, the faster they can address it before causing significant damage to the customer experience.
This backend management can also help streamline content distribution, ensuring the right menu items, prices, descriptions and deals appear on the correct devices at the desired time. Automating these restaurant operations can put time back in the manager's day, as well as maximize the uptime and lifetime of digital devices.
5. Connected front and back of house
While the focus may be on the customers, QSRs can't lose sight of how important their employees are in serving up the experience that encourages customers to order their food. Backend solutions, such as scheduling software, kitchen display systems and point-of-sale solutions, are important elements of improving the dining experience for customers.
With so much technology at work, it's important to ensure the right framework and architecture is in place to support top-notch user experiences. In fact, QSR magazine predicted that many restaurant chains will look to modernize and integrate their systems in 2019. This includes integrating cloud, analytics, web and mobile, closing gaps between applications and increasing agility to meet the demands of rapidly changing software and hardware solutions.
Introducing a faster, more convenient customer experience
While these largely tech-driven restaurant solutions can exist independently, they can do far more for both employees and customers when they work together. Samsung SDS can provide a complete solution for quick service restaurants, including the hardware and software assets, advanced analytics and service support.
With Samsung SDS' quick service restaurant digitization solution, you can increase operational excellence by integrating reliable and dynamic content and device management, eliminating multiple vendors or time-to-market concerns. With a single full-service solution provider, you can deliver the modern dining experience your customers will expect and enjoy enough to come back for seconds.