Financial institutions that want to differentiate themselves—and achieve a competitive advantage— must clearly continue to beef up their online and mobile services.
In 2017, nearly 60 percent of the U.S. population will be digital banking users, according to a new forecast by eMarketer. As many as 150.7 million adults will access their bank, credit card, or brokerage accounts at least once a month using digital channels.
And the younger the customer, the more likely they are to embrace digital channels. While 67 percent of seniors and 72 percent of baby boomers transfer funds between accounts online or using a mobile device, that figure rises to 85 percent for millennials.
But in order for banks to ensure that users feel fully comfortable using these online services, they need to reassure customers about security. For example, a survey from Fiserv found that 64 percent of consumers who don't use mobile banking say it is due to security concerns.
Recently, at the American Banker's Digital Banking Conference, banking leaders shared their insights about what the future of security for digital banking will look like. The following are some of the next big trends you can expect to see in security for digital banking:
1. Cardless, Pinless ATMS
Some of the largest banks are starting to make ATM transactions easier and more secure by allowing customers to perform ATM transactions without taking a card out of their wallet. For example, Bank of America and Wells Fargo have both introduced new cardless ATM apps. Customers simply use their smartphone to get cash and make deposits using their digital wallet.
But both of these services continue to require the use of a PIN and/or One Time Passwords (OTPs). PINS can be difficult to remember. And when users inevitably write them down, security is compromised. And because the National Institute of Standards and Technology (NIST) published an article earlier this year stating that OTPs delivered through SMS are inherently insecure, this method will likely be phased out over time.
With Samsung's SDS Nexsign™ FIDO-certified biometric authentication platform paired with Diebold Nixdorf ATMs, customers can complete ATM withdrawals without the need for cards, PINs or OTPs. Customers simply use biometrics (fingerprint, voice, facial scan and more) to authenticate themselves to the ATM. With this technology, banks can offer a service that is far more convenient and user friendly for customers, while offering equal or better security.
2. Continuous Authentication
While existing biometric authentication is a step in the right direction in terms of customer convenience, new advances promise to continue to make authentication even easier and more accurate. In the future, users won't even have to worry about a formal authentication process at all. Systems will continually authenticate users based on their behavior and actions. For example, the system could verify that you are who you say you are by looking at the way you hold your phone, swipe the keyboard, or say a given passphrase.
3. One-stop authentication for online banking
Bank branches are clearly on the decline. Between 2004 and 2016, the number of branches has dropped steadily, with annual decreases ranging from 0.4 to 1.6 percent, according to an analysis of the FDIC's latest reporting.
In the future, banks will perform many traditional branch functions, such as loan initiation, from a central location and interact with customers online through secure video chat capabilities. This will create new authentication challenges that require new solutions.
New technologies are becoming available to allow banks to provide secure authentication for these remote banking operations. For example, technology will be able to verify new customers by asking them to snap photos of two forms of ID and then take a selfie. This technology enables facial recognition that takes into account live action to ensure they are who they say they are.
Once the user's identity has been verified within the system, biometric authentication can be used on an ongoing basis whenever the customer interacts with the remote branch. E-forms allow real-time completion of application forms for new loans, accounts, or credit cards) while e-signature technology allows customers to securely sign electronic documents.
As online and mobile banking continue to provide competitive differentiation, these new security technologies will provide the convenience and assurance customers need to adopt these technologies wholeheartedly.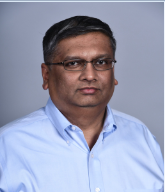 Shankar Saibabu
Shankar Saibabu is the lead Solutions Architect and FIDO Standard Specialist for the Financial Services Team at Samsung SDS America. Shankar has various experiences in regulated industries when it comes to software solutions and services, including the healthcare industry.