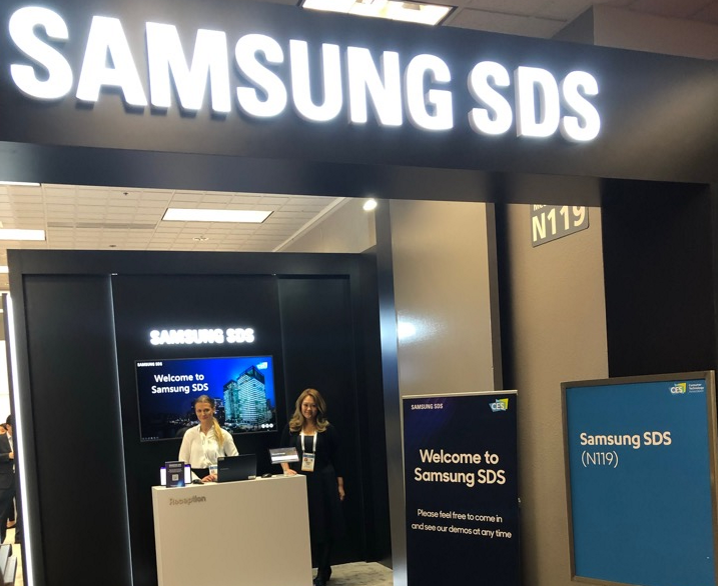 Learn how Samsung SDS demonstrated its expertise as a global data-driven digital transformation leader through a first-of-its-kind showcase at CES 2020.
Marking the beginning of a new decade filled with possibilities, Samsung SDS demonstrated its expertise as a global data-driven digital transformation leader through a first-of-its-kind showcase at CES 2020.
With more than 4,400 exhibiting companies, over 175,000 industry professionals, and 2.9 million net square feet of exhibition space, CES is the biggest consumer electronics show in the world. Attracting 307 Fortune 500 companies to Las Vegas Convention Center, the event is considered the world stage for innovation. Needless to say, no other event drives the dynamic global technology industry forward quite like this one.
Global SDS teams convene in Las Vegas
In recent years, Samsung SDS has collaborated with Samsung affiliate companies as well as our diverse network of external partners to bring our digital transformation expertise to CES. This year, to address increasing demand across our network of partners, Samsung SDS operated an independent exhibition and meeting space at CES 2020. The result was a highly productive four days at CES, including holding discussions with over 100 global corporations and companies and signing a MOU with Syniverse, the world's most connected company, to develop a mobile payment platform.
Bringing in executives, business units, and engineers from around the globe, Samsung SDS teams convened in Las Vegas to cultivate relationships with partners and clients. Meaningful executive meetings enabled the company to forge and deepen relationships with strategic partners such as Pegasystems, Denali, and Syniverse to name a few.
Seamless on-site meeting management
One of the keys to a CES successful event experience is meeting and visitor management. With Samsung SDS' Workspace management solution, scheduling meetings was a smooth and seamless process even with a full schedule of back-to-back meetings and last minute changes. Theresa Park, Lead of Solution Services, IT Innovation at Samsung SDS America, notes, "It is always an amazing experience seeing our solution in action, especially during such a significant event like CES. We were able to provide a pleasant check-in and greeting process to our guests and visitors. And with multi-layer alerts and diverse displays for internal communications, all the meetings were seamlessly updated even as schedules constantly changed during the convention. Time and again, internal and external attendees provided overwhelmingly positive feedback about how seamless the experience was for meeting hosts and guests."


Showcasing our digital transformation framework
Samsung SDS was also joined at the exhibition by a number of both customers and partners, such as Pegasystems, Tech Mahindra, Irisvision, and MobiChord, who stood side-by-side with our engineers and business teams to address our clients' digital transformation needs via a range of live, interactive demos, including:
Edge Computing & 5G for Manufacturing: Demonstrating how companies could improve factory safety by monitoring with quick facial recognition, uninterrupted video transmission and better facility management.
Collaboration Suite with Zoom: Showcasing the power and potential of the new integrated premium hardware offering for Zoom Rooms to create a seamless, intelligent and connected experience for wireless and mobile office applications.
Conversational Process Automation: Demonstrating how companies could enhance workplace productivity with an AI-powered solution that offers quick and easy process automation and automation scalability.
Mobility Services: Demonstrating how Samsung SDS is a complete end-to-end, one-stop shop for the procurement and management of enterprise hardware and mobility needs.
Wearables for Healthcare: Showcasing how we partner with companies to enable creative wearable and mobile solutions for home-based therapy as well as improving the quality of life for patients.
Contextual Marketing: Delivering interactive behavior sensing and contextual marketing demos to showcase the latest tools and technologies designed to display the right contents to the right person at the right time.
Visitor Experience: Demonstrating how Samsung SDS combines the power of data analytics, digitalized spaces, and personalized services to improve your visitor experience in the convention center.
Nexledger Accelerator: Showcasing how Nexledger Accelerator enables companies to improve enterprise blockchain's performance by increasing the transaction speed by up to 10x.
Enterprise Blockchain for Warranty Management: Partnering with Pegasystems and Tech Mahindra to share a live demo showcasing how we enable companies to streamline traceability and warranty management for individual parts and products with blockchain.
Samsung SDS also mapped out the exhibition space with behavior sensing devices to track visitor traffic for each exhibition. With visual zone count diagrams and heat maps throughout the space, we gained a better understanding of visitor flow as well as demand for each exhibition.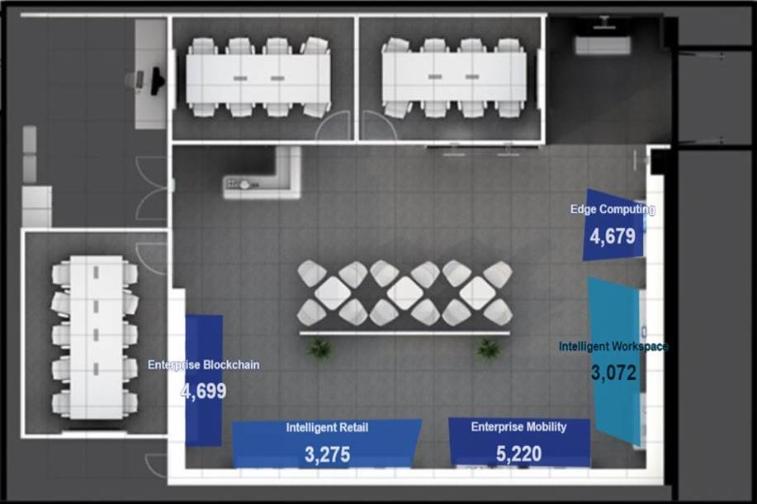 Zone count diagram of Samsung SDS' booth at CES 2020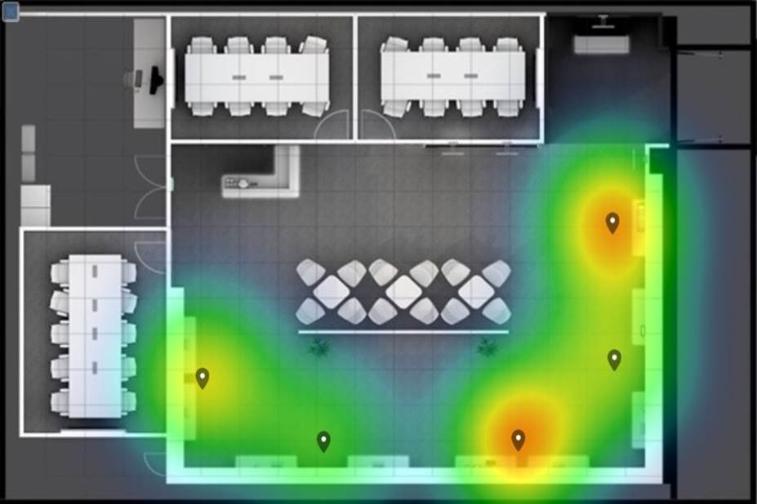 Heat map diagram of Samsung SDS' booth at CES 2020
Shaping the landscape of consumer electronics
Elsewhere at CES 2020, Samsung's role as global influencer in shaping the current and future landscape of consumer electronics was keenly evident. In the keynote address, Samsung Consumer Electronics President and CEO H.S. Kim heralded the "age of experience", explaining how a decade of human-centric innovation will seamlessly combine hardware and software to create personalized experiences that make life more convenient, more enjoyable, and more meaningful. Winning over 46 CES 2020 Innovation Awards, "Samsung City" shone brightly among the rest as the largest CES installation this year.
Traveling to MWC Barcelona? Request a meeting with Samsung SDS!
To learn more about our experiences at CES as well as the leading trends we foresee during the decade of 2020, please stay tuned for future installments of the blog series, 2020: A Decade of Data-Driven Digital Transformation.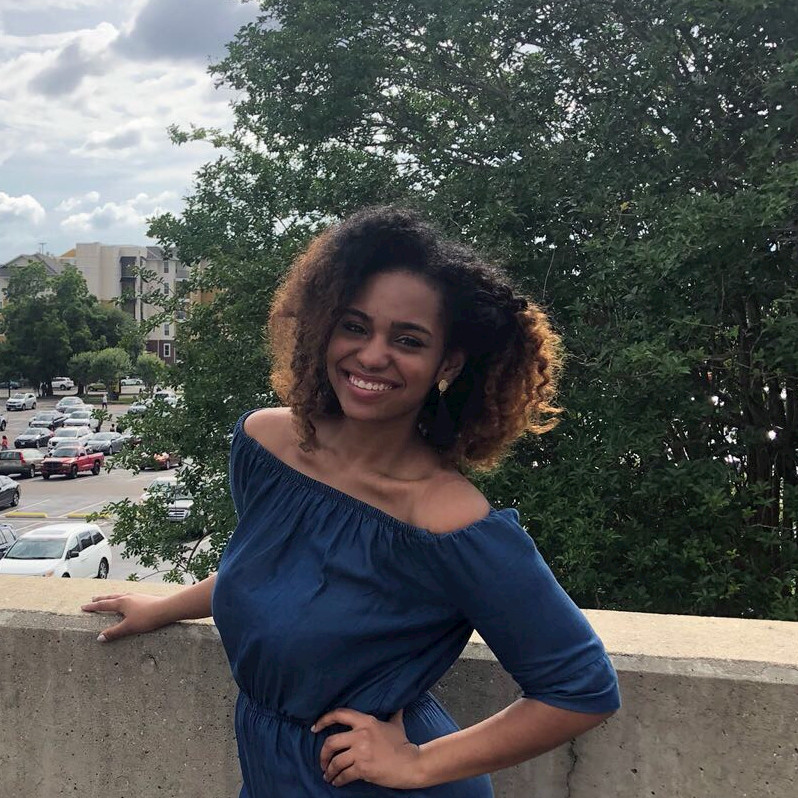 Calgary Branagan
Cal Branagan currently serves as Head of Marketing & Partner Services at Samsung SDS America where she is responsible for brand awareness and driving demand through outbound campaigns and optimizing inbound marketing channels to generate meaningful opportunities for the various business units and solutions, namely retail technology, digital out of home (DOOH), HPC Managed Services, Blockchain, EMM, and retail analytics software.