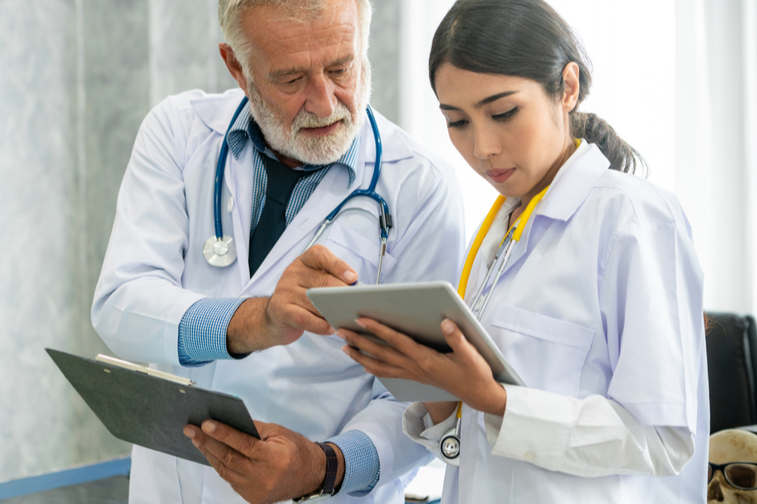 Healthcare telecom managers are always wondering how they can improve the patient outcomes of their organization by maximizing IT resources and streamlining processes. The reality is that modern hospitals, healthcare providers and care facilities rely on mobile capabilities to keep pace in a fast-moving environment where seconds can have a tremendous impact on patient outcomes. Today's mobile devices play a critical role in their daily operations, enabling the flow of vital information, ensuring accurate patient monitoring and informing critical decision-making that may result in immediate clinical action. Ultimately, the use of mobile devices allows administrators, physicians, nurses and staff to know their patients better, work more efficiently, improve quality of care and support healthier outcomes for all.
Mobile technology can also play a significant role in the overall patient experience. Patients want ease of access to their physician, quality interactions and more personalized care — all easily facilitated by mobile. They've also raised their expectations thanks to the proliferation of digital technology in everyday life, anticipating faster, better and seamless service, whether at a diagnostic facility, a provider's office or in the OR.
As mobile capabilities become more firmly entrenched in the healthcare setting, so does the need for effective organizational oversight. A successful mobile management strategy requires many layers of support and resources — from the initial implementation of the technology to ongoing user and device management to strategic planning for future initiatives.
Most healthcare organizations don't have the specialized expertise or necessary resources to evaluate, implement and maintain clinical mobility technologies. Their typically under-resourced IT departments are already juggling challenges old and new — integration of EMR and EHR systems, population health management, data quality, and cybersecurity issues such as ransomware threats to name just a few. It's not likely that a time-crunched internal IT team can keep up with the ongoing demands of a maintaining a strong, reliable and secure mobile management strategy.
Managing clinical mobility technologies
Third-party managed mobility services (MMS) are designed to help solve the unique challenges of the healthcare field and align the technology with organization-wide goals and priorities.
These outsourced healthcare managed mobility solutions can change the way an organization functions — improving overall mobility management strategy, increasing productivity and operational efficiency, and often helping to eliminate the resource constraints of cross-departmental efforts.
A managed mobility services initiative is key to guaranteeing that all devices are fully supported, secure, functioning properly and regularly updated with network upgrades. From the initial procurement of hardware to the activation of carrier accounts, MMS ensures that each mobile device is up-to-date, configured and ready for the end user as quickly as possible, while supporting organizational policy enforcement and industry compliance with HIPAA regulations.
What's more, managed mobility services streamline the task of expense management and help uncover opportunities for cost savings by providing more transparency into an organization's overall mobile spend.
Creating a win-win for patients and practitioners
The goal of an effective managed mobility services strategy is to ensure end users are armed with the tools they need as soon as a device reaches their hands. For clinicians, that translates into the ability to:
•Collect, review and share critical patient information
•Access reliable and insightful data
•Draw the most accurate analysis of the data
•Provide comprehensive results
•Strengthen patient outcomes
Organizationally, the payoff of managed mobility services lies in increased efficiencies and improved patient satisfaction:
•Improving workflow across shifts
•Saving valuable minutes with real-time analytics
•Driving organization-wide cost savings
•Creating personalized, high-value patient experiences
All healthcare organizations feel the pressure to deliver better results, constantly evaluating ways to make improvements to control costs and gain efficiencies, while keeping patient outcomes a priority. Managed mobility services allow healthcare systems to focus on what matters most — responsive, quality care — rather than on the back-end technical challenges of managing their mobility solution.
Focusing on patient care, not paperwork
As technology continues to advance at rapid rates, healthcare providers can expect an increase in the sophistication of mobile devices and their capabilities. But with the right managed mobility services provider, practitioners and administrators can gain peace of mind having subject matter experts managing their complex mobile ecosystem.
While there's no shortage of managed mobility services solutions in the market, there are more factors beyond simply the price tag to evaluate before investing in one. The right provider will understand your organization's particular challenges and requirements, offer the appropriate integrations and recommend solutions needed to accomplish tasks more efficiently.
Consider the following when evaluating potential healthcare mobility solution providers:
Scalability: Are services adaptable as your organization's needs and priorities shift to fit the changing healthcare landscape? In line with scalability, what is the organization's willingness to support flexible or customized models?
Support beyond implementation: Ongoing support services should take advantage of the latest in AI and machine learning to address user needs faster. A vendor should also prioritize end-user self-service, enabling your workforce to make smarter decisions more quickly.
End-to-End Lifecycle management: A managed mobility services provider should present a plan to ensure your mobile device lifecycle meets and exceeds industry standards for security.
Logistics: Will the vendor minimize downtime and negative user experiences with proven methods for device break-fix, hot spare pool management, warranty process management and end-of-life asset disposition handling?
Platform Migration and ITSM Integration: Is there an existing integration between the provider's TEM system and the organization's ITSM platform? If not, can the healthcare organization support the considerable time and resource cost to develop and implement suitable workarounds for this integration? The answers to these questions are typically never straightforward, but a quality managed mobility services provider will help you navigate these difficult mobility considerations.
Expense management: Does the expense management tool provide a seamless self-service end-user experience, as well as visibility into employee expense reporting? When finance can view and manage all of their organization's mobile accounts from a central dashboard, it's exponentially easier to optimize your mobile spend while reducing operational costs. Externally, your chosen vendor should be prepared to benchmark your current carrier agreements against current market conditions to optimize expenses.
Addressing concerns over patient data security
Issues of patient data privacy can further complicate a healthcare provider's technology considerations — especially when it comes to mobile, as evidenced by the fact that 25% of U.S. healthcare providers experienced a mobile device breach in 2018.
Healthcare remains a prime target for hackers for several reasons, according to Health IT Outcomes:
•Large amounts of health and financial information stored electronically
•Multiple overlapping systems, connected devices and digital patient touchpoints
•Frequent transmission of data
•Inability to negotiate in a ransomware attack due to patient risk
As part of a comprehensive managed mobility services strategy, an integrated data-clearing component can help make certain that sensitive patient information is kept under wraps by clearing application data and removing unwanted applications on multi-user mobile devices with the click of a button.
Patients can rest easy knowing their medical records are secure, but what about their internet browsing history and passwords? Patients often use bedside tablets for patient education software regarding their treatment or for "infotainment" purposes like access to Netflix or Facebook. In these scenarios, a data-clearing add-on erases account log-ins and other patient information, so it never reaches the hands of future users of the same device.
Take your healthcare mobility technologies to the next level
Managed mobility services can help prepare your organization to take on the future of healthcare, without sacrificing time or resources. Samsung SDS' managed mobility services can help transition your organization from a healthcare organization that utilizes mobile into a truly mobile enterprise. Managed mobility services, along with Samsung SDS' data-clearing tool, DataSweeper, provide a complete healthcare mobility solution. Best of all, services are adaptable, meaning they can be adjusted in line with your organization, so end users can stay at the top of their game.
Learn more about how we're helping healthcare providers optimize their productivity, make faster, life-saving decisions and enhance patient care in the most critical environments — and how we can improve the pulse at yours.