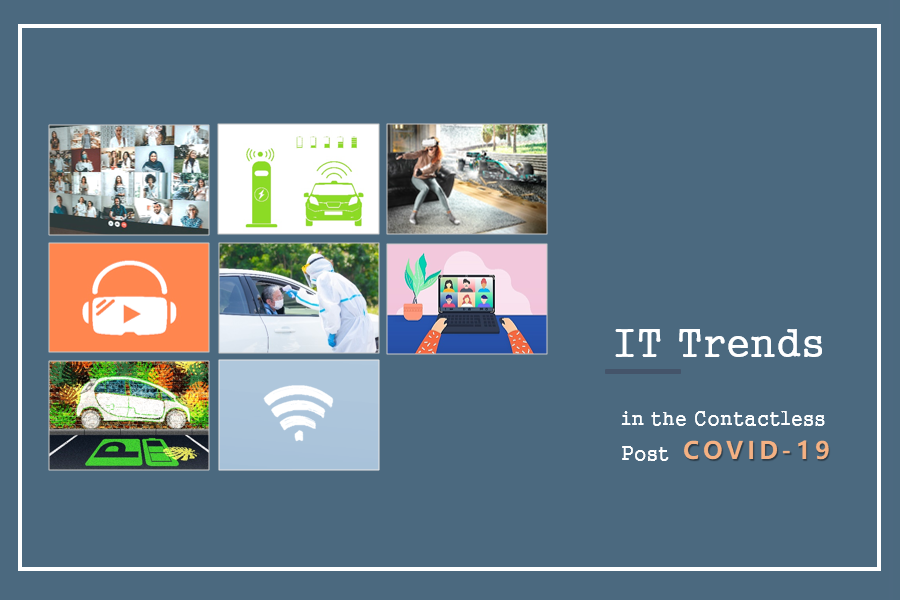 IT trends will change in the post-pandemic era represented by the keyword 'contactless.'
As the COVID-19 pandemic worsens, the global economic growth rate is likely to slow down. In addition, the pandemic has re-established the existing business value chain, ranging from logistics to distribution and even retail businesses amid weakened consumer sentiment. At the same time, various contactless businesses likes online shopping and delivery services are booming. At the Microsoft developer conference Build 2020, Microsoft CEO Satya Nadella said, "We have seen two years' worth of digital transformation in two months," explaining that COVID-19 has accelerated ICT technology changes.

As such, COVID-19 has brought about rapid changes, and below is a glimpse of how IT trends will change in the post-pandemic era represented by the keyword 'contactless.'
# Interaction via Virtual Reality (VR) and Augmented Reality (AR)
Scarecrow VRC, a contactless immersive media performance produced by the Korea National University of Arts team received the Spirit of Raindance Award at the 2020 Raindance Immersive Awards which wrapped up in November last year. Scarecrow VRC was also invited to the Sundance Film Festival in February earlier that year with acclaim from VR experts: "Scarecrow VRC is just the start of a whole new wave of immersive theater experiences connecting live actors with virtual audiences. The project is simply ahead of its time."



Contactless social VR performance Scarecrow VRC produced by the Korea National University of Arts,
Source: VRScout (VR magazine)

This shows the emergence of a virtual online performance format in the pandemic era. Users and performers from all around the world access the VR Chat platform and enjoy a performance in virtual reality. Scarecrow VRC is a real-time interactive play where actors playing scarecrows and two users create a story online. Users can enjoy impressive moments along with actors while experiencing the Emerald Hill and drawing pictures in virtual reality. These virtual performances are on the rise, showing how art performances, which previously were enjoyed only with a large audience, should evolve.

Recently, the VR headset 'Quest 2' released by Oculus gained attention as a stress reliever from the pandemic.
Oculus Quest 2 enables you to virtually escape from the pandemic.
Source: Oculus
Quest 2 users can enjoy diverse activities, such as playing sports games like table tennis, exploring wild nature in search of an erupting volcano, or fighting in a space war, alone or with other players. This VR device can also be used as a home training tool for those who cannot go to a gym. After working out with this VR headset for 30 minutes, you will find yourself soaked in sweat. Quest 2 is especially popular because it gives users an enjoyable, realistic experience by recognizing the users' hand movements with the device's front lens.
# Smart Mobility Enabling Shift to a New Lifestyle with Minimum Contact
Contactless technology has risen as a new trend in the automobile industry as well. Since the drivers of internal combustion engine vehicles cannot fully avoid contact because they have to hold the gas pump handle at a gas station, there is a new point of view that ut electronic vehicles users are safer as their cars can be charged at home which reduces contact.

Wireless charging technology using electromagnetic induction or microwaves is already widely known. In particular, wireless charging technology for automobiles has recently grabbed a lot of attention with its rapid development.

The Korea Railroad Research Institute (KRRI) announced research results on applying large capacity and high-frequency wireless charging technology to light rail transit systems. KRRI is considering the establishment of a wireless charging infrastructure, including bus charging platforms at bus stops, as a national R&D project. World's leading car producers are all focusing on wireless charging research as one of the most important charging methods in a shift to electronic vehicles.

The St. Louis city government of the United States launched mobility solutions in collaboration with the mobility company Via and the Metro of St. Louis to replace services on two metro transit routes. Customers at a transit station can hail a shared vehicle using a mobile application, and the vehicle takes them to their destination, replacing metro routes. Free services were available until the end of November last year and fares ranged between one to three dollars starting last December. These new platforms signal the emergence of the 'mobility on demand' market. Offering a means of transportation for a small number of people can reduce the risk of infections related to using mass transportation.

In addition, a new type of breathalyzer was released. The device can analyze the driver's breath from the air inside the car without asking the driver to blow into a device. Likewise, the spread of COVID-19 led to various attempts in the mobility market to minimize contact.
# Solutions for Remote Working and Learning
Until recently, video conference solutions were only used if people had to talk with overseas buyers or work with people in other regions. However, these days video conferencing is widely used for online learning, religious events and even for international summits. As several countries raised alert levels to prevent spreading of the virus, working from home and online learning have become common, making video conferencing an essential collaboration tool.

However, mid- and small-sized companies faced difficulty due to the high cost of introducing collaborative solutions. In this regard, some IT companies, including Samsung SDS, offered work-from-home solutions for free for a certain period of time. Zoom, a video conference solution provider that achieved the biggest growth in the pandemic era, rapidly grew from USD 600 million in sales in 2019 to more than USD 2.5 billion in 2020. As the pandemic prolonged, Zoom newly launched the service OnZoom whereby users can attend performances, concerts, cooking classes, etc., online. Using this solution, consumers can purchase tickets via the Zoom platform and join cultural performances or educational events.

In addition, various TV show programs are offering similar services. Viewers can remotely enjoy or vote during cooking or music competition programs. Globally popular idol group BTS amassed more than 900,000 paid viewers through an online concert. Who would have imagined that real-time video conference solutions would be used so widely?

Above is a brief introduction to the changing IT market in the post-pandemic era that is summarized in a few keywords – remote, contactless, smart, and artificial intelligence. Some believe a "new normal" era will arrive where such infectious diseases bcome more common. By reading the article, let's think about how these changing environments will transform the IT industry and market.


Written by Andy Cho, a Principal Professional of Samsung SDS