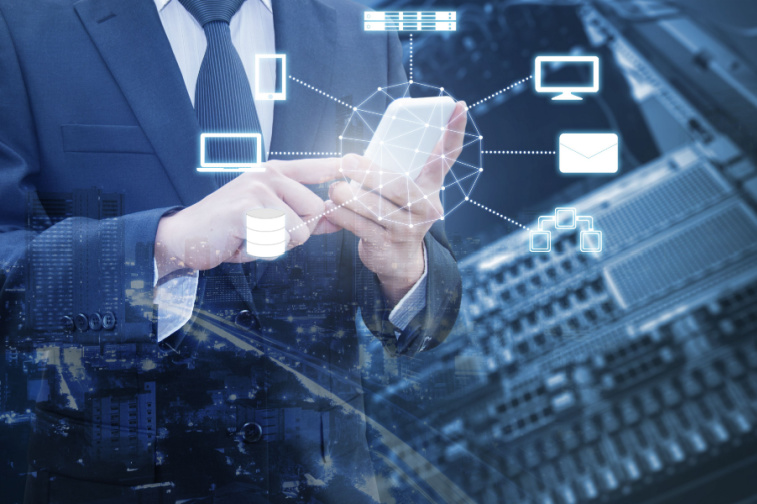 The world has become far more mobile due to the major shift toward hybrid and remote workforces. Mobile devices are used constantly by employees - even if they're in the office. From responding to emails to brushing up on information before a pitch or sales call, employees are constantly interacting with their mobile devices. Ensuring that your employees can have all of their information at the touch of their fingertips, no matter where they are in the world, is vital for organizations to maintain a competitive advantage in terms of productivity and reactiveness.
Enterprise mobility solutions explained
Enterprise mobility solutions are composed of a mixture of both the delivery and provisioning of mobile devices for employees, as well as the management of said devices. The application of these solutions is enabling your end-users to quickly and easily receive a mobile device, while confident in the knowledge that the mobile device is secured and ready to use. From provisioning and enrollment to loss management, enterprise mobility solutions help your organization provide seamless mobility services for employees while ensuring that your endpoints are fully covered.
How enterprise mobility management solutions solve issues for organizations
Enterprise mobility solutions help organizations keep a strong handle on managing their devices, no matter where their employees may be. Mobility solutions help solve many issues that companies face when controlling the new influx of endpoints that come hand in hand with the rise of remote and hybrid work. These can include, but are not limited to, delivering corporate-owned devices to employees' front doors and provisioning their personal devices to work with their corporate network, some of the issues that are solved by a strong mobility solution include:
● Trouble delivering devices: A strong EMM solution can help your organization quickly deliver preprovisioned devices directly to your end user's door, reducing the time spent without a mobile device and bringing them up to full productivity faster.
● Overburdened IT and service teams: By using an enterprise mobility solution to provision, ship and protect devices, IT teams no longer need to spend as much time ensuring that their endpoints are secure. Meanwhile, service teams can quickly and easily get fully configured devices to employees without having to go through laborious processes
● Inefficient workflows: Many traditional steps in an organization's mobility strategy are slow and take large amounts of time and energy for even a single mobile device. EMM solutions can reduce the amount of time it takes to get your employees up and running, which boosts the productivity of your IT and service teams, as well as your end users.
● Poor security: The rise in mobile devices has opened up a large number of vulnerabilities in many organizations, especially with the increase of BYOD mobile phones. In fact, with mobile devices now being the majority of endpoints, companies need to verify that they have a strong mobile security plan to ensure that their corporate data remains safe. EMM solutions can help your organization lessen its total risk profile.
The importance of enterprise mobility solutions for your organization
By investing in an enterprise mobility management solution, you can ensure that your organization can quickly deliver, provision, secure and keep track of any device for all of your remote workers without having to worry as much about your security needs. After enabling your company to have full management control of your devices throughout their life cycles, you'll be able to keep your employees on their feet and ready to work from anywhere. This has great benefits for your company's security posture, while also helping to remove much of the busywork that managing a large fleet of devices can bring.
Keeping track of your mobile devices and having the ability to quickly update firmware, enable or disable permissions and keep watch for malicious actors overall helps your organization's flexibility. Being able to quickly deal with threats, get your new employees up and running, or quickly replace devices can also help you deliver significant ROI to your company.
Samsung is changing the game for mobility management solutions
To provide even greater mobility management solutions for organizations around the globe, Samsung SDS has developed an enterprise solution for ServiceNow that makes mobility management effortless. Our Zero Touch Mobility product provides an enterprise mobility service, including automation for the entire lifecycle of your corporate mobile devices, including shipping the devices, monitoring them during their active period, reverse logistics and replacement. As a revolutionary enterprise mobility solution, your workers can get their jobs done all from behind a single pane of glass, reducing the amount of swivel chairing that your administrators need to perform. Not only that, you can fully automate your processes for multiple devices, reducing inefficiencies and providing a touch-free experience for your admins - all while providing a high level of service for your end users. Some of the key benefits of Samsung SDS Zero Touch Mobility include:
● Cradle to grave lifecycle management: Using fully automated workflows, Samsung's revolutionary app will help you keep devices sorted throughout their lifespan from delivery and management to support and repair. A fully automated workflow also helps with quick task completion, enabling you to enroll, wipe and service your devices without hassle.
● Granular control: With automated workflows, your administrators will have more time to support your mobile fleet, as well as your end users. Keep track of your devices across the globe, schedule firmware updates at times that won't impact productivity and use our zero-touch forward and reverse logistics to quickly deploy and recover devices or troubleshoot your in-the-field issues.
● Lower total cost of ownership: By using automatic enrollment and un-enrollment with the app, you can reduce your operating costs by a significant margin and bring up to 3x ROI due to productivity improvements and overall cost savings.
● Advanced analytics: The benefits of having a single pane of glass extend to analytics, helping your team track your device inventory, usage and health all through a single dashboard, giving you all the data you need. You can also utilize the product's built-in reports and dashboards, or customize your own.
It's time to advance your enterprise mobility strategy. If you'd like to learn more about how Samsung's enterprise application and deep expertise with mobility management can help your organization move into the future of EMM, read more about our Enterprise mobility solutions: EMM, Zero Touch Mobility, and MMS.